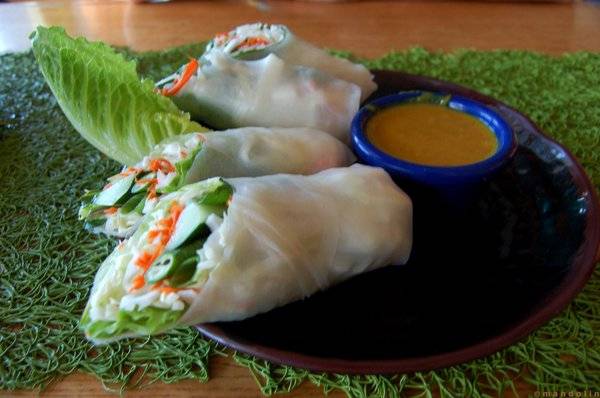 Perhaps everything is really better in twos! This piece made me simultaneously have a midnight craving for Thai and trade in single-dom for couple-hood to find a loyal "partner-in-dine." Thai is one of my favorite shareable cuisines well known for its overflowing plates of pad Thai, sticky fried rice and bevies of curries begging to be shared by two. Foodies are in for a real haute treat with top five Thai restaurants in Honolulu.
Phuket Thai
Since opening its doors in 1997, Phuket Thai has earned many local awards including Best Thai Cuisine, Best Spicy Cuisine and the Restaurant Distinction award. The local fave offers up traditional Thai dishes like pad Thai, pineapple fried rice, and green and red panang, and massumun curries. Surprises such as fried whole red snapper, Chilean sea bass, and Thai beef salad are served as occasional specials. Finish your flavorful meal with a sweet treat. The thai sticky rice with coconut milk and ice cream and Thai tapioca are both "to Thai for."
Phuket Thai is located at 1960 Kapiolani Blvd. Ste. 109, www.phuketthaihawaii.com, 808.942.8194.
Bangkok Chef
I'm a true grab and go girl yet seek quality, fresh ingredients despite my fast feats. So, Bangkok Chef is the perfect place offering fast and friendly service not to mention "ono-licious" (Hawaiian slang for delicious) Thai cuisine. A recent expansion makes Bangkok Chef even more convenient for fast-food lovers. Regulars rave about their pad Thai and papaya salad. Other popular dishes include the basil chicken, fish patties and Panang pork curry. A side rice of sticky rice is also a must.
Bangkok Chef is located at 1626 Nuuanu Ave., www.bangkokchefexpress.com, 808.585.8839.
Hale'iwa Eats Thai
A kitschy spot in the heart of North Shore, Hale'iwa Eats serves up Thai with a Hawaiian twist. The veggie summer rolls with peanut sauce and tofu salad are two of my personal faves. The Bangkok Platter serves up a medley of spring rolls, fried tofu, chicken satay and fried shrimp; it's a great way to go for groups. Date in tow? Order a few dishes to share such as Bangkok Night Noodles, Pineapple Curry and Panang Duck. Thai dishes here are plated and presented artfully making your experience even more fun. Not only is the food "tons-o-yum," the ambiance is fantastic and the people watching is fun. Take stock of the scene with a table inside or grab a seat on the lanai for a bit more intimacy. And, BYO since Hale'iwa Eats has no corkage fee!
Hale'iwa Eats Thai is located at 66-079 Kamehameha Hwy., www.haleiwaeatsthai.com, 808.637.4247.
To Thai For
Their name alone earned To Thai For a spot on my must-try list. Fortunately this centrally located restaurant also serves up creative and delicious dishes. Begin your Thai culinary tour with the Bags of Gold, crispy bag-shaped won tons filled with shrimp, chicken, and veggies. The Devil Popcorn Chicken and Shrimp fire Cracker are also great ways to start. Loyal fans also love the pineapple fried rice, Mom's Rad Na, and the Secret Dungeon, a chopped whole Dungeness crab stir fried with yellow curry. Mom's Special Dessert is also always a sweet, innovative surprise to complete the meal.
To Thai For is located at 3571 Waialae Ave., www.itstothaifor.com, 808.734.3443.
Maile's Thai Bistro
Maile's Thai Bistro is an upscale Thai experience in equally haute Hawaii Kai. The modern décor and cool sleek bar alone make Maile's a neighborhood hit. Owner Maile Sayarath's family also owns local Italian favorite, Assaggio. So, the new venture naturally filled guests with great expectations even before opening their doors a little over a year ago. The salt and pepper shrimp, Thai fried chicken and Maile rolls are all fan favorites. And, with specials like Crab Ragu, Maile's surely evokes haute Thai cuisine.
Maile's Thai Bistro is located at 333 Keahole St., www.mailesthaibistro.com, 808.394.2488.
Subscribe to discover the best kept secrets in your city