Who's up for dessert? If you're anything like me, a dinner has not properly ended without the proper combination of salty and sweet and quite frankly, the mark of a standout pastry can make or break an entire meal. Since a great dining experience should have a syncopated progression, the big finish is the most important part. And at one of these spots, you won't be disappointed.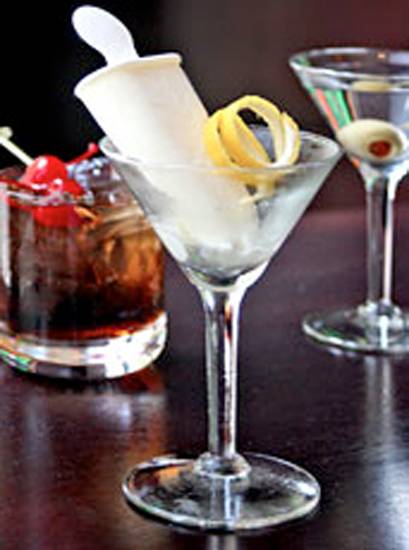 The Booze-sicle at Prairie Fire
Starting with Lemon-Vodka, you'll find a mix of flavors throughout the year including cherries, peaches and blueberry. There's even a rumored Bourbon Fudgesicle in the works.
215 N. Clinton St. 312.382.8300. http://www.prairiefirechicago.com/
Chocolate Fondue at Geja's Cafe
Flamed with orange liqueur and served with strawberries, apples, melon, banana, pineapple, pound cake, and marshmallows, Geja's chocolate fondue has got nothing on the Melting Pot. Bring a date because Geja's has repeatedly been named the most romantic restaurant in the city with their cozy tables, guitarists and candlelight dining.
340 W. Armitage Ave. 773.281.9101. www.gejascafe.com
Warm Brioche Doughnuts at Hot Chocolate
Actually anything made by James Beard Outstanding Pastry Chef nominee in 2007, 2008, 2009 and 2010 Mindy Segal is worthy of a spot on this list.  These little bites of heaven are served warm with homemade caramel corn and rich homemade fudge.
1747 N. Damen Ave. 773.489.1747. www.hotchocolatechicago.com/
Banana Sara Crepe at La Creperie
If there's one thing the French do right, it's pastries. Enjoy mouth-watering bananas in a brown sugar caramel sauce topped with rum served and vanilla ice cream. Liquor doing double duty.
2845 N. Clark. 773.528.9050. www.lacreperieusa.com
Afternoon Tea Service at Russian Tea Time
Pair a delicious pot of tea with sweets and savories including Petite Napoleon Torte, Mini Rugala, Strawberry Cake and an assortment of traditional Tea Time Cookies. Why choose one dessert when you can have a platter?
77 E. Adams St. 312.360.0000. http://www.russianteatime.com/
Subscribe to discover the best kept secrets in your city