Hawaii is home to some of the best restaurants from around the globe while boasting fresh island, locally sourced, and organic ingredients. So, it's safe to say, the Aloha State also has its fair share of haute chefs' tables. We're celebrating special occasions and all foodie and wine lover's dreams with the Haute 5 chefs' tables in Hawaii.
Halekulani-Table One
Honolulu's iconic luxury hotel, Halekulani, is celebrated worldwide for its award-winning cuisine and impeccable service. The haute hotel is known for housing a few of the most special restaurants on the island including the ever-so elegant La Mer, upscale Orchids, and the resort-friendly House without a Key. Table One is their latest one-of-a-kind dining experience featuring the culinary workings of Executive Chef Vikram Garg. It's a restaurant within a restaurant, located in the atrium of the beachfront gem, Orchids. Table One offers a five-course tasting menu for $125 per person or a seven-course option for $175, both of which feature two-tier wine pairings. Each menu is personally designed by Chef Garg and inspired by guests' culinary desires. Table One accommodates four to six diners and requires 48-hour advanced booking.
Table One is located in Orchids restaurant at the Halekulani Hotel. For more information visit www.halekulani.com. 808.923.2311.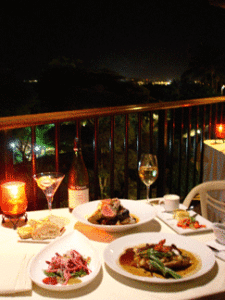 Capische?-Il Teatro
Located at the Hotel Wailea, Capische? is an intimate, romantic, and sexy spot overlooking the entire south shore of Maui. With just nine tables situated on a lanai (aka patio) perched above Japanese gardens, every evening brings breathtaking sunsets to this romantic restaurant. Owner and Chef Brian Etheredge has created a truly innovative Northern Italian/French menu and a wine list, which has earned international raves. In addition to the terrace tables, Il Teatro is a private dining room, offering a personal chef for the evening that will take you on a culinary tour with each course prepared tableside.
Capische? is located at the Hotel Wailea on Maui. For more information visit www.capische.com For reservations call 808.879.2224.
Memoirs Hawaii
For the ultimate chefs table experience, make your ocassion a private affair with haute local personal chef, Peter Foster. Memoirs Hawaii offers an unforgettable experience whether it be at a beachfront home, garden setting, chartered yacht, or commercial location. Chef Foster can work his magic anywhere you choose offering custom menu options to fulfill all of your culinary fantasies. Foster provides beautiful preset options like goat cheese stuffed shrimp cakes and hamachi ceviche canapés as a starting point for his guests to expand off of. Foster also helps to provide the perfect wine pairings for the sure-to-be memorable meal.
Memoirs Hawaii is located at 32 Merchant St., Suite 204. For further information visit www.memoirshawaii.com, 808.232.8504.
Brasserie Du Vin
Brasserie Du Vin is a popular choice for pre-theater diners as well as your average wine-o. Each Monday at 6 p.m. the dimly lit venue presents a three-course wine dinner limited to just 20 guests. The menu changes each week and always reflects the season's freshest produce. Next Monday, Aug. 23, this haute table will greet guests with Crab Louis and Martin Schaetzel Pinot Blanc, followed by Salmon Ranier with a Saintsbury red, and finished on a sweet note with Baked Alaska.
Brasserie Du Vin is located at 1115 Bethel St. For more information visit www.brasserieduvin.com. 808.545.1115.
Hoku's
Award-winning Hoku's at the Kahala Hotel & Resort now invites guests to enjoy the newly launched chef's table experience with front and center seats facing their infamous open kitchen.  It also gives you the the chance to get up close and personal with Chef Thomas Ho and Hoku's manager, Dante Camara who introduce the menu of the night while you're watching it being prepared. Camara assists in pairing wines per course while Ho answers all your foodie Q&As. The chef's table at Hoku's can seat up to 12 guests.
Hoku's is located at the Kahala Hotel & Resort. For more information visit www.kahalaresort.com or call 808.739.8760.
Subscribe to discover the best kept secrets in your city