Ralph Lauren, the All-American designer famous for stitching that cute little pony on polos, totes, and everything else preppy-chic, has just been awarded the Chevalier de la Legion d'honneur from the President of France, Nicolas Sarkozy, at The Elysée palace, in Paris.
Mr. Lauren, who has been at the top of the fashion industry for the last 30 years, was honored for his abilities as a business man, his commitment to the fight against breast cancer—to which he colored his pony pink to support the cause—and his undeniable work at the head of one of the most successful fashion empires in the world.
Surrounded by his wife, Ricky, daughter, Dylan (owner of New York sweet spot, Dylan's Candy Bar), and sons, Andrew and David, Lauren celebrated the award with a group of stars, including Marisa Berenson, Gerard Depardieu, Abbey Lee, Anouk Aimée, and editor in chief of French Vogue, Carine Roitfeld.
But this tremendous distinction was not the sole reason for Mr. Lauren's trip abroad. The day before marked the official opening of his largest store in Europe, and new French flagship store in Paris. The new store is a six-floor, 13,000-square-foot enclave of typical RL grandiose on Boulevard St. Germain. The store, which is housed in a building dating back to 1866, is home to Ralph Lauren's men's and women's collections, a watch salon, vintage floor, and a new restaurant called Ralph.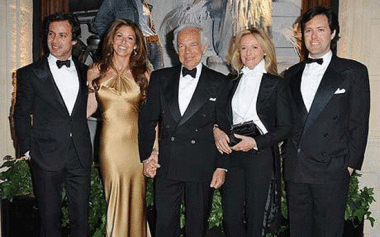 Via Telegraph UK
Subscribe to discover the best kept secrets in your city