Michele S. Green M.D., FAAD., is a Board-Certified Cosmetic Dermatologist, Fellow of the American Academy of Dermatology, and has been an international leader in cosmetic dermatology for over 25 years. Upper East Side patients and those around the globe flock to her practice for cosmetic dermatology treatment. A graduate from Yale University, with an MD and Chief residency from The Mount Sinai School of Medicine in NYC, Dr. Green treats some of the most discerning, demanding women and men in the world, with issues ranging from premature skin aging to hyperpigmentation, rosacea, wrinkles, acne, skin laxity, hair loss, and sun damage.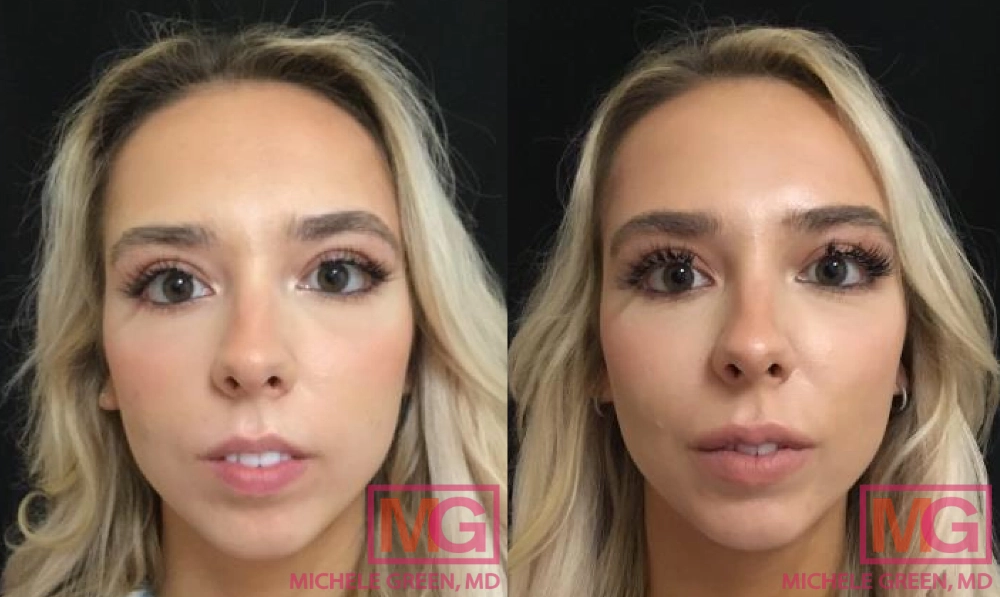 Photo Credit: Dr. Michele Green

What is Preventative Botox? How Does it Differ From Standard Botox?

The concept behind Preventative Botox is that by having treatment before any forehead wrinkles or frown lines become permanently apparent, their development is halted altogether. Preventative Botox has gained an immense amount of recent attention and interest thanks to social media and is one of the most popular cosmetic procedures in Dr. Michele Green's NYC dermatology office. Influencers and celebrities on varying platforms have a powerful impact on trends in beauty, skincare, and wellness, and now more than ever before are opening up about the cosmetic procedures that they're having done. This new wave of embracing preventative skincare as a part of self-care is encouraging more people to add preventative Botox and dermal fillers to their anti-aging regimen for facial wrinkles and folds.

Dr. Michele Green is an Allergan platinum injector of Botox in NYC and a leader in cosmetic injectables and non-invasive facial treatments. Dr. Green has been described as providing the "best Botox in New York" with over two decades of experience in Botox injections. Her "less is more" philosophy and artistic natural looking results will leave you the best version of yourself. "The goal is to look rejuvenated and not 'frozen' when it comes to Botox and dermal fillers," says Dr. Green. 

Since being approved by the Federal Drug Administration (FDA) in 2002, Botox treatment has become one of the most popular cosmetic treatments in the USA. In fact, it is the leading non invasive aesthetic medical procedure performed in the country. 

Botox is a neuromodulator that essentially 'freezes' targeted facial muscles by blocking nerve signals that control expression. By doing so, Botox effectively reduces the ability of the muscle to have full movement. Botox injections diminishes the overall appearance of fine lines and wrinkles that develop as a result of repeated facial expression.

In terms of composition, regular Botox and Baby Botox are the same exact formulation. Botox, along with competitors like Dysport and Xeomin, use botulinum toxin to "freeze" nerve signals to targeted muscle groups at or near the injection site, and this in turn can both reduce the appearance of dynamic wrinkles and prevent further wrinkles from forming near the injection site. However, for those with mild-to-moderate fine lines and wrinkles, the full dose of a Botox injection may not be necessary to reduce the signs of aging. In these cases, Baby Botox can provide smaller doses of this neuromodulator in order to reduce facial muscle use without "freezing" the muscle entirely. This can be particularly nice for patients who are using Botox for the first time, or for those who want to subtly improve a delicate area, such as crow's feet near the eyes.
Photo Credit: Dr. Michele Green
When Should You Begin to Consider Preventative Botox?
It may seem too early to think about preventing or treating signs of aging in your late 20s and early 30s, however, as we age, levels of natural collagen and elastin in the skin begin to deplete at a faster rate than they are produced. Collagen and elastin are proteins in the skin that contribute to its firmness and elasticity. With less collagen and elastin, the skin is far more susceptible to developing signs of aging such as dynamic wrinkles. 
Preventative Botox is also referred to as "Baby Botox," and it's best suited to patients in their late 20s to early 30s. Receiving small concentrations of Botox in commonly wrinkled areas like forehead, glabella, and eyes will prevent the muscle in that area from contracting, thereby preventing dynamic wrinkles from forming. Also, consider the rate at which your skin seems to be aging. If you have a history of smoking or excessive sun exposure, your skin will age faster due to sun damage and oxidative stress; therefore, you may need to start Botox treatments sooner. Botox can be used to treat both existing wrinkles and fine lines and wrinkles as well as prevent future ones from developing.
Baby Botox in NYC
Baby Botox is an exciting innovation in the world of anti-aging injectables, as it allows patients to reduce the signs of aging on the face simply by using fewer units of the same, FDA-approved Botox formulation that has revitalized the look of millions across the globe. The emphasis on small doses of Botox allows for greater flexibility in terms of the areas of the face that are treated, which can help in balancing out minor asymmetries or different facial muscles being used. It's ideal for those with mild to moderate fine lines and wrinkles, or for younger patients who are hoping to prevent the development of dynamic wrinkles in the first place. Dr. Michele Green has been injecting "baby Botox" for over two decades.
The process for Baby Botox treatment is simple and convenient. First, you'll meet with Dr. Green to talk about your medical history, individual needs, and aesthetic goals. Then, Dr. Green will observe the way in which your facial expressions activate different muscles to determine where treatment will be most effective. From there, you'll work with Dr. Green to develop a treatment plan that can help you to achieve your ideal look. When you visit the New York office for a Baby Botox session, a topical numbing cream will be applied to prevent any potential discomfort, and then Dr. Green will gently inject Botox into the predetermined injection sites. After this, you can resume normal activity, and you should start to see results in a matter of days.  Common side effects include mild swelling near the injection site, though this should subside over the course of the first few days. Typically, Baby Botox patients can see the full effects of their treatment two weeks after the initial injection, and your facial rejuvenation will last 3-6 months. At the two-week mark, Dr. Green recommends a follow-up visit to ensure that the optimal results have been achieved from the initial treatment session.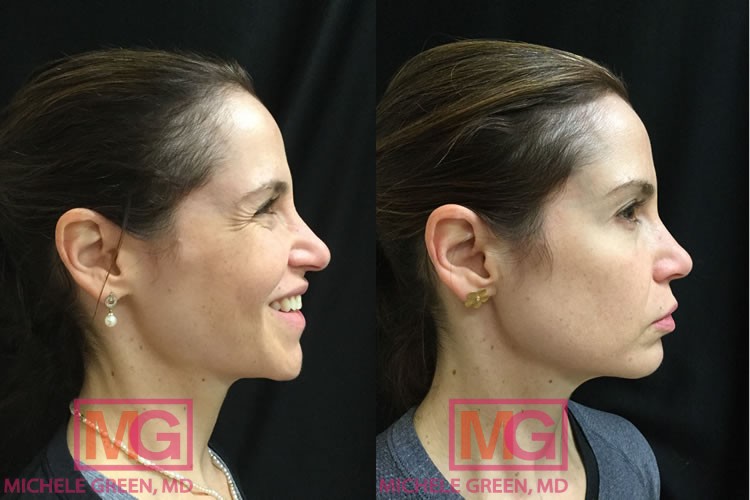 Photo Credit: Dr. Michele Green
Is Daxxify an Upgrade from Botox?
Daxxify, like Botox, is an injectable treatment that can treat dynamic wrinkles on the face. Daxxify was approved by the FDA in September of this year and is expected to become available for broader commercial use in 2023. 
Industry leaders and cosmetic treatment professionals are particularly excited about Daxxify as a competitor to Botox and other neuromuscular blocking agents because of Daxxify's exceptionally long-lasting results. The effects of Botox and other neuromodulators typically last up to three months. By contrast, Daxxify's effects have been shown to last up to six months in a majority of patients in clinical trials, with some participants seeing results for up to nine months. 
Daxxify shows strong potential to sweep the facial injectables market as patients looking for exceptional anti-wrinkle results would only need two treatments per year. 
Always on the forefront of new cosmetic treatments, experienced, board-certified dermatologist, Dr. Michele Green, is looking forward to expanding the anti-wrinkle injection options available at her New York City Upper East Side office with Daxxify. An expert in many forms of cosmetic treatment, Dr. Green is one of the first health care professionals to adopt newly FDA approved treatments to provide patients with the leading treatments available.
How Can You Get Started with Preventative Botox Today?
If you're looking to have treatment before any forehead wrinkles or frown lines become permanently apparent, Dr. Michele Green is here to help. Dr. Michele Green is an internationally renowned board certified cosmetic dermatologist and is known to be one of the best Botox injectors in New York. Dr. Green has been consistently voted as one of the "Best Doctors" by Castle Connelly, New York Magazine, Super Doctors, and The New York Times as a pioneer in the field of cosmetic and medical dermatology. Please call the office today at 212-535-3088 or contact us online to schedule a consultation to discuss if you are suffering from undesirable signs of aging on the face or body, it's time to schedule a consultation with Dr. Michele Green in New York.
For more information, visit Dr. Michele S. Green's social media: