Here's how to take your at-home spa treatment experience to the next level with the best, ultra-luxurious products on the market, including a $440 mask meticulously crafted to make your skin feel rejuvenated and glamorous.


Natura Bissé Inhibit High Definition Patches
Natura Bissé patches are non-invasive anti-wrinkle treatment that transforms skin within the very first application. Natura Bissé considers the Inhibit High Definition Patches avant-garde wrinkle-fighting technology. The corrective patches contain hundreds of painless micro-needles formulated with powerful anti-aging active ingredients. These micro-needles directly penetrate the epidermis where they dissolve, this action instantly improves the skin's appearance. The secret is in the Inhibit formula, which contains double hyaluronic acid and conotoxin. These ingredients work together to plump and soften the skin, diminishing the appearance of expression lines and wrinkles. At $440 the impressive 13-patented technology creates supple, resilient, and radiant skin.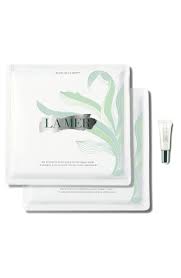 La Mer Brilliance Brightening Facial Kit
La Mer Brilliance brightening mask is the perfect treat right before a big event, Gala, night out, or just because. A soothing infusion of ingredients including the miracle broth merge together to provide refined, polished and luminous skin in just 8 minutes. First apply the infusion primer all over the skin, followed by the 100% cotton sheet mask; fabulously lounge around for 8 minutes and you're good to go. This is the perfect mask for our Haute readers on the go.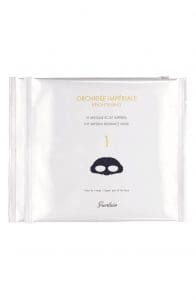 Guerlain Orchidée Impériale Radiance Mask
Guerlain Orchidée Impériale Radiance Mask is an innovative sheet mask that infuses the skin with powerful brightening, and anti-aging ingredients. The active ingredients visibly reduce the appearance of dark spots caused by age, and environmental aggressors. The secret is in the sheet mask itself; the fabric with its impermeable laminated lining delivers 10 times more cream than the classic application method. Once a week for 10 minutes and skin is immediately nourished, smoothed and plump, making this mask Haute beauty approved for that sought after glow.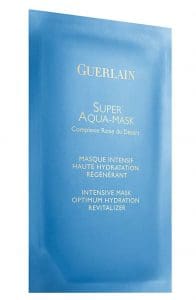 Guerlain Super Intensive Aqua-Mask
Guerlain Super Intensive Aqua-Mask is perfect for the Haute Jet Setter, or anyone looking for a bit of Hydration. This quenched formula is enriched with Desert Rose Flower Complex and the Super Aqua-Serum. The luxurious silky sheets apply flawlessly, leave on for 10 minutes and massage rest of serum onto face for unbeatably plush skin. All the hydrating ingredients in this mask assure perfectly hydrated skin after that 13-hour international flight.