If you haven't heard of Envy Medical yet, consider this your call-to-action to get googling.
This innovative (and vegan & cruelty-free!), California-based brand is the brains behind the non-invasive treatment Dermalinfusion. Never heard of it? Dermalinfusion is a rejuvenating procedure that is fully customizable based on your skin's specific needs. While we could go on for days about this impressive, efficient, and affective treatment, what we're really here to discuss is Envy Medical's revamped line of skin care products.
Ordinarily only for sale through medical offices and spas, the line is, at long last, coming direct to consumer online. (Check it out here).
So, if you can't get into an office or spa to give your skin a little TLC care of Envy Medical, you can now reach into your beauty cabinet instead.
Meet the Envy Medical range:

For Daily Skin Health Maintenance: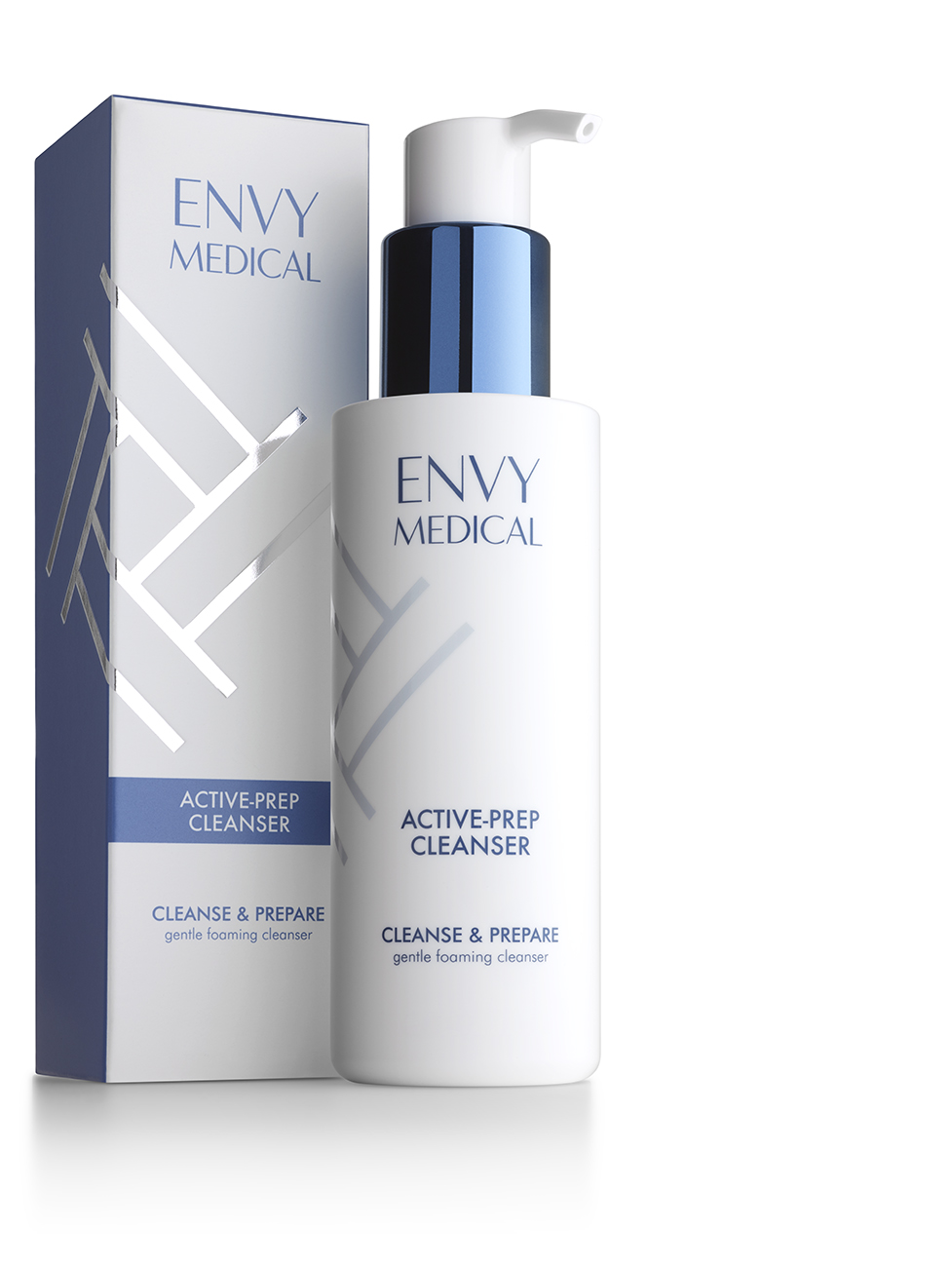 At a glance: A gentle cleanser packed with do-good ingredients (like chamomile and sage leaf extract) that help keep skin calm and soothed.

At a glance: So much more than your average moisturizer. Hydrates skin and delivers powerful ingredients (like plant-based Bakuchiol) that increase cellular turnover, lock in moisture, and reduce the appearance of dark spots—helping to maintain a smooth, even skin tone.
For Skin Brightening
At a glance: If hyper-pigmentation is your problem, this brightening cream is your new BFF. In addition to hydrating your skin and minimizing the appearance of dark spots thanks to key ingredient Lumixyl Peptide, this cream will also help to minimize the appearance of fine lines—win, win. *Important to note: it's best to always use an SPF (of at least 30) when using this product. 
At a glance: Perfect for on the go, traveling, or just an any-time-of-day refresh. Gently exfoliating, and packed with many of the same ingredients as the brightening cream (plus Vitamin C), these brightening pads are effective and so convenient!
For Intensive Skin Brightening

At a glance: An overnight treatment that is perfect for Retinol lovers and Retinol newbies alike thanks to two different concentrations. For newbies, it's recommended to stick to the 0.2% concentration to start. This treatment is a triple threat—according to Envy Medical it helps to "brighten, lessen lines, and reinvigorate skin texture and tone."
For Skin Brightening & Renewal

At a glance: This exfoliating treatment (with 10% glycolic acid!) really packs a punch and leaves skin looking radiant. Those with sensitive skin should note that this treatment can have a tingling, warming sensation—if your skin is super sensitive consider doing a patch test first.

At a glance: Dark circles be gone! This treatment contains Chrysin, an antioxidant that can help to minimize the appearance of stubborn under eye circles. Not only will this treatment help to brighten skin, it's also got a combination of extracts (bamboo leaf and pea) and Vitamin E that together help to "defend against aging triggers."