Photo Credit: Mark Squires
EMILY HAMPSHIRE HAS CREATED AN ALTER EGO FOR HERSELF IN HER FIRST GRAPHIC NOVEL, AMELIA AIERWOOD, BASIC WITCH. IN THE PROCESS, SHE DISCOVERED SOMETHING TRULY MAGICAL: SELF-ACCEPTANCE.
BY LAURA SCHREFFLER
PHOTOGRAPHY MARK SQUIRES
STYLING CHRIS CAMPBELL
HAIR JILL BUCK
MAKEUP TAMI EL SOMBATI
SHOT ON LOCATION AT THE BEVERLY HILTON, BEVERLY HILLS
Photo Credit: Mark Squires
My favorite film quote of all time is from Adam McKay's Step Brothers. Dr. Robert Doback has done the responsible thing his entire life. His 40-year-old son, Dale, has done the opposite, living at home like a lazy, entitled leech, but is attempting to adult when his dad imparts the following words of wisdom: "Don't lose your dinosaur." What he means is, don't lose your childlike wonder — it makes you you. I lost mine, and I regret it. This is what is going through my head when I sit down with actor Emily Hampshire at The Beverly Hilton on a late-January afternoon.

Maybe it's because she's wearing a whimsical Babar the elephant T-shirt and carrying a matching bag, or that her chopped pixie cut makes her look mischievous; almost elfin. It could be because she talks fast and with excitement. Maybe it is all these things, including the fact that she has just told me that she bought herself an "Olympic-sized" trampoline (currently netless and only safe for bouncing in her backyard) and has always secretly wanted to swim in a pool full of Jell-O. This is a woman who definitely has zero intention of ever losing her dinosaur.

The trampoline is a way to let herself, at 41 (and her inner kid), run amok. As is the Jell-O, though alas, she hasn't figured out a way of making that  happen … yet. But the important thing is that she's written her Jell-O wish down. Therefore, this desire is out there in the universe. Now it just takes some serious manifestation (and a ton of gelatin) to make her dream come true.
But if she herself can't go buck wild bouncing around in flavored goo, at least her alter ego, Amelia Aierwood — a basic witch who also happens to be the protagonist of her first graphic novel, releasing April 11 — will be living her best life. "I do feel like my authentic self is very 'kid-core,'" Hampshire admits. (She invented that word, FYI, and I'm here for it.) "I think that's especially what I see in Amelia. I wrote that for my younger self, and also my now self, who still wants a Jell-O pool and wants to live in a playhouse. I don't know that I ever really grew up."

Photo Credit: Mark Squires
Personally, I don't feel like she needs to. (Grow up, that is. Clearly, I haven't lost my dinosaur, either.) But it's great that she's able to give herself an escape from being Emily Hampshire, hardworking and tenacious Hollywood star, and get lost in her own imagination without shame or consequence. And she owes it all to a former agent, who left that career to pursue his dinosaur dream of working in comics. John Domingos believed that Hampshire had a comic in her, and when he landed at Z2 Comics — a platform that predominantly helps musicians (including Gorillaz, Yungblud, and Sturgill Simpson) tell their stories through graphic novels — he presented her with an opportunity that she jumped on instantly … no trampoline necessary.

But what to write? Believe it or not — especially for a woman best known for playing smart, caustic Schitt's Creek firecracker Stevie Budd — inspiration came from a very unexpected place … none other than Keeping Up With the Kardashians. And as anyone who has watched Schitt's knows, Stevie is totally the anti-Kardashian.

"I was like, I just want to think of a great idea, and it just kind of came to me. I was watching the Kardashians — it was an accidental kind of thing — and I was like, Imagine if I was a Kardashian, if I was just born into that family. I would be the worst Kardashian. I would be so bad at it. And so I was like, What if the worst witch in the world was born into the most famous magical celebrity family? The Aierwoods are basically the Kardashians of the witch world, and Amelia is the black sheep. She's shit at magic," Hampshire explains with a smile.

From this fledgling idea, Hampshire — along with co-writer Eliot Rahal (of Machine Gun Kelly's Hotel Diablo and Cheech & Chong's Chronicles) — brought Amelia's world to life.

In a nutshell, Amelia Aierwood: Basic Witch revolves around the least-favorite daughter of LA's most famous family of witches. Amelia's sisters have all followed in the footsteps of their prominent parents, but she is a late bloomer who unabashedly eats Pop-Tarts and listens to murder podcasts, but who can't, for the life of her, cast any worthy spells. (But she can make sandwiches, which is an essential component of life, in my opinion.) She's quirky, fun, fantastic, and happy to dance to the beat of her own drummer — exactly like Hampshire herself.

"I felt like there was this neat thing with social media, influencers, marketing, and magic," she explains. "One member of the family makes these magical potions and she markets them really well, but Amelia isn't marketable. She's just a disaster, and she's definitely not on brand for the family. Ultimately, the one thing that she's good at is making sandwiches, and she thinks it's stupid, but it becomes a very big thing for her. I find that any time I see people trying to do something that they think they're supposed to do, especially on social media, it doesn't work. What stands out most are the people who are just being themselves, just being authentic. What I was drawn to with this story was the idea of finding the magic within you — that the thing you think is your problem is usually your superpower."

Photo Credit: Mark Squires
You're supposed to write what you know, right? And Hampshire has definitely done that here. "I feel like Amelia is very much me in a way that I started acting when I was like 12, and so my development years — my teens — were kind of done in an audition. It was very much like, Who do you want me to be? And who am I supposed to be? And that's how I saw my identity for the longest time — looking at the other person and seeing what they wanted me to be," she admits.

Writing Amelia's story has been a catharsis, leading to some serious self-discovery, which we discuss now, in what Hampshire jokes is like a therapy session (which actually did help her reach her current state of consciousness). "It's funny, because I've started writing a lot recently, and people always ask about themes and stuff. I never write to a theme, but what always emerges is an identity crisis. And that's because I always find that I am my biggest barrier to things. I've experienced relationships where you sometimes lose who you are — you lose your identity — and when you get out of it, you don't know what you like anymore or even who you are anymore. And I think I found myself, at a certain point, where I didn't know who I was without acting, or without somebody else, or without all the trappings of what I'm supposed to be. What I realized was that you have to like yourself; you have to really find that place where, no matter what anybody tells you, you're not looking for approval outside of yourself … which is, I do think, a really hard thing to do. But when you do it, it's the greatest thing. It's essentially the lesson of The Wizard of Oz, like, it was always in you my dear, you just had to find it for yourself."

Hampshire is no longer timid about saying or sharing the epiphanies she's had. She's worked hard to be able to claim them — for both Amelia and herself. Amelia is merely a catalyst for her to speak about her own self-acceptance. And she found it only in recent years, specifically during the pandemic — that universal time in history that had every single person in the world reassessing the state of their lives.

This is the conclusion she came to: "I really just like my life, and I like who I am," she says simply. "[The pandemic] was when I found myself. As an example, if I wrote something before, I'd be afraid to show it to anybody and then need them to like it. I wouldn't know if it was good unless somebody else told me it was good. Or, if I did an audition; something shifted in me, where I was like, I think this is good, and if you don't like it, oh well, then it might not be for you and that's OK, but it's not going to crush me. That was when I realized, That's the sense of self — it's that barometer within you."

Hampshire seems very strong and extremely self-aware now. She's clearly been able to strip herself down and discover the very essence of Emily as well as where some of her prior hang-ups have come from.

"I think a lot [of my issues came from being] Canadian and being raised to be very polite," she explains. "Everything is about someone else and being nice to somebody else. Which is good, obviously, but it always means putting yourself second in a way that, if I entered any relationship — and I don't even mean romantic ones — I would put myself second in a way that whatever they would say must be right. I wasn't on my own team. I think that was the shift; I allowed myself to say, Something's off; I don't feel good here for some reason, and trusted my intuition."

In writing Amelia, she says that she was able to realize invaluable things about herself. "Amelia's discovery is my discovery; I put that into her. I put so much of my life into her," she admits. "And [Amelia] made me realize that I like my own life, and I'm happy doing my own thing." For example, like Amelia — whose sisters are all adopted — Hampshire, too, has an adopted brother; she is the only biological child of (the now-divorced) Lucia, a homemaker, and Robert, a dentist. But, as it is with her character, biology doesn't boil down to much. "What I find fascinating is that my brother is really so much like my parents, but I'm the black sheep. I'm the weird one who doesn't really fit," she declares, her eyes wide and guileless.

And she's OK with that. She's living her truth, and that's what's important — for both herself and for Amelia. "The authentic self is a big thing in the book, and it's also been a big thing for me. I was definitely a later bloomer, and it's only been in the last few years of my life that I really felt like I knew who I was," she confesses. "I remember being 8, riding my bike to the pool in my bathing suit, not thinking anything about how I looked. This was me before I got self-conscious. Losing that self-consciousness, getting back to not caring — that is magical. When you finally find your authentic self and you know who you are, you just feel so confident. And that's the real magic, I guess."
Photo Credit: Mark Squires
TIME IS LARGELY CONSIDERED BY MOST BUSY PEOPLE TO BE A LUXURY, but Emily Hampshire's lack of it is next level. She feels guilty taking time for herself, so anyone that really knows her knows an unexpected window of alone time is the thing she craves most. It is also, as I discover, the greatest gift she can be given.

Case in point: "Nothing makes me happier than when people cancel plans on me. Like, even plans that I want to do, with people I want to see," she admits, sharing, "I have these really good friends who, for my birthday, will make plans to take me to dinner or something, and then, as a gift, they would cancel on me. They know that's time I would never give myself, just to do nothing. Because otherwise, if I have time, I'm scheduling work stuff, getting things done. If I'm canceled on, because I gave that time to someone, that time is mine again."

Whether she uses it researching sinkholes, listening to murder podcasts, or just sitting on the couch and vegging out is irrelevant. The point, my friends, is that it is hers. She hasn't had a lot of it in the past few years, which is why these seemingly stolen moments are so important. Not that she's complaining in any way; Hampshire lives to work. Being a bona fide, self-proclaimed workaholic is almost like a hobby.

Let's recap, shall we? There was Hampshire's unforgettable, six-season run on Schitt's Creek, the Canadian series that made her a household name, earned her a Screen Actors Guild Award, and made history by simultaneously winning nine Emmy awards in all major categories. Then there were roles in the 2022 romantic comedy, The End of Sex; Epix's limited series Chapelwaite based on Stephen King's short story "Jerusalem's Lot," opposite Adrien Brody; Syfy/Hulu's 12 Monkeys; The Death & Life of John F. Donovan with Natalie Portman and Kit Harington; the indie Never Saw It Coming; and Darren Aronofsky's Mother!

Most recently, she wrapped Caitlin Cronenberg's thriller, Humane, the premise being how a global environmental collapse forces world leaders to take extreme measures to reduce the earth's population. She also has four premieres at SXSW in March, including Self Reliance, Jake Johnson's directorial film debut about a life-or-death reality game show; the dramedy Bloody Hell; Zoe Lister-Jones' Roku comedy series, Slip; and the psychological horror short film, Appendage.

But there's more. She has several projects in pre-production, including Betsy Thomas' comedy, D-Day; the highly anticipated television remake of Norman Lear's Mary Hartman, Mary Hartman; a partnership to write and create a new television project and starring vehicle for Elliot Page via his Page Boy Productions; and a collaboration with Atlas Entertainment and Jason Filardi to co-write, star in, and produce a feature adaptation of the best-selling novel The Holiday Swap.
Photo Credit: Mark Squires
Last, but certainly not least, is her most recent turn on The Rig, Amazon's six-part thriller led by Line of Duty and Bodyguard director John Strickland — which, it so happens, she finds out is being renewed for a second season as she arrives on our set. (Discovering that the series is going to shoot somewhere in the Arctic — destination unknown — instead of Hawaii as the cast anticipated doesn't dim her excitement. After all, she's Canadian; freezing cold is a familiar way of life.)
Yes, it's a lot — but she loves it. "I love working; there's nothing I love more than that. I am 100% a workaholic," she declares now. "I used to feel really guilty in my relationships that I was always choosing work over doing something fun, but I don't really have fun having fun. I have fun working. I literally didn't have a day off until Christmas last year; I was very lucky."
Sadly for die-hard Schitt's Creek fans, that work did not include filming a special, another season of the monster series, or that highly anticipated movie everyone keeps buzzing about, though in a perfect world, the latter should be happening in the unforeseen future. "I would be surprised if we didn't [shoot a film]," she says. "I know we're not going to ever do the series again, but I think we like each other too much to not get together again to do something like that. It also feels like the right thing to do. Not that I'm saying that is going to happen. Nothing's been set, but I'm hopeful for it. I would put money on it."
Hampshire is understandably a bit apprehensive to say more; too often things she's said have been misconstrued or taken out of context. And that, more than anything, makes her leery of saying them in the first place. "It's usually about my sexuality, and it's embarrassing, because it makes me seem like I'm always talking about that, which is not true," she notes.
"What about your sexuality?" I ask her. "What are people saying that bothers you?"
Photo Credit: Mark Squires
"I guess the technical thing is that I'm pansexual, which is just because a long time ago, I fell in love with somebody. People were asking, 'Is Emily a lesbian? Is Stevie gay?' [And so I asked Schitt's Creek co-star Dan Levy], 'Dan, what am I? I just fell in love with a person.' And Dan was like, 'Didn't you watch [the Schitt's Creek wine episode]? You're pan.' I get why people needed to identify me as something, because I do think visibility is important, but I think the ultimate goal is to not identify as anything and just be who you are."
Fair play, I say. And just who is Emily Hampshire?
I know the surface things. She is a SAG winner. She is Canadian. She is Stevie Budd. She loves and lives to work. She loves true crime and Babar, glue guns, and arts and crafts. She feels comfortable on a film set, but not in front of a camera. I know that her first solo trip was to Paris and that she loves to travel alone. She makes a mean snow fort and can "sugar off" with the best of them (not a low-grade curse word or something dirty, but a grade-school Canadian activity). Her mom was "really poor" growing up, and so she passed along a mentality to her daughter that, if she wanted something, she had to make it herself. (Case in point: she once wanted a couch that she couldn't afford from Anthropologie so badly that she taught herself how to sew and even how to upholster a budget version herself.) She's a perfectionist (she's a Virgo; it makes sense), and she just re-watched all of Boy Meets World because people thought her current haircut resembled that of a young Rider Strong, who starred in the '90s coming-of-age series. But these are the sum of her parts.
Hampshire does not claim to be anything other than what she is, and she does not want any of it to be categorized. She declares, "I identify as a workaholic, personally, and I'm tired of labeling myself. I think people in the past weren't allowed to be who they were, so there had to be this movement of acceptance — you can be gay, straight, pan, nonbinary, all those things. Ultimately, the utopian world to me — and I think hopefully, for everybody — is to just be who you are. I think getting past that is the goal, so that you don't have to be anything but you."
I'm standing with you, Emily, just as long as you promise me one thing: please, please, please never lose your dinosaur.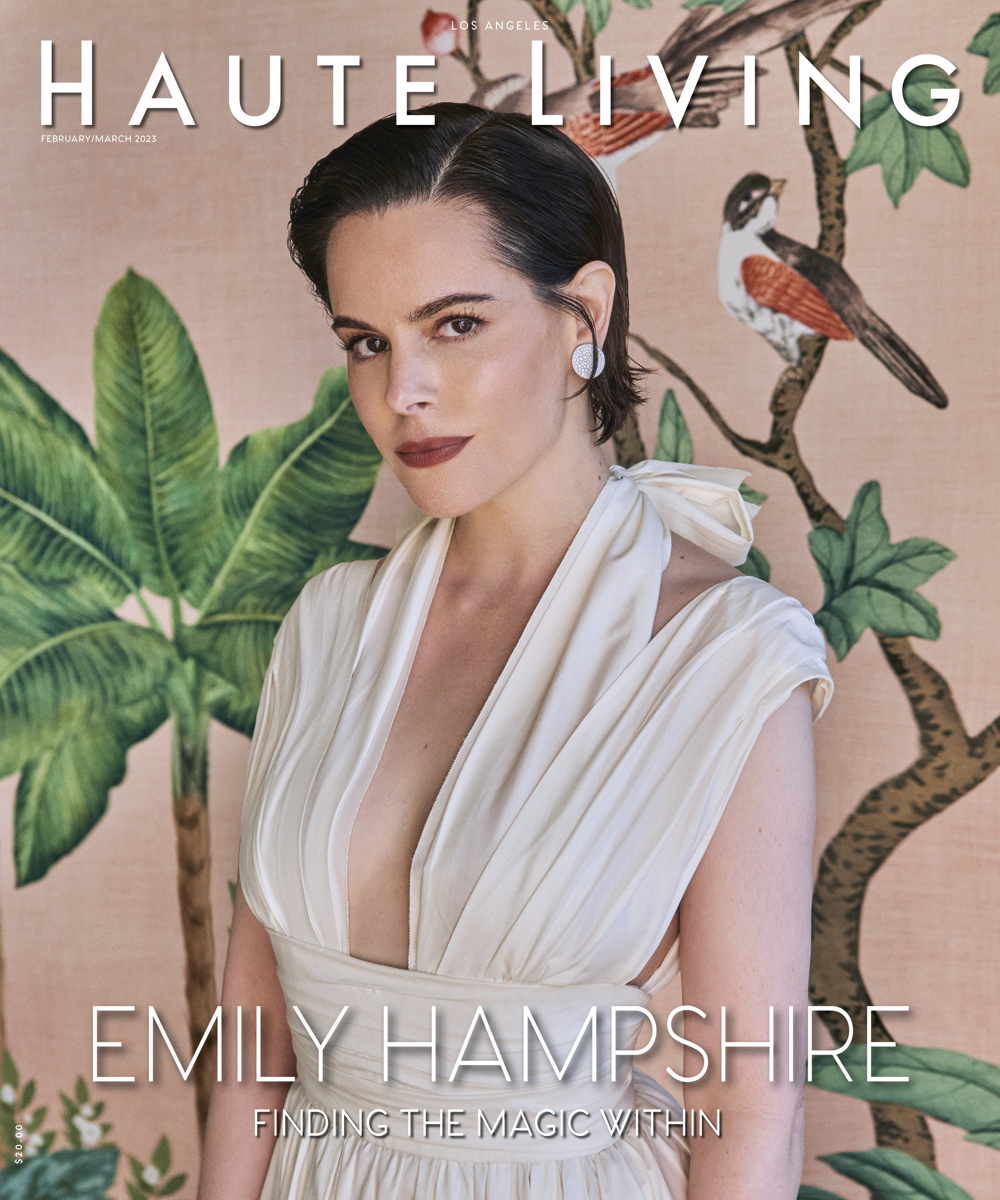 Photo Credit: Mar, Squires
Subscribe to discover the best kept secrets in your city