Photo Credit: Flemings
Head down Half Moon Street in London's timeless yet trendy Mayfair neighborhood, and you'll find a very discreet placard reading: "Fleming's Mayfair." It's the kind of placard even former Half Moon resident Oscar Wilde couldn't possibly make fun of. Not if he wanted to come back, that is. And you will — mark my words.
Photo Credit: Flemings
But first: a little about this beautiful boutique hotel that was, in its past life, 13 Georgian townhouses. It's one of the oldest family-owned hotels in London — born in 1851 — and now a Small Luxury Hotels of the World member, minutes from Green Park and Piccadilly, with King Charles and his Buckingham Palace just a stone's throw away. Meaning: this is prime real estate, baby.
Photo Credit: Flemings
While the hotel is a classic, its style is not. The property, for all its vintage touches, is quite contemporary. Interior designers Tully Filmer have transformed every room into a quiet respite, with high ceilings, glamorous 1930's inspired décor in shades of bronze and soft greys, period features, and bespoke furniture in silver-stained fiddle-back sycamore.
Some ground floor suites also have the benefit of beautifully landscaped private terraces, while studio suites and apartments boast exclusive gin 'honesty' bars offering guests self-serve tipples. Each bar contains ten premium gins, alongside tonics and bitters for that perfect pour.
Photo Credit: Flemings
The hotel also has a strong partnership with celebrity photographer Dr. Andy Gotts MBE, who is most noted for his black and white portraits of the world's most famous actors, singers and fashion luminaries. Unique and exclusive portraits adorn the walls featuring never-before-seen
shots of some of his favourite subjects, including Kylie Minogue, Kate Moss, and Dame Judi Dench.
The best stay, of course, is the property's penthouse, which sleeps five and boasts a private lift and rooftop terrace for al-fresco drinking, dining and entertaining, or the Townhouse on Half Moon Street, which is comprised of seven beautifully appointed bedrooms and is available as an entire property or bookable as individual suites.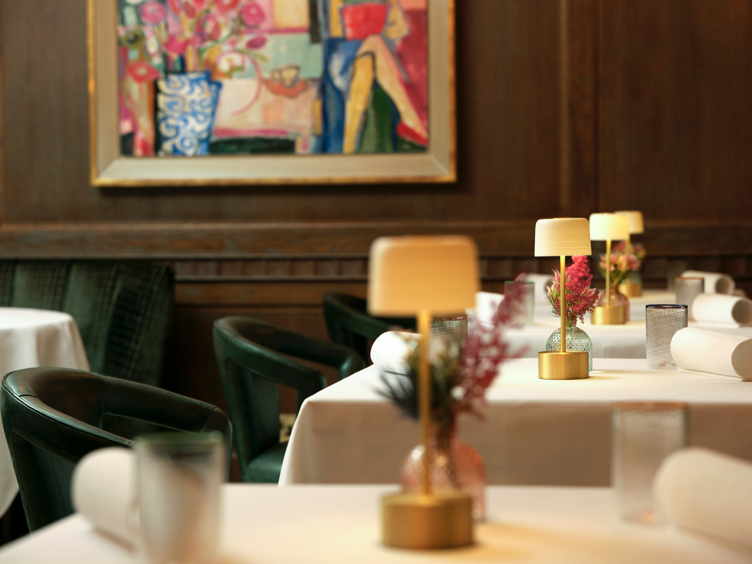 Photo Credit: Flemings  
Now, for such a small property, the culinary offerings are truly mighty. Ormer Mayfair by Sofian only offers two seatings a night, both of which are tasting menus. It's elegant and refined, an ode to the 1930's thanks to aged oak wood panelling, monochrome marble floors, forest green velvet banquettes threaded with gold and British racing green distressed leather chairs, dotted with hidden alcoves behind bronze and cast glass screens to long banquettes. There's also a 'naughty table', a round table hidden by a heavy red velvet curtain. And thanks to a champagne trolley full of inventive picks from around the globe, naughty is exactly what you might feel.
That being said, the restaurant, helmed by Executive Chef Sofian Msetfi, who found his footing in several  Michelin-starred restaurants (Adare Manor, The Hand and Flowers, Midsummer House), is an experience. The focus is on seasonally changing menus that are bursting with a wonderful bounty of British flavor. There are six-course or eight-course dinner offerings, inclusive of vegetarian options for the many meat-free tourists who find themselves visiting the Old Smoke time and time again.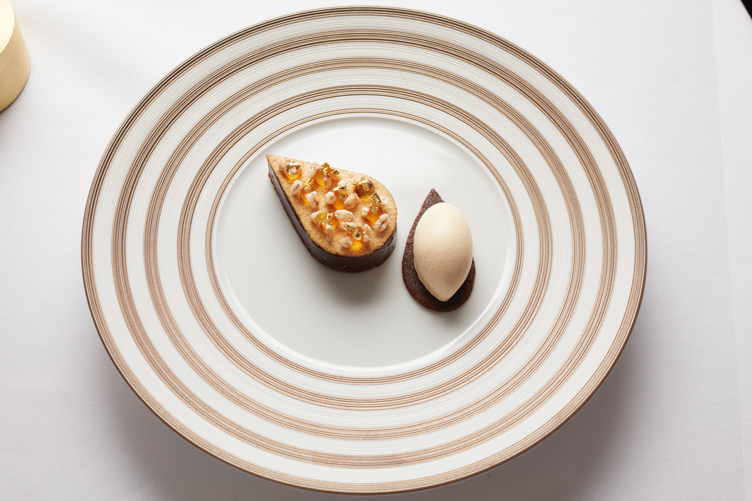 Photo Credit: Flemings
Standout dishes include poached native lobster, Isle of Wight tomatoes, pine nuts and basil; roast squab pigeon, beetroot, cumin, rosewater caramel; and Abinao and tapioca tart with Pedro Ximenéz sherry and salted milk sorbet. Vegetarian tasting plates include pearl barley risotto with roasted cauliflower, raisin and hazelnut sauce; and a shallot tarte fine with confit garlic and sherry butter sauce.
Now, because I've mentioned champagne, it would be remiss not to mention the wines here, which are superb. Ormer Mayfair's Wine Director Sergi Guillen Beneito brings a wealth of specialist wine experience from restaurants lke Petrus Restaurant by Gordon Ramsey and Lime Wood Hotel, and meticulously hand-picks every varietal to perfectly complement the delicate flavors of each plate. You'll find some doozies here, from Croatia, South Africa, Japan and beyond — all unique, all interesting, all exceptional.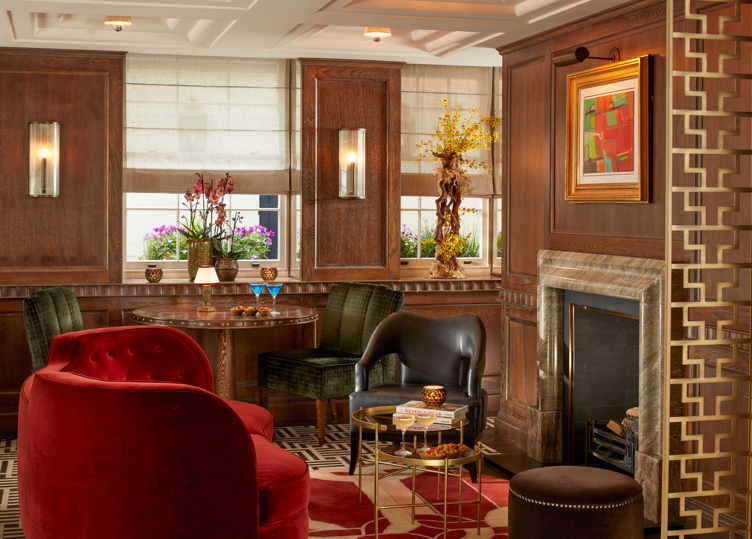 Photo Credit: Flemings
Manetta's Bar has that same old world feel. It's a pre-dinner boite, or a great place for nightcaps alike. Reviving the name of the original hang-out at Flemings back in the 1930s, the plush bar recaptures the surreptitious spirit of a place where spies used to swap secrets and clandestine trysts took place. Which makes it, of course, a fabulous place to enjoy that "shaken not stirred" martini. James Bond may not have hung out here, but I guarantee that Ian Fleming — a Mayfair enthusiast — definitely did a time or twenty.
Here, a dark and sultry color palette of black upholstery, polished rose gold detailing and jewel red hints in tactile materials of soft velvet and supple leather exudes sophisticated opulence, which lends itself nicely to a truly marvelous cocktail menu. It's inspired by writers Agatha Christie and Gertrude Stein who are also depicted on the, walls alongside portraits of James Joyce and Alice B. Toklas in the bold style of Sussex artist Kate Boxer. For negroni aficionados, there's a dedicated menu with seven libations, including a chocolate Negroni featuring Portobello Road No. 171 Gin, Campari, Crème de Cacao white, and Dolin Rouge.
Photo Credit: Flemings
To round out the experiences here, the boutique property also features a spa in its Pietro Simone Skincare Clinic, and afternoon tea (as well as the gin & tonic offering the G&Tea) in its delightful Drawing Room — an Indian-inspired tea room complemented by exquisite hand-painted wall panels by famous de Gournay depicting early views of India and 'The Tree of Life' by upcoming intuitive painter Eileen Schaer. Bookcases on either side of the fireplace showcase Assouline's best art tomes.
Photo Credit: Flemings
Flemings Mayfair is located at  7-12 Half Moon St, London W1J 7BH
Flemings
Studio suite bedroom
Photo Credit: Flemings
Flemings
Studio suite bathroom
Photo Credit: Flemings
Photo Credit: Flemings
Photo Credit: Flemings
Photo Credit: Flemings
Flemings
What's Remembered
Photo Credit: Flemings
Flemings
Tender Buttons cocktail
Photo Credit: Flemings
Subscribe to discover the best kept secrets in your city