In today's social media age, there has never been more of an appetite for Instagram worthy atmospheres, whether it be a garden in the middle of a city, a street art mural or a pop-up space. In New York City, you have the classics such as Dumbo, Central Park, Wall Street Bull and more, but if you want to elevate your Instagram feed, follow our guide to the hottest destinations in the city right now.
Gitano Garden of Love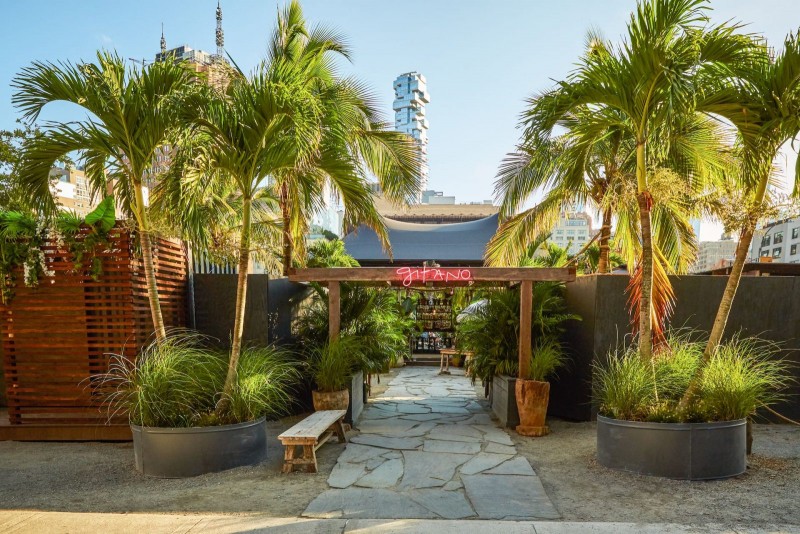 Opening in early May for its second season, Gitano Garden of Love is drawing in Instagram models, influencers and more with its Tulum Oasis in the heart of Soho. The entrance alone is pleasing to any eye, including the digital one. Pose in front of the neon "Gitano" sign, which leads to the bar, complete with shiny disco ball and a wall of palm trees. Our favorite spot is the recently opened meditation pool, which is perfect for impressing your followers.
Vandal
Restaurants are great for creating alluring food posts, but this tapas restaurant is going beyond the dish to create an Instagram worthy atmosphere with its splashy dining room. Vandal celebrates global art and architecture with large wall murals that amaze guests. The striking colors against the dim-lit room are an art piece in its own right—not to mention the optical illusion entrance. Get your camera ready because this place has it all, including an 11-foot tall breakdancing rabbit.
PUBLIC Kitchen by Jean-Georges
Chef Jean-Georges' restaurant PUBLIC Kitchen offers more than upscale French cuisine. Outside, the Bowery Garden—an expansive outdoor terrace—is littered with florals and lush green plants. Inspired by the Tuileries garden in Paris, this charming spot is perfect for taking your Instagram posts to the next level. Even though you're in New York, the atmosphere will transport you to Europe and it will show in your photos.
701 West Times Square Edition
Ian Schrager's new hotel has already drawn in the likes of A-listers and models, and with the opening of 701 West, it's about to get more exciting. 701 West is The Times Square EDITION'S signature fine dining option and it boasts electric blue and chartreuse-colored velvet banquettes, mahogany wood panels and white marble mosaic floors. If you're looking for an upscale atmosphere, you can't go wrong with this one. Put on your best frock and get snapping at this celebrity hotspot.