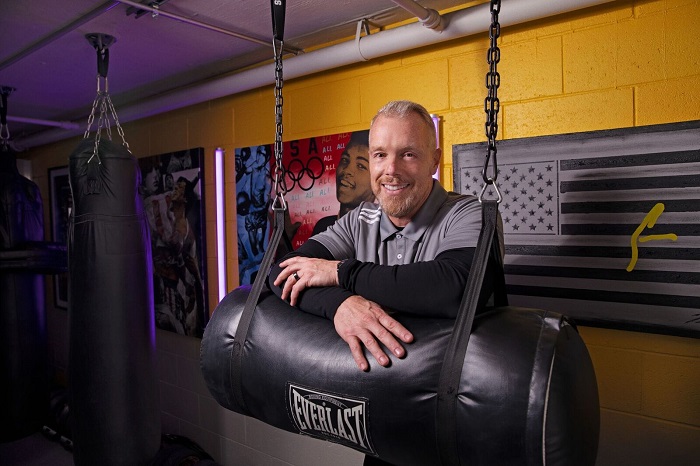 Photo Credit: Centr
If you are a celebrity in Hollywood, chances are you have worked out with personal trainer to the stars Gunnar Peterson.
Whether he is keeping fit with the Kardashians or sculpting A-list celebs like Kate Beckinsale, Ben Affleck, Hugh Jackman and Matthew McConaughey for their next role, Peterson rolls out the red carpet with his approach to fitness. The Beverly Hills-based trainer whose clients range from celebrities to professional athletes from the NBA, NHL, NFL, MLB, USTA, professional boxing and NCAA sports, is also the Los Angeles Lakers' Director of Strength and Endurance.
What makes his approach to fitness so unique is his expertise in combining functional training with techniques that can be transferred from the gym to daily life. He developed Core Secrets, an 18 DVD fitness system featuring full-body and body-part specific workouts focused on strengthening the core and also created Gunnar Gym Design company in order to bring his Beverly Hills training style to life worldwide. Earlier this week, he introduced a four-week program for women (Gunnar X Centr) on Chris Hemsworth's health and wellness app Centr designed to help them lose weight and fast-track results.
Photo Credit: Centr
We caught up recently with Peterson to discuss the secret to his fitness regimens being so effective and the key ingredients to healthy living.
You have worked with everyone from some of the Kardashians and Ben Affleck to Jennifer Lopez and Angelina Jolie. What is it about your approach to fitness that has caught the eye of many celebrities?
I have terrific parking, which is a rare commodity here in LA [laughs]. I like to keep the mind and body engaged. A workout is work at the end of the day. I try to make it efficient, fun and engaging.
Of all the diets available today, which ones do you think are the most successful?
I work with a nutritionist, so I stay in my lane when it comes to fitness. If you are trying to drop weight, stay on a calorie deficit diet. I have seen people who don't connect the dots when it comes to drizzles and glazes, which can really add up to a lot of added calories.
What is it about your fitness routines that make them so effective?
I structure them in such a way that the sequence of the movements creates an aerobic environment to bring the body to an elevated state. As a trainer, I have to be very conscious to make the best use of their time. Everyone today has a shortage of time. Don't linger in the gym. If someone tells me they were there for two hours, I ask them what they were doing.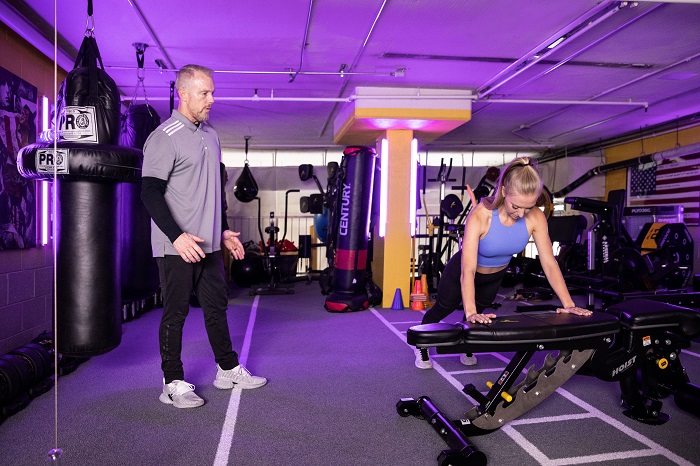 Photo Credit: Centr
What do you think are the key ingredients to healthy living?
A well planned fitness regimen, proper diet, adequate hydration and sleep. We all have to find ways to reduce stress. We all have stress, so we have to find healthy ways to live with it. Years ago, I had a guy who was 35 years old who said his goal was to make $100 million. He went from being a star athlete to letting fitness go. All he did was work to meet his financial goal. He met me and continued to show up. He knew he had personal accountability and had absorbed stress for 16 years. He was there to wring all of that stress out. There was also a celebrity in total distress a few years ago and I said to their manager at the time, if that person got into a fitness routine, it would be a cornerstone to a healthier path. Relieving stress is a mindset. We all handle it differently. Someone could get some relief by simply making a salad while someone else could find it walking a dog. You have to find your own happy place and honor that.
Where do you the fitness industry going in the future?
I think people now are aware of the need for fitness in their lives. If you are new to this and you walk into a gym, that's probably not time well spent. You need to find someone to break it down for you at a decent place.
As for Gunnar X Centr?
This program will help you lose weight. But ultimately, it's more about how you feel than what the number on the scale says. You will keep feeling better and as you do, the scale will go where you want it to go because you're going to regain control of your life. That's the key.