Photo Credit: Boston Athletic Association
On Patriot's Day, Copley Square will be once again transformed into one of the most popular races in the world as the 123rd Boston Marathon races back into town. Throughout the city there will be numerous celebrations to kick off one of the country's most celebrated running events. Here's a look at our top picks.
From April 13 to 15, be sure to check out the Fan Zone in the lobby of the Mandarin Oriental Boston to enjoy a variety of health and wellness offerings provided by Spaulding Rehabilitation Hospital. From therapists offering physical therapy advice and providing taping to yoga mats, foam rollers and de-stress muscle gel, there will be  will also be available for guests to apply to sore muscles. Visitors will also be able to create their own support posters to display as they cheer on the athletes on Monday.
From April 12 to 14, Brooks Running will be featured at the Boston Marathon Expo for a Run Happy Experience over at the Hynes Convention Center. Here, you can check out their limited edition (and extra comfortable we might add) lightweight Boston T Launch 6 designed just for this year's race and inspired by Boston's transportation system. Also on display here will be last year's winner Des Linden's race-winning shoes.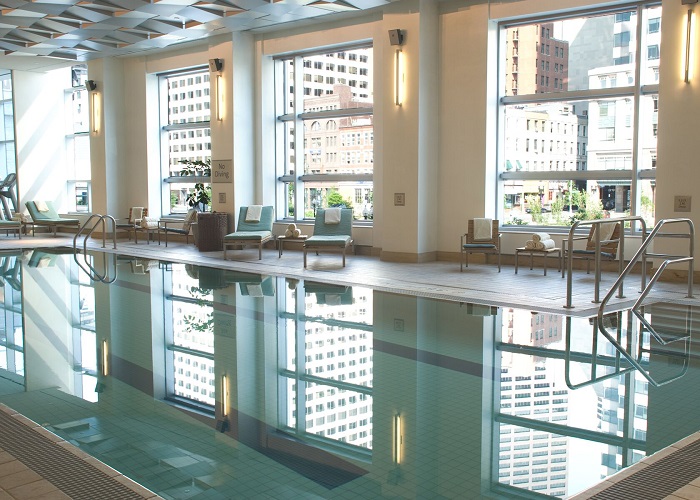 On April 15, Peloton will be transforming its Prudential Center showroom into a special recovery zone. The space will allow runners the opportunity to relax and unwind while enjoying some post-workout fuel, massages and group stretching.
From April 15 to 30, over at the InterContinental Boston, they are offering an uber indulgent 90-minute "Run and Recover" massage that allows the body time to relax, cool down, and recover. The therapeutic massage utilizes SPA InterContiental's yoga balm, which provides a soothing warmth with pharmaceutical grade, certified organic oils to promote core levels of healing throughout the system.
From April 13 to 15, The Boston Bodyworker and the Seaport Hotel have teamed up to create Feel Better Boston,  with 100 percent of the proceeds being donated to charity (the Martin Richard Foundation and The Massage Therapy Foundation). Throughout the weekend, you can enjoy 30-minute massages by licensed therapists and an Air Relax Compression System designed to help runners recover during training, along with a full Prepare and Recovery lounge. Donors will also receive complimentary access to Wave Health & Fitness, featuring a full arsenal of free-weights and an indoor pool and steam rooms. 
Photo Credit: Boston Athletic Association