There's nothing you can't do in the Big Apple, and that includes sipping on a pricey cocktail in the gorgeous ambiance of a Michelin-starred restaurant. Here, we shine the spotlight on our picks of the most exceptional dining experiences in New York City, where jackets are de rigueur, heels are desired and fine dining is helmed by world-renowned chefs and restauranteurs.
In no particular order:
Eleven Madison Park
---
Helmed by Chef Daniel Humm and restauranteur Will Guidara, Eleven Madison Park is an esteemed fine dining restaurant that overlooks Madison Square Park and continues to hold its three Michelin star accolade. Anchored in the historic art deco building, EMP now sports an updated aesthetic with cobalt blue banquettes, terrazzo tiling, and expanded bar, among many other alterations. Its seasonal tasting menu focuses on New York traditions and has attracted visitors from all over the world, but the honey lavender roasted duck and chocolate pretzel keep them coming back. The Chef's tasting menu starts at $335/person in the dining room, and the bar tasting menu starts at $175/person.
To reserve a table call 212.889.0905
Daniel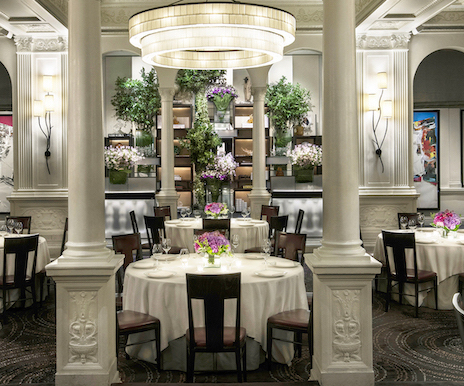 ---
Daniel has earned its place among the pillars of New York City's dining scene, receiving numerous accolades for its refined European cuisine, world-class cellar, and gracious hospitality. Helmed by Executive Chef Jean-Francois Bruel, the elegant restaurant is steeped in French culinary history, serving a modern seasonal menu in the former Mayfair Hotel on Park Avenue. A seven-course tasting menu will cost around $250/person, with optional wine pairings starting at $135.
To reserve a table call 212.288.0033
Le Bernardin
---
Inspired by its triumph in Paris, Le Bernardin made its New York debut in 1986. Since then, this internationally-acclaimed restaurant has set the standards of seafood in America. Owned by the seafood king himself, Chef Eric Ripert—along with Maguy Le Coze— Le Bernardin presents diners with a simple menu in an elegant dining room, designed by Bentel & Bentel and James Beard Award winner for Best Restaurant Design, 2012. If that's not reason enough to visit, Le Bernardin was named the No. 1 restaurant in the world by La Liste in 2018. The Chef's tasting menu starts at $225/person, with additional wine pairing for $370/person.
To reserve a table call 212.554.1515
Per Se
---
When the words "fine dining" are said, it's a sure bet Per Se is to follow. The three Michelin-starred restaurant is Chef Thomas Keller's second accomplishment and calls Time Warner Center at Columbus Circle home. Indulge in a Chef's Tasting Menu that combines classic French techniques with an award-winning wine list, boasting more than 2,000 bottles, set at $355/person. Walk through a set of iconic blue doors and be transported to a Parisian paradise complete with stunning views of Central Park.
To reserve a table call 212.823.9335
River Café
---
Dining with a view certainly fits the River Café nestled riverside under the Brooklyn Bridge. This well-known culinary destination serves a classic new American menu with a strong emphasis on representation—that is, the representation of New York. With panoramic views of the New York skyline, there is no better place to enjoy dining in New York, and as for the price, a six-course Chef's signature tasting menu starts at $175/person, with optional wine pairing for $125. Try the wagyu steak tartare for an appetizer before moving on to an apple-honey and spice crusted duck with root vegetables and wild huckleberry sauce.
To reserve a table call 718.522.5200
Jean-Georges
---
The jewel of Chef Jean-Georges Vongerichten's empire is conveniently situated in Central Park West and hails the name Jean-Georges. Awarded two-Michelin stars, this chic and intimate culinary wonder serves French, American and Asian influenced dishes inspired by his Alsatian roots. Guests will dine and wine with views of both Central Park and Columbus Circle. Enjoy a four-course prix-fixe or chefs tasting menu in the Main Dining Room or elevated Alsatian-inspired dishes—such as tarte flambees— served a la carte in the walk-in bar and lounge. Prices start at $155/person for four-course and $235/person for the nine-course chefs' carte blanche.
To reserve a table call 212.257.5826
Masa
---
Chef Masa Takayama's three Michelin-starred restaurant, Masa, located in the Time Warner Center is highly regarded for its unqiue omakase experience. Set in simple, modern decor, diners can sit at the sushi counter and watch chefs slice, shave and sprinkle their way through an abundance of seafood, creating wonderfully simple dishes. The prix-fixe dinner menu starts at $595/person and to reflect the Japanese custom and exceptional hospitality standards, tipping is not accepted.
To reserve a table call 212.823.9807
Chef's Table at Brooklyn Fare Kitchen
---
Helmed by Chef Cesar Ramirez, the three Michelin-starred Chef's Table at Brooklyn Fare Kitchen is an open kitchen concept serving Japanese and French-inspired cuisine. Guests can sit at the chef's counter and watch as they prepare dishes or sit at dining tables for an intimate setting with friends and family. The menu mainly consists of seafood with meat courses, and of course dessert with a focus on the integrity of ingredients. The tasting menu starts at $362/person, not including beverages.
To reserve a table call 718.243.0050
Gabriel Kreuther
---
Chef Gabriel Kreuther has brought joy to New York with Kreuther Handcrafted chocolate, and now will be overseeing the food and beverage at Baccarat Hotel—however, his award-winning two Michelin-starred restaurant, Gabriel Kreuther is our focus of attention. You will find this French gem sitting adjacent to Bryant Park, offering diners a taste of masterful classic French culinary techniques along with an inventive wine and cocktail program. Diners can delve into dishes such as Siberian sturgeon caviar, four cheese ravioli, roasted Maine lobster and the pièce de résistance, decadent chocolate caramel mixed crumble, chocolate mousse and caramel ice cream. The four-course prix-fixe menu starts at $155/person with optional $130 wine pairing.
To reserve a table call 212.257.5826
L'Atelier De Joël Robuchon
---
Experience more than just French cuisine at legendary Chef Joël Robuchon's L'Atelier de Joël Robuchon situated in the Meatpacking District. Referring to a craftsman's workshop, L'Atelier is renowned for its signature counter seating and surrounding tables that face directly into the open kitchen, introducing an interaction between chef and the diner. While the menu features an à la carte selection, guests can also opt-in for tasting menus, including the 10-course "Menu Evolution", which features a mix of iconic dishes and seasonal creations starting at $235/person with an additional $125 wine pairing.
To reserve a table call 212-488-8885