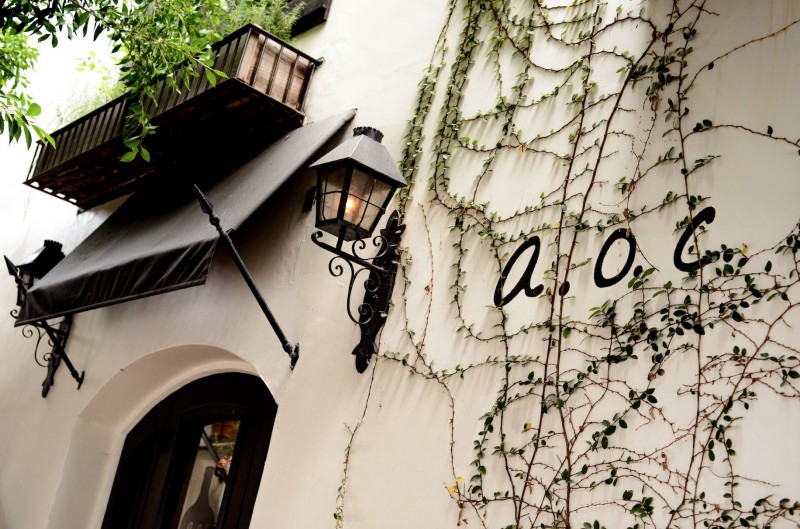 Photo Credit: Rob Stark
Following a small but saddening kitchen fire that caused the iconic California-inspired Los Angeles eatery A.O.C. to temporarily close down, it has finally opened its doors after about two months of restoring the beloved destination. Now, A.O.C. is back, better than ever, and debuting a new look and feel to its loyal customers, as well as a fresh, fall-inspired menu.
During the closure, owners Suzanne Goin and Caroline Styne used the unfortunate opportunity to bring about something positive by taking advantage of the unplanned closure to refresh the restaurant. Exciting additions include an abundance of greenery with new trees, new flooring and refinished tables and bars—revitalizing the cozy atmosphere to maintain the restaurant's identity but welcome some new-and-improved modern touches.
Photo Credit: Rob Stark
The James Beard Award-winning restaurant has developed a prestigious reputation among Los Angelinos' most critical palettes, most notably for the eatery's constantly evolving, seasonally inspired menu and extensive wine list. With the upgraded look of the restaurant also comes a brand-new, fall-inspired menu rolled out by power duo Goin and Styne.
Seasonal dishes making their way to the menu include a Spicy Soppressata Focaccia with tomato confit, mozzarella and jalapeños; Escarole salad with little gems, anchovy, celery and grapes; Wylie's Kampachi dressed with cucumber, crème fraiche and green harissa; a wood oven-roasted Swordfish with spinach, lemon and bottarga breadcrumbs; a rich Pappardelle with chanterelles, roasted kabocha and a savory uni butter; Za'atar Lamb Chops complemented by sunchokes, chestnuts, dates and sherry; and a comforting roasted butternut squash with guajillo, piquillo and pomegranate and more. If you're dining in a large group, a must-try is the Grilled Whole Sea Bream platter, paired with sweet coconut rice, lemongrass sambal and peanuts.
Photo Credit: Rob Stark
Bartender Christiaan Rollich has also rolled out a new cocktail menu with a long list of decadent libations, ranging from the "Three Amigos"—tequila, piloncillo, sarsaparilla, kola nut and sassafras root; to the "Green Goddess"—green tea-infused vodka with cucumber, arugula, jalapeño and absinthe; or the "Little Lion" with bourbon, passion fruit, sarsaparilla and vanilla.
And of course, longtime lovers of the Lucques Group eatery can still find their favorite classic hits on the menu like the bacon-wrapped dates, the Farmer's Plate, Chicken & Waffles and so much more. Bon appétit! 
Photo Credit: Rob Stark