Photo Credit: Navid
Photography by Navid (Belle & Company); Hair & Makeup: Gina Simone (Belle & Company); Styling: Kitty Chediak
Shot on location at 1 Hotel South Beach
Caroline Wozniacki is currently preparing for the Wuhan Open in Asia as we chat on the phone at 9 p.m. her time in China. Although at the moment she has a crucial match the next day, she is professional, polite and present—there's no sense of urgency or impatience in her voice. Wozniacki's commitment to the interview is a prime example of her unmatched discipline and how she gives her all to whatever it is she may be doing.
Recounting her day, she seems confident and at ease going into the Asia Tournament. "I like to keep things simple when I'm preparing for a match," she explains. "I work out and train, and then I get massages, eat good food and make sure I'm super-hydrated and getting plenty of rest. And then I try to go out there and focus on the task at hand and do my best and hope it's good enough. It's definitely a strong field this week, and everyone is playing. It's all about being on top of your game from the first match."
The female tennis star is indisputably one of the world's most recognized athletes—ranked as the No. 2 female tennis player in the world, holding 29 WTA singles winning titles under her belt, winning the Grand Slam title at the Australian Open in 2018 and serving as the ambassador of luxury brands including Rolex and adidas by Stella McCartney―Wozniacki has achieved immeasurable success on the tennis court. In 2011, Forbes ranked her as the second-highest-earning female athlete in the world. But what people may not recognize is that the 28-year-old is so much more off the court—a philanthropist, fashion designer, style icon, devoted daughter, soon-to-be wife, friend and role model―Wozniacki's passions are constantly evolving and growing, harboring no limits.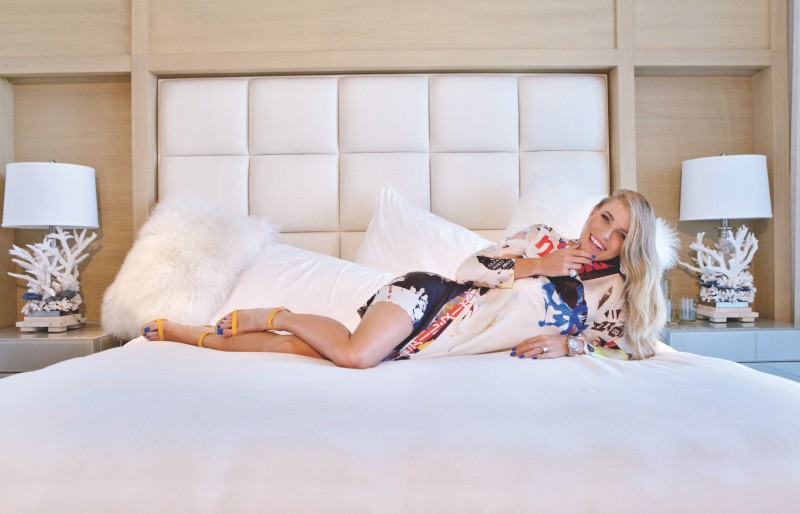 Photo Credit: Navid
Wozniacki's travels the past few months from New York to Miami, back to New York and then to Asia, were certainly not easy—especially at the pace and demand of her training—however, at this point in her career, Wozniacki is a pro traveler as well as athlete. The secret? She has some tips. "I spend so much time on airplanes, and every time I fly, I always wear compression pants," she explains. "I just feel that it helps my legs and makes my whole body feel better. And I drink tons of water. But the key is going straight into the new time zone. When I get to my destination and there's a big time difference, I make sure to eat a big dinner and go straight to bed if it's nighttime, or if it's during the day force myself to stay up all day. Once you get through the first two days, it's easy—you get in the rhythm."
Another huge part of her travel ease is the luxury of getting to bring her family with her on the road. Her father, Piotr, has served as her coach for the entirety of her career. And her mother, Anna, as well as her fiancé (retired NBA player David Lee), join the two as much as their schedules allow. With both of her parents being former athletes, they fostered her athleticism and competitive edge from a young age and have helped her refine her skills to become the world-renowned athlete that she is today.
"My dad has really helped me reach my full potential in my career, and my mom has been a huge support, as well," she says fondly. "Off the court, they're just the best and very easygoing and fun, and it's so great to be around them. Family is super-important to me. Even when I'm at home, I pop over to spend time with them and relax."
While family is certainly the most prominent luxury in Caroline's life, she has a few other indulgences as well, such as haute couture, watches and diamonds. She's made a name for herself as being one of the most glamorous athletes both on and off the court for a reason—no matter what the occasion, she oozes style and elegance in whatever it is she's wearing. Some of her favorite designers include, of course, Stella McCartney, as well as Victoria Beckham and Oscar de la Renta. The key to her is mixing and matching feminine and masculine pieces, as well as high fashion and casual styles to keep things fresh.
Photo Credit: Navid
As far as accessories are concerned, Wozniacki is hard to rival. She's served as a testimonee for Rolex, one of the most prestigious watch brands in the world, for eight years. "Rolex is such an amazing brand," she explains on her relationship with the luxury Swiss watchmaker. "It's such a terrific partnership, and they really care for me. They're so involved in tennis, but also a number of other sports, and I think one of the best parts about being part of the team is that they introduce their ambassadors to each other and bring them to other sporting or cultural events and create new relationships for us."
Some of her favorite pieces in her personal watch collection include the iconic Daytona, which she wears in rose gold, as well as the Sky-Dweller. "I love bigger, more manly watches. Something that looks larger on my wrist," she notes.
And to complement the stunning timepieces, she certainly has the jewelry to match—most notably her flawless 8.88 karat diamond engagement ring from her fiancé. "David did such an amazing job picking this out, so of course it's my most prized diamond possession. My favorite number is 8, so he really looked hard and found the perfect ring for me. It was super-sweet," she shares. "Aside from that, I also love my diamond necklace that he gave me that I wear when I play tennis, as well as a diamond bracelet that I also play with. Outside of my own pieces, I loved the Graff diamond earrings [in our shoot] that I got to wear because they make a statement."
Making a statement is something that the gorgeous tennis star does well, whether it's for her awe-inspiring tennis game or her enviable clothing and jewels to match. It's important for her to look and feel good while playing the sport and also in her free time. "I feel like diamonds and jewelry really spice things up—even when you're playing sports, you can still look elegant and feel pretty—I love that you can dress them up and also dress them down," she maintains.
Photo Credit: Navid
In addition to her ever-expanding repertoire of projects, Wozniacki has taken her keen fashion sense to the next level this year as she debuted her first collection as a designer with her OVVO x Caroline Wozniacki sunglasses collaboration. "I've always been a huge fan of sunglasses," she shares on the inspiration for the collection. "I feel like they allow you to look super-stylish and add another edge to your look. So when I set out with OVVO, the partnership made sense because I knew I wanted to design something that I would want to wear. They're perfect because they're sporty, fashionable and lightweight so I can wear them while playing tennis but also in everyday life."

When asked if her designing talents will expand outside of the sunglasses realm and into new sectors of the fashion world, she answers optimistically. "I wouldn't be opposed to that—it'd be really fun. It would have to be the right fit and something I was really passionate about for me to pursue it—but I'd definitely consider it in the future."
Photo Credit: Navid
Although Wozniacki has a deep appreciation for the finer things in life, it's equally as important to her to commit as much time and resources as she can to giving back to those less fortunate, particularly children. She serves as an advocate for nonprofit USANA Health Sciences and works with the organization to provide children and families with clean water, vitamins, food and crucial nutrition elements to help those who are malnourished and suffering.
"I'm very passionate about helping kids, and I try to donate a lot of my clothes, shoes and resources to charities in addition to monetary funds and helping out with the organizations," she says. "It means a lot to me to help children reach their full potential because it can really change their lives for the better, and I believe they can change the world. This has been something that's very close to my heart, and I think USANA does an amazing job with that."

Additionally, she has traveled with one of her close friends to Haiti to help with Project Medishare. The charity aids medical facilities to help women give birth in hospitals and also help children in school. "When I visited Haiti with her, it was so amazing to be a small part in this mission," she recalls. "It was definitely one of the most memorable times of my life. Some of the kids didn't have any food and they could only have one meal per day consisting of a little rice and maybe bread because their parents couldn't afford it. After spending the day with us and helping them, they left the school so happy, dancing and holding hands, singing together and just making the most out of what they had. It was incredible to see their positive attitudes and how happy they were—it put a lot of things into perspective."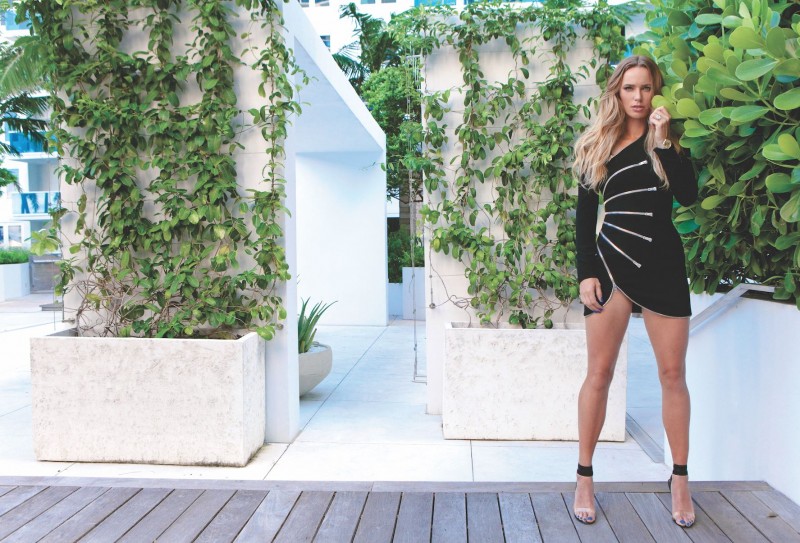 Photo Credit: Navid
Wozniacki's passion for helping and empowering youth comes full circle, since her family is very important to her. She and Lee recently bought a home in Miami's Fisher Island, making it their primary residence in addition to homes in New York and Monaco, and that is where her family joins together during her time off and for the holidays.

"Miami is so beautiful, and I was really drawn to Fisher Island because of the strong sense of community. Everyone walks around or drives in golf carts, and you see multiple generations of families there, and everyone knows each other. I really love that part about being there," she shares.
She and Lee enjoy spending time there and relaxing when she has downtime from the demanding season. And while the love that the two have for each other is palpable, there's also some underlying, all-in-good-fun competitiveness between the two—especially when it comes to the pool table—that's when things can get heated.

When asked if things get competitive between the two of them, being such accomplished athletes, she answers quickly with a laugh. "Oh for sure! I hate to lose. He's very competitive, too, but he can kind of let it go. While with me, if I lose to him in, say a game of pool, I get mad and I have this 'I don't want to talk to anyone' attitude," she shares. "But it's all in good fun—we push each other to challenge one another, and it's fun and exciting and makes for some great bonding. It stretches to my family, too—we're all competitors and love winning. We love to play all sorts of games, but David and I especially love playing pool, and we have a blast." As long as she's winning!
Photo Credit: Navid
Aside from the obvious tennis match, she shares that she definitely has an advantage over him in long-distance running. "When it comes to sprinting or things that require strength like lifting, he'll obviously beat me because he's so big and strong," she notes. "But long-distance running? That's where I've got it."

With the upcoming wedding and the fast-approaching return of the Australian Open, where she'll be defending her winning title in 2019, Wozniacki has many things pending on the horizon. But in the meantime, she's looking forward to a much-deserved vacation in November, the holidays with her family and returning to the courts in Australia come January.

"It's very exciting to be approaching the Australian Open once again. It was so huge for me to win last year—winning my first Grand Slam. I feel good about it, and I'm excited to be able to return and defend that title," she shares.
Photo Credit: Navid
In the midst of her whirlwind of a life, the accomplished athlete's success can definitely be attributed to her self-discipline and the strong values that she holds in herself, as well as her ability to tune out the noise of people that don't empower her to be her very best self.

"There will always be a lot of people along the way trying to bring you down or telling you that you can't do something, especially with social media these days," Wozniacki notes. "You have to be able to tune out the naysayers and negative comments, and keep your friends and family close and pay attention to what's important."

Furthermore, empowering other women is extremely important to her. "It's key to believe in yourself, work hard if you have a goal and believe it's possible to achieve it because anything is possible," she shares on her best advice to aspiring female athletes and her keys to success. "Work hard, stay focused and have a blast while doing it."