Photo Credit: David Jacobson
Mexican hotspot Bodega Negra at Dream Downtown is launching a seven-pound limited-edition dish – ¡Taco Enorme! – filled to the brim with over 15 ingredients in honor of National Taco Day. This ginormous dish includes seven types of cheeses and waygu beef, just for starters.
"We wanted to do something that veers outside traditional Mexican cuisine, but that still highlights the influence that tacos and other Mexican food traditions have had on our culture and daily lives. The ¡Taco Enorme! straddles that line perfectly, as it incorporates classic Mexican ingredients like queso Oaxaca, poblano peppers and Mexican truffle alongside unexpected additions like wagyu beef and gouda cheese," explained executive chef Brad Warner.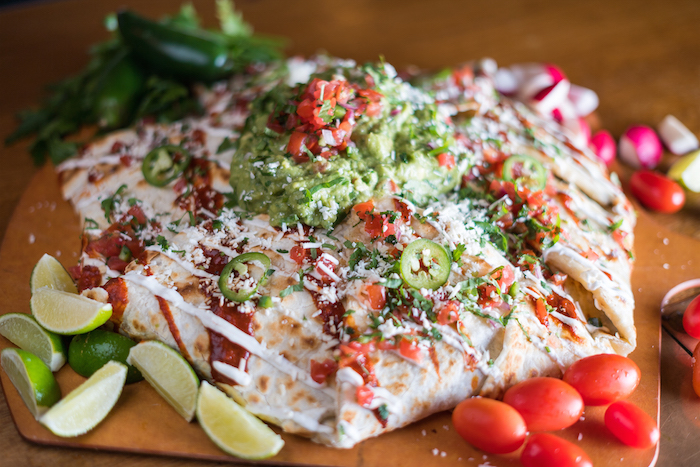 Photo Credit: David Jacobson
Priced at $65, the dish created by chef de cuisine, Victor Santibañez in collaboration with executive chef Brad Warner is exclusively available from October 4 – October 10 for up to 6 people, cut and served table side. The 15 ingredients include chihuahua, queso oaxaca, goat cheese, queso cotija, queso fresco, jack cheese, gouda, wagyu beef, Mexican truffle oil, poblano peppers, caramelized onions, salsa cascabel, chipotle guacamole, crispy corn tortillas, and flour tortillas.
"Bodega Negra at Dream Downtown is about being fun and irreverent, while serving exciting and delicious food. With the ¡Taco Enorme!, we wanted to lean into that and create something truly over the top for a special day!" says chef de cuisine Victor Santibañez.
Location: 355 W 16th St, New York, NY 10011