Food lovers and professional chefs will unite once again at the second annual 
ATK Boston EATS Festival
, which is returning to town September 14 to 16 at 
America's Test Kitchen
's headquarters at 
Boston's 
Innovation and Design Building in the 
Seaport District
. Last year, more than 3,000 people attended the festival. This year's three-day event promises to be bigger and better than ever with more than 30 Boston chefs (think 
Michael Schlow, Tony Maws, Will Gilson, Kevin O'Donnell, Michael Lombardi and Juan Pedrosa) participating. 
Also attending this year will be Bar Mezzana, Hojoko, Lolita Cocina & Tequila Bar Fort Point, Neptune Oyster, FoMu Ice Cream, and many others.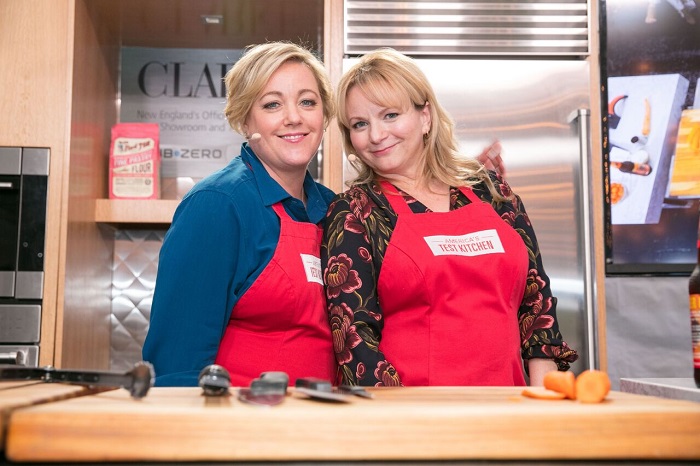 Photo Credit: ATK Boston Eats Festival
A 25th anniversary celebration for Cook's Illustrated will kick off the festivities Friday night where guests will celebrate in style with ATK TV talent, and unlimited food sampling from Boston's premiere chefs as well as ATK's chefs. "We had the first festival last year and are making it bigger this year because last year's sold out," said America's Test Kitchen co-host Julia Collin Davison. "There are three big events wrapped into the weekend. On Friday night, there will be a party for Cook's Illustrated magazine (it's their 25th anniversary). America's Test Kitchen folks and chefs throughout the city will be there. Trillium (Brewery) made a beer for us and the theme is 90s for when the magazine started. Dressing up in 90s gear is not required though (laughs). All the cast members from all of the shows will be there and it's a great opportunity to meet lots of local chefs."
Boston EATS Cooking, Food & Wine Festival will feature tastings from top culinary talent and interactive demos/panels with ATK and Cook's Country television cast members. "On Saturday, Boston EATS will feature over 40 restaurants with tons of food and wine (it's all included in your ticket price)," she said. "One of the tents is going to feature a stage with live cooking demonstrations. Every hour, there is going to be a demonstration going on. We have a gorgeous cookbook coming out on Italy so Bridget (Lancaster) and I will be doing a demo on that.
Photo Credit: ATK Boston Eats Festival
Has Davison always had a lifelong love of food? "I always tell people that I have always been a really good eater and that's the key," she laughed. "I have always liked working with my hands. When I was a kid, I asked for an oil changing kit. My mother is an amazing cook and she was ahead of her time back in the 70s. We had a big garden and she made pesto and froze it. She was always anti-nitrates and pesticides. We ate white hot dogs without all of the additives, so it was natural for me to pick that up."
Photo Credit: ATK Boston Eats Festival
On Sunday, ATK Kids Fest will include kid-focused live cooking and science demos, food experiments, interactive tasting and activity stations, face-painting, and live music. "Sunday's event will feature the first ever kid's festival," she said. "We are launching ATK Kids and spent a lot of time teaching kids to cook. It's geared for kids eight and up. There will be cooking demos with kids and adults making strawberry popsicles. Then they can see if they can taste the difference between white and yellow cheddar. We will have live music and family friendly restaurants participating. We also have three books coming out this fall that will be for sale for the first time at this event. It's going to be a great time."
Photo Credit: ATK Boston Eats Festival