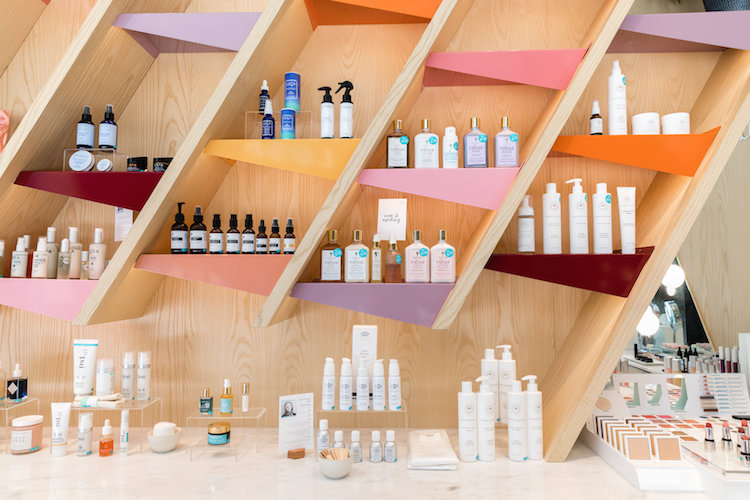 Photo Credit: The Detox Market
Is there anything better than a luxurious spa experience? Well, maybe one that's not only pampering but also 100 percent guilt-free. Good news: Greening up your beauty routine is easy in the City of Angels, thanks to the bevy of spas, salons and retailers that emphasize toxin-free products, environments free of harsh chemicals, eco-friendly recycling programs and treatments featuring pure, organic ingredients. The results are as effective as they are safe. Whether your focus is on your hair, face, skin or nails, here are five of our current spa, salon and studio faves that regularly elevate green beauty to a bona fide art form.
Alchemie Spa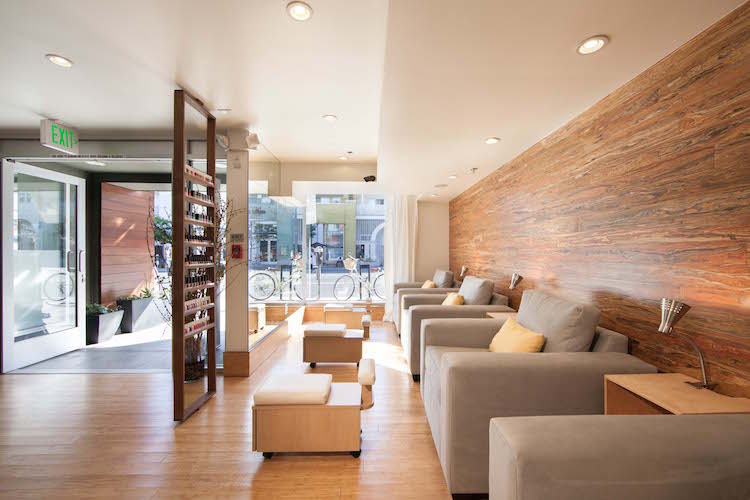 Photo Credit: Alchemie Spa
This Santa Monica wellness outpost touts itself as a spa, retreat and apothecary and delivers all three to its discerning, eco-conscious clientele. With the environment top of mind, Alchemie designed their modern space top to bottom utilizing recycled, renewable and sustainable materials, such as cork, recycled wood and coconut fiber. Whether you're enjoying a massage, Hydrafacial, infrared sauna treatment or reiki session, you can be certain all skincare products are made in the United States, organic, cruelty-free, and even vegan whenever possible. In fact, Alchemie carefully vets entire brands, preferring to work with lines that share similar green values and source fair-trade ingredients.
The spa's commitment to green wellness extends to its day-to-day operations too, especially where limiting waste is concerned. The team encourages emailed receipts over paper ones, uses a high-efficiency washing machine, packages retail items in recycled post-consumer paper, and recycles gift cards and other items that might otherwise be tossed in the trash. Additionally, all cleaning supplies, soaps and detergents used to keep Alchemie spotless are hypoallergenic and non-toxic.
Don't Miss: The Age Defying Facial ($265 for 90 min). Includes a facial massage, eye treatment, microdermabrasion, a plumping oxygen treatment, a microcurrent to lift and contour, and a honey cacao mask to restore hydration and tighten pores.
Alchemie Spa, Santa Monica
The Arcona Studio
Photo Credit: The Arcona Studio
In the business of beautiful, healthy skin since 1989, Arcona has long been beloved by the Hollywood set. The brand was built upon the philosophy that the most effective skin-changing products are those that utilize pure and active ingredients. For this reason, the line's products are infused with high concentrations of antioxidants, plant lipids, essentials oils, vitamins and minerals. What you'll never find in Arcona products? Artificial colors, perfumes, petrochemicals, binders, fillers, chemical stabilizers, parabens and other toxic or harmful substances.
Although select retailers throughout the Greater Los Angeles area carry the Arcona line, enthusiasts see the value in visiting the brand's Santa Monica studio to not only stock up but also indulge in customized treatments that complement Arcona's "Basic Five" daily skincare regimen — Exfoliate, Hydrate, Protect, Cleanse, Regenerate. The brand swears that clients who stick to this regimen consistently will see more balanced skin that feels just as great as it looks.
Don't Miss: The Arcona Signature Facial Contouring with Oxygen Therapy ($125 for 50 minutes). Only available at The Arcona Studio, this deep muscle facial massage incorporates acupressure and lymph drainage to tone the muscles of the face.
The Arcona Studio, Santa Monica
Côte
Photo Credit: Donato Sardella/Getty Images for Côte
"Cleaner safer beauty" is a motto for polish maker and nail salon Côte, which aims to deliver a luxurious nail care experience free of the worrisome chemicals and allergens long associated with traditional nail polishes and the industry. As a result, stepping through this nail salon's doors equals stepping into a wholly non-toxic zone, extending from the products and salon environment to the cleaning agents and even the technician-guest interactions. ("No drama!" co-founders Mary Lennon and Leah Yari have declared to describe the Côte experience.) 
Choose from more than 100 gorgeous shades of Côte polish, all made cruelty-free and rigorously tested to be safe for everyone, since it was always the goal of Lennon and Yari to create polishes with the well-being of their friends, family and kids in mind. The resulting formulas deliver a smooth application, durable shine and a chip-resistant finish, without undesirable chemicals like formaldehyde, dibutyl phthalate (DBP), toluene, camphor, formaldehyde resin, TPHP, xylene, ethyl tosylamide, parabens or gluten. Stop by their beachy bungalow in Brentwood Village for some pampering and to browse their assortment of sweet gifts.
Don't Miss: Healing Crystal Pedicure ($75). Enjoy a relaxing soak, exfoliation, moisturizing treatment and heavenly crystal stone massage with labradorite to relieve stress and blue calcite to dissolve pain before the application of your nail color and some thoughtful SPF protection.
Côte, Brentwood
The Detox Market
Photo Credit: The Detox Market
If you're looking to re-create a green spa experience at home, The Detox Market had better be on your radar. They offer a curated selection of carefully tested, eco-friendly, cruelty-free brands in beauty, wellness, health and home, such as Ilia, Innersense, Josh Rosebrook, Kjaer Weis, May Lindstrom, Odacité, and Vapour, to name a few. No toxic ingredients are allowed, meaning no parabens, synthetic fragrance, PEGS, or petrochemicals. Whether you're already an eco-obsessed wellness aficionado or just beginning to green up your routine, the friendly and capable staff can provide makeup and skincare consultations that will help you find clean, safe products to fall in love with.
And the timing has never been better to make The Detox Market one of your go-to's. They just opened their third LA location at the trendy Westfield Century City shopping center, in a sleek, minimalistic Suulin Architects-designed space. And the ultra-luxurious Japanese-style inn Nobu Ryokan Malibu has tapped The Detox Market to create an exclusive line of bath salts, available in the hotel beginning this month.
Don't Miss: The Detox Box ($240 plus tax for 6 months). Gift yourself or a friend a monthly box of tried-and-true favorites and new-to-market game-changers, including one featured brand each month.
The Detox Market, Los Angeles, Santa Monica
Harper Salon
Photo Credit: Harper Salon
Carla Gentile, Nicole Hartmann and Nikki Pittam, owners of Harper Salon, are proud to have partnered with Green Circle Salons, a revolutionary recycling program designed specifically for salons. After implementing the program, Harper says it's been able to regularly recycle an incredible 80 percent of its waste. Green Circle helps Harper recycle its aluminum foils, hair clippings and excess chemicals from color tubes.
When you get your hair cut at Harper, your hair clippings gain new life as hair booms, which are used to soak up oil spills in the ocean, or as temporary pillows, which can be distributed as a form of aid in refugee crisis areas. And those leftover coloring chemicals? Harper says Green Circle's centrifuge system can separate the water from those substances, meaning up to 96 percent of that water can be cleaned and reintroduced back into the environment. Gentile, Hartmann and Pittam emphasize that every little action adds up to make a big difference, and it's clear their long list of loyal clients are happy to support a salon committed to the environment in such a big way.
Don't Miss: Beach Waves ($350 and up). Let one of the experts at Harper Salon give you picture-perfect, bombshell beach waves any time of year without ever even having to step foot in the ocean.
Harper Salon, Los Angeles
Subscribe to discover the best kept secrets in your city