New York Restaurant Week (July 23 – August 13) is almost upon us which means it's time to start booking reservations at the hottest spots in town now!
American Cut Midtown
Photo Credit: American Cut
American Cut Midtown is thrilled to participate in NYC Restaurant Week, Summer 2018 where guests can enjoy fine dining and experience the delicious cuisine and ambiance. For $42 per person, guests can indulge in a 3-Course-Prix-Fixe dinner featuring a choice of appetizer, entree, dessert and side including Yellowtail Crudo with Tomatillo, Heirloom Tomato Pico de Gallo and Smoked Avocado, Filet Mignon Au Poivre with Foie Gras and Brandied Onions, a side of Ratatouille with Summer Squash Hottish or Micky D's Hash Browns with French Onion Dip, as well as a Cracker Jack Sundae with Caramel Popcorn, Peanut Brittle and Popcorn Ice Cream. The featured menu will be available Monday through Thursday from 5:30 PM – 10:00 PM as well as Friday and Saturday from 5:30 PM – 11:00 PM.
VANDAL
Photo Credit: VANDAL
VANDAL, located in Manhattan's trendy Lower East Side specializes in globally-inspired plates, and this Restaurant Week you can try them out. Dishes like Yellowtail Crudo, Old School Chicken Parm, and Vanilla Panna Cotta will all be available for your dining pleasure.
Scarpetta
Photo Credit: Scarpetta
The new flagship location and the indulgent menu offered at Scarpetta in Nomad is an evening not to be missed. For $42 per person, guests can enjoy a delicious 3-Course-Prix-Fixe Dinner which will feature Scarpetta's classic dishes, such as Spaghetti with Tomato & Basil and Raw Yellowtail. Finish dinner with delectable desserts such as a Coconut Panna Cotta or the delicious Valrhona Chocolate Cake. 
Scarpetta in NoMad is also offering a prix-fixe brunch menu for Restaurant Week. For $26, guests can enjoy a3-Course-Prix-Fixe Brunch including Avocado Toast with Myers Lemon, Onions and Aleppo Pepper, Uova in Camica with Rosemary Lentils, Plum Tomatoes and Poached Egg as well as a Biscotti for dessert. 
Charlie Palmer at The Knick
Photo Credit: Charlie Palmer
Get your appetite ready for Charlie Palmer's summer restaurant week lunch (two-courses) and dinner offerings (three-courses). Menu highlights include Summer Minestrone, Grilled Peach Salad, Roasted Shallot + Goat Cheese Agnolotti, Grilled Swordfish, and Rhubarb Clafoutis. The menu is available Monday-Friday & Sunday from July 23th – August 17th.
Legasea
Photo Credit: Justin Levy
Legasea Seafood Brasserie will offer top-tier seafood dishes by Executive chef Jason Hall in a prix fixe menu that include customer-favorites such as, Spicy Crab Beignets, Flounder Francaise, and their newest Seafood Marinara Pasta and Summer Berry Eton Mess. The venue is located steps away from Madison Square Garden and down the street from the bustle of Times Square, making it the convenient stop after a Broadway matinee, and before a concert or sports game.
Boulud Sud
Photo Credit: Boulud Sud
Mediterranean delicacies are abundant during Boulud Sud's restaurant week offerings. Stop by during lunch or dinner to feast on dishes such as Daurade a la Plancha, Andalusian Tomato Gazpacho, Lemon Saffron Spaghetti, Harissa Lamb Burger, Lucalli's Ricotta Cheesecake, and more.
Philippe Chow
Photo Credit: Philippe Chow
Philippe Chow, the renowned Chinese restaurant, has created a lunch and dinner special in celebration of Restaurant Week. Lunch highlights will include the famous Chicken Satay; Wok Seared Branzino served with eggplant and sweet & spicy sauce; and Crispy Beef with a sweet orange and carrot sauce; and more. Round out your meal with the choice of ice cream or a Warm Brownie topped with coconut sorbet, whipped cream and strawberries.
Dinner highlights includes Vegetable Lo-Mein made with hand pulled noodles; Dumpling Sampler with hand rolled and steamed shrimp, chicken and vegetable dumplings; Slow Roasted Pork Butt coated with a honey barbeque sauce and paired with sugar snap peas; and more. End on a sweet note with a Coconut Mousse with a black sesame cake topped with strawberry rhubarb compote and lemon curd.
Bodega Negra
Photo Credit: Bodega Negra
Modern Mexican restaurant Bodega Negra located at Dream Downtown, will offer a prix fixe menu that incorporates dishes from the newly revamped Summer menu which officially launched on Wednesday, July 27th. New seasonal dishes such as Seared Tuna Toastadas and Bodega Chopped Salad will be available alongside classics such as Shrimp Ceviche, Roasted Chile Relleno, Churro Sundae, among others; all designed and presented by newly appointed Chef de Cuisine Victor Santibañez.
The Stanton Social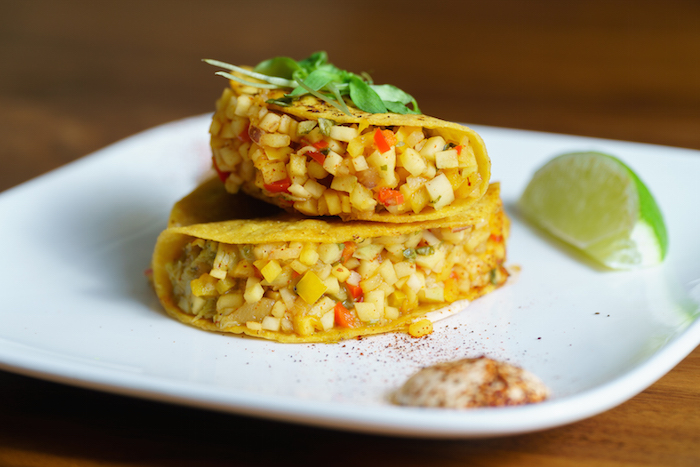 Photo Credit: The Stanton Social
Lower East Side hangout, The Stanton Social is offering up everyone's favorite shared plates this Restaurant Week. Munch on delicious dishes like Crispy Hard Shell Fish Tacos, Spiced Sesame Salmon and a Caprese Style Ravioli that can't be missed.
Beauty & Essex
Photo Credit: Beauty & Essex
The luxurious Beauty & Essex is serving up some of the hottest dishes for Restaurant Week this year. Wander past the Pawn Shop to relish in dishes like Braised Short Ribs, Lemon Pepper Ricotta Ravioli and 'Chile Relleno' Empanadas.
TAO Downtown
Photo Credit: TAO Downtown
Don't miss out on a meal from one of the trendiest spots in NYC. TAO Downtown is offering up countless dishes for restaurant week this year. Relish in your favorite classics like Hot and Sour Soup, Mongolian Beef, and a Sushi Platter if you'd like some variety. Delicious desserts like Matcha Crème Brûlée and Warm Chocolate Cake will also be available.
Kingside
Photo Credit: Kingside
Swing by Midtown's best New American restaurant, Kingside this Restaurant week and enjoy classic dishes with a unique twist. Offerings such as Smoked Bass Crudo, Roasted Chicken and Chocolate Lava Cake are available on the menu.
LAVO
Photo Credit: Warren Jagger
Enjoy Italian favorites for lunch and dinner at LAVO this restaurant week. Start with plates like Watermelon Feta Salad and Satuéed Mussels Marinara, and move to Chicken Marsala and a Ribeye Steak for the entrée. Mouth-watering desserts like New York Style Cheesecake and Oreo Zeppole are available as well.