Arrow star Stephen Amell has really hit the mark with his pet project turned overnight sensation, Nocking Point, a social media-driven wine club that now boasts its first brick-and-mortar tasting room, as well as international expansion into both Canada and the UK markets. The idea for the winery first began in May of 2012 when Stephen and business partner/pal Andrew Harding embarked on a road trip from LA to Oakland to watch a Blue Jays game. Three hours into the trip Harding, who had grown up in wine country, easily convinced Amell—who had never been to a wine region—to make a quick stop in Paso Robles to taste some wine. Amell's first-ever wine country pit-stop ended turning into a 48-hour wine bender that included stops at more than a dozen wineries, making a bunch of new friends in the local wine business, and wrapped up at a party on a private lake. As they drove away from Paso, heading on to Oakland, the planning for Nocking Point Wines had begun.
In 2013, the friends proudly unveiled their new winemaking and wine storage facility along with their 3.5 acre vineyard – 50% Cabernet Sauvignon and 50% Syrah – just east of Walla Walla, Washington, and the rest, as they say, is history (the "rest," by the way, includes celebrity wine collaborations with even more pals, such as fellow CW star Jared Padalecki (Supernatural and Gilmore Girls), who made a Chardonnay-based sparkling wine. Last summer's collaboration was with Zachary Levi (Chuck) included two different rosés, called  "NERD HQ Part 1.0" and "NERD HQ Part 2.0." In September, the collaboration with professional wrestling champion Cody Runnels created a sparkling wine called "Dream" and a big red blend called "Nightmare." The December collaboration was with with actors Colton Haynes and Emily Bett – both of whom have co-starred with Amell on Arrow.
We chatted with Amell about his vino venture, his favorite wines of all time and the upcoming season of Arrow.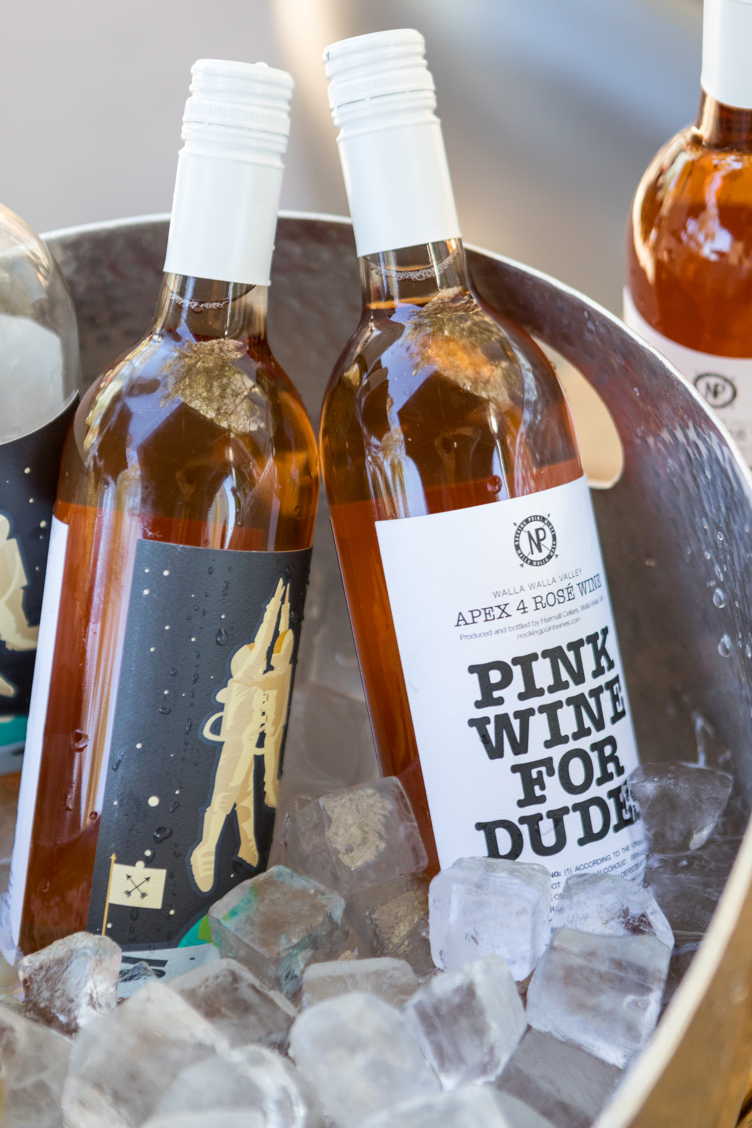 Where does the name of your winery come from?
It's a term from archery — the spot where you nock the arrow on the bow string. We wanted to give a nod to archery, for fairly obvious reasons, but we wanted to come up with something that wasn't totally obvious and we felt like Nocking Point was perfect.
During your 48-hour wine bender, which of the Paso wineries became your favorite?
Our buddy Tyler's winery, Nelle, for sure. If you ever make it to Paso go see him. You won't be disappointed. He also makes a Syrah with fruit from Walla Walla. He's a good dude and a spectacular winemaker.
Have you made it your mission to wine taste around the world? What's your favorite and why, if so?
Yes of course! The more places we can go to experience wines from all over the world, the better. In the summer of 2017 we made it to Italy for about a week and got into some beautiful Brunellos. Anytime I find Brunello on a wine list I'm all-in.
You've collaborated on quite a few DC projects. What's your dream pairing and why?
That's a great question. My business partner, Drew, and I have a long list of people on our wish list. Some will be easy gets because we know them well but others are aspirational. As to who would be my top pick? Let's just say we have our own VERY SPECIFIC Top 10 list that we're going to pursue hard and I don't want to give any big spoilers away yet!!
Can you speak about your upcoming projects, including Code 8?
Not really- I don't like spoilers…they are happening.
Any insights into season 7 of "Arrow," especially now that Quentin Lance won't be returning?
We have a new show runner. She hates spoilers more than me.
What to you is the greatest luxury in life?
Days with my family with nothing to do.
Photo Credit: Jakob Layman
Subscribe to discover the best kept secrets in your city