Photo Credit: Irie FoundationNow on its fourteenth year going strong in Miami Beach, Miami-favorite philanthropist and DJ Irie will be hosting another action-packed Irie Weekend from June 28th-July 1st.
The Miami-based non-profit foundation seeks to empower South Florida's at-risk youth through mentorship programs, cultural experiences, scholarship opportunities and more, targeting students from middle school through high school. The ultimate goal of the Irie Foundation is to provide students with the means to graduate high school, pursue higher education and chase after their career paths, developing into successful adults.
The celebrity-favorite Irie Weekend is the Foundation's pinnacle and highest-grossing event of the year, with a lineup of three days consisting of activities and events to raise funds for the Organization.
This year's headquarters will take place at the iconic Fontainebleau Hotel Miami Beach. Events throughout the weekend include the #InspIRIE Dinner Gala, Celebrity Topgolf Tournament with Ludacris, Topgolf Concet on the Green, LIV Friday Night, BBQ Beach Bash with Jason Derulo, E11even After Dark with surprise guests and the closing event, Turn Down for Brunch.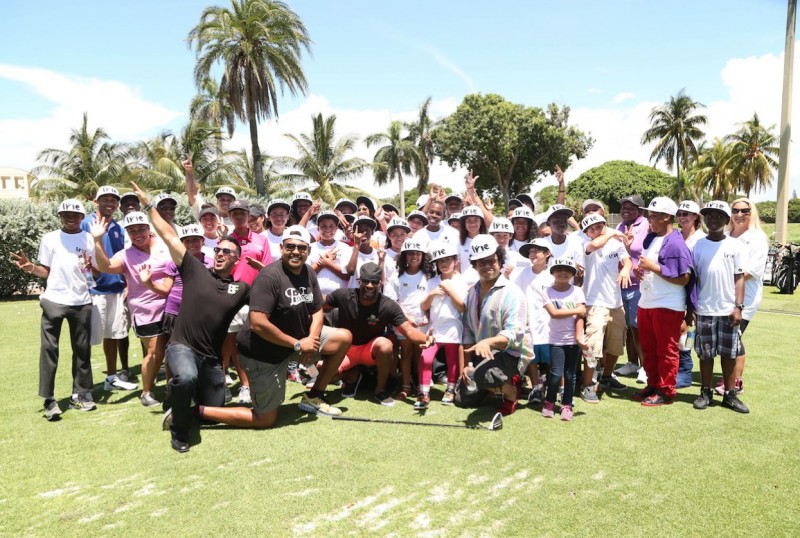 Photo Credit: Irie Foundation
Here, Haute Living sits down with the man himself to discuss this year's upcoming weekend and what we can look forward to from #IWXIV:
Since we spoke last summer, what progress has the Irie Foundation made? What have been some of the greatest accomplishments of the last year?
Since our last conversation, Irie Foundation is now headquartered within the walls of the Carnival Center for Excellence as a resident partner of Big Brothers Big Sisters of greater Miami. We have just completed Phase 1 of our Irie Rhythms Academy, our fully functional state-of-the-art broadcast studio titled Boogie Live. This broadcast studio will facilitate the education and development for all the matched and waitlisted little's of the Big Brothers Big Sisters organization along with the surrounding communities. The name of the studio was an inspiration of my late mother, who was fondly known as Boogie. Our studio will also function as an outlet for our business partners in the community to relay their service messages, speak candidly about health and wellness, financing, podcasting and more.  At the heart of all of this will be our commitment to music and arts in the community.
Tell us about some of the highlights of this year's Irie Weekend.

 
The biggest highlight of this year's Irie Weekend is our move to the new Topgolf Miami Gardens! This is the first time in our 14-year history that we've moved our celebrity tournament away from a traditional golf course. We're taking over the entire venue for the entire day to host two separate events. On Friday, June 29th from 12 to 5 p.m. will be our Triller Celebrity Topgolf Tournament. This will be a new style of competitive play for real prizes! From 7 p.m. to midnight, we're going to make history with the first-ever E11EVEN Music Topgolf Concert on the Green. This will be one part light-hearted games for the novice or recreational player and one part all-out party with a live performance by Ludacris on our specially erected stage right on the green.
Who are some of the celebrity guests attending? 
So far our confirmed celebrities include Shaquille O'Neal, Charissa Thompson, Guy Fieri, Jason Derulo, Sean Paul, Diplo, Reggie Bush, Ludacris, Anthony Mackie and more to be announced in the next week.
What are you most looking forward to?
I'd have to say I'm most looking forward to the Give from the Heart #InspIRIE Dinner Gala at the Fontainebleau Miami Beach's Glimmer Ballroom on Thursday, June 28th.  This is the event that's near and dear to my heart as we get to share all the wonderful accomplishments of the Irie Foundation and our vision for the future.
What are your next plans for growing the Foundation? What is the rest of 2018-2019 looking like for you? 
By the end of 2018 we will have awarded over $120,000, plus two vehicles to well deserving graduates. With the completion of Phase 1 of our Irie Rhythms Academy, we anticipate Phase 2 of the Academy to be complete by the end of 2018 and the next phases to be completed by early 2019.  This state-of-the-art music and education center will provide a DJ Academy, Drum/Percussion, Guitar, Dance, 
Sound/Audio engineering, 
Film and Photography lessons at no cost to students. 
Photo Credit: Irie Foundation