The global food community came together on Monday, June 11, to raise a glass in honor of giving back. This year marked the 33rd Annual Chefs' Tribute to Citymeals on Wheels. Held at Rockefeller Center, this year's event theme was The Grand Affair and recognized the world's greatest hotel chefs. In addition to founders Jonathan Waxman and Larry Forgione, 45 other chefs including Daniel Boulud, Scott Conant, Marc Forgione, Cassidee Dabney, Michael White and Dale Talde were on hand cooking for a great cause.
Photo Credit: Eric Vitale
"I always have fun here," said Larry Forgione, who created a Sonoma pastured lam ragout with spring garlic and flint corn polenta for the event. In 1985, Forgione and  Waxman spearheaded plans for a benefit evening that would mark the eighty-second birthday of Citymeals Co-Founder James Beard.
They wanted to feature chefs from across the country, including many of Beard's protégés. Sadly, he passed away just months before the event. Instead of canceling, fellow Co-Founder and food writer Gael Greene along with the participating chefs decided to honor Beard at the party. Since that night in '85, the event takes place every June benefiting Citymeals and acts as a type of birthday party for Beard.
"The birthday party is now our tribute to a man whose life was about savoring every deliciousness, living each moment and sharing the abundance," says Greene.
When Forgione, considered the 'Godfather of American Cuisine,' wasn't serving guests, he stood side-by-side with this son and fellow chef Marc Forgione who was hand-cranking veal for his veal tartare served with what he called "flavors of pizza." It was one of the most popular dishes of the evening, available only to those in the VIP lounge.
Photo Credit: Konrad Brattke Photography
Another popular dish of the evening was the duo of Japanese A5 Wagyu prepared by Chef Raymond Weber of CUT by Wolfgang Puck at the Four Seasons Hotel in Downtown, NYC. "It's rich and delicious," said Weber "and a specialty at CUT."
Other hits were hamachi crudo with finger lime, ginger and Calabrian chili from Chef Scott Conant, guinea hen terrine with pickled rhubarb from Chef Cassidee Dabney and quenelles de brochet aux écrevisses, from Citymeals Board Co-President Chef Daniel Boulud and Chef Sylvain Assie.
On the international culinary side chefs included Thomas Seifried of Blue by Eric Ripert at The Ritz-Carlton Grand Cayman and chef Carlos Pardo, from the Sumaq Machu Picchu Hotel in Peru, who shipped his ingredients from South America.
"Quinoa and potatoes are special to our cuisine This dish is a taste of Peru." The Peruvian plate was a hit garnishing rave reviews from both Boulud and Conant.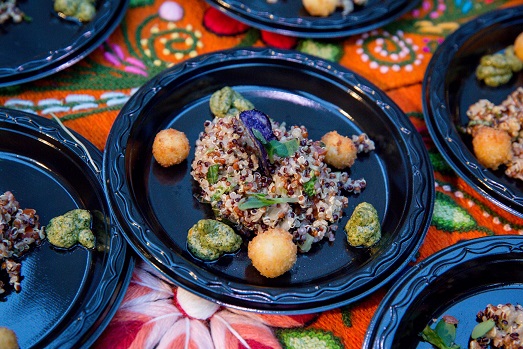 Photo Credit: Eric Vitale Photography
Throughout the evening, chefs and guests sipped on craft cocktails featuring Belvedere, Courvoisier, Plantation Rum and Plymouth Gin, as well as wines poured by winemakers who flew in from Burgundy and Tuscany.
"This is some party!," said Nick Valenti, Grand Host of the 33rd Annual Chefs' Tribute and CEO of Patina Restaurant Group, which operates the restaurant & bar in Rockefeller Center. "We are so happy to be host for the 33rd year of this tasting event. Since its inception, Chefs' Tribute has raised over $21 million to prepare and deliver meals to older New Yorkers in need."
Photo Credit: Eric Vitale
The event was attended by 1,000 guests who not only had their fill of amazing food and drink, but also got to enjoy entertainment from a 14-piece band playing 1920s inspired music, swing and tap dancers, a strolling banjo player and more.
Chefs' Tribute raised nearly $900,000 to deliver over 122,000 meals to home bound elderly New Yorkers by Citymeals on Wheels – the city's only nonprofit providing home-delivered meals to our frail aged neighbors in all five boroughs.
Beth Shapiro, Executive Director of Citymeals, was pleased with the event's outcome. "Citymeals has been deeply rooted in and supported by the chef community since our founding. We are grateful to all the chefs with us tonight, who have extended their generosity to Citymeals and the frail aged New Yorkers who rely on us. And we thank the many other supporters who have made Chefs' Tribute what it is for the last thirty-three years."