Detox, relaxation, pampering…are all valid reasons to visit a spa but when you're stepping into one of the world's most luxurious spas suites, you can expect a whole lot more. These exclusive spa spaces offer more than just your average massage. Designed to offer a complete experience incorporating all your senses, spa suites take relaxation to the next level with signature spa treatments and specialty amenities. Concierge service and champagne are often on offer as are unique body stimulating services such as crushed ice fountains to refresh between thermal baths, rock saunas, and emotion showers. While each design will be different, most are focused on transporting guests into serenity while still immersing them in local culture through landscape and technique.  
From Bali to Berlin, here are 11 of the world's best spa suites.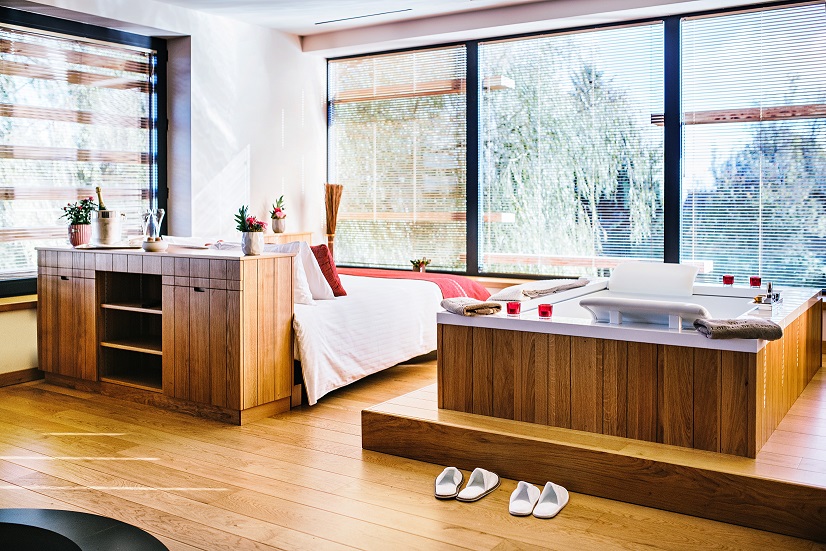 Photo Credit: Le Relais Bernard Loiseau
Le Relais Bernard Loiseau – famous for its food –  houses not just a two-star Michelin restaurant, but also an amazing new spa. The 5-star Relais & Chateaux property in the heart of Burgundy unveiled La Villa Loiseau des Sens, a 16,000-square-foot spa, located right next to the hotel in an independent four-story building. The oasis offers 10 treatment rooms and includes a wide range of unique signature treatments, such as the "The Secrets de Cassis" range, which focuses on incorporating local Burgundy blackcurrants into the treatment.
Designed to offer an unforgettable experience for the senses, the spa offers guests a "multi-sensorial" space to stimulate all the senses and provide optimal relaxation with massage alcoves, a pool, sauna with a view of the garden, hammams, an experiential shower, and more. The latest addition to the spa is the new 700-square-foot VIP Spa Suite which overlooks the Auxois Mountains and the hotel's lush gardens.
Accommodating up to eight guests, the suite is designed to feel like a luxurious hotel suite, including its own hammam, sauna, balneotherapy pool, and  fireplace. The experience includes champagne, dessert and room service, along with access to the main spa areas and signature treatments.
Location: Bali

Photo Credit: AYANA Resort and Spa, BALI
Spa On The Rocks at the Ayana Resort is comprised of two spa villas built into the rocks above the Indian Ocean. Here, treatments like the Diamond Miracle, which incorporates diamond dust and elements of pearls, silk and sea quartz, are in demand as are their exclusive marine-based products are derived from the healing elements of seawater.
The resort is also home to the only Thermes Marins Spa in southeast Asia, offering an extensive selection of both traditional Eastern therapies and modern Thalasso treatments as well as world's largest Aquatonic Seawater Therapy Pool. This 2-hour wellness journey features over 60 individual therapeutic jet streams that improve circulation and promote an overall sense of well-being.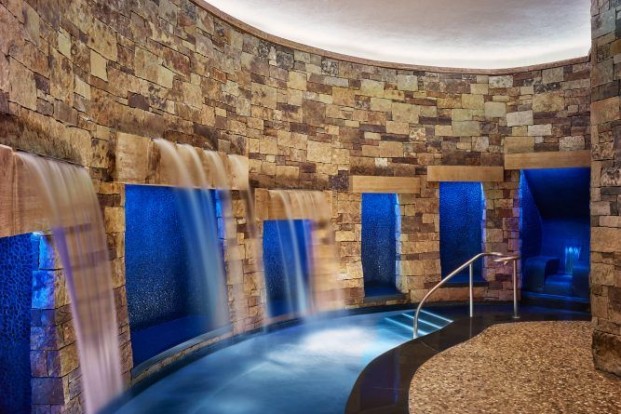 Photo Credit: St. Regis Aspen
From start to finish, the spa experience at Remede Luxury Spa is pampering at its best. Champagne welcomes guests and customized treatments are created for a truly unique experience. The spa suite here provides access to an oxygen lounge, steam caves, cold plunges, hot tubs and the confluence waterfall. While even the hotel admits that the spa is intimate compared to others, what sets it apart are the revolutionary treatments and world-class technicians and products.  
Location: Siena, Italy
Photo Credit: Castello di Casole
Set in what was once the Castello's wine cellar, Essere Spa is a stunning vision of old world heritage with its barrel-vaulted ceilings and restored stone walls. The theatrical setting is accentuated by long views across an expansive valley to calm the mind and spirit as well as pools, deep soak tubs and private outdoor gardens to relax the body.  
The spa creates its own homemade, organic beauty products inspired by local ingredients (rosemary, grape and olive oil) and matches them with products from the French brand, Carita and the completely organic and anti-allergenic British brand, Ila. Treatments here are a blend of Etruscan, traditional, and modern therapies and treatments.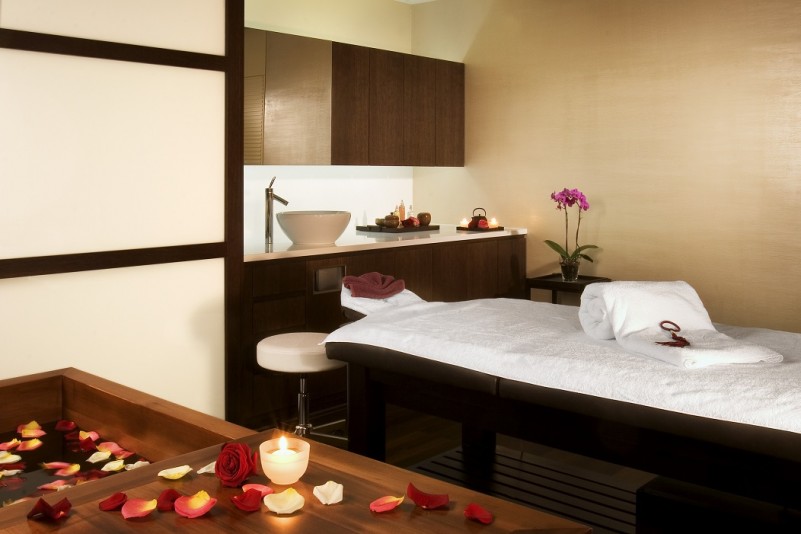 Photo Credit: Beau Rivage Palace
The Beau-Rivage Palace in Lausanne is situated on ten acres of private gardens, adjacent to Lake Geneva, with spectacular views of the snow-capped Swiss Alps. Located at the foot of the Alps, this destination offers one of the most spectacular vantage points of Europe's highest mountain range. Designed for holidays dedicated for health and well-being, the hotel's Spa Suite boasts an impressive 915 square-foot facility and consists of a lounge, bedroom and an immense bathroom with a spa area of its own, essentially bringing the resort's award-winning Cinq Mondes Spa directly to the guest's room.The bathroom houses two massage tables, a Jacuzzi, and a hammam.
Location: Amalfi Coast, Italy

Photo Credit: The Spa at Monastero Santa Rosa
A 17th-century ruined convent turned 20-room luxury resort, Monastero Santa Rosa features some of the most stunning views of the entire Amalfi Coast overlooking the Bay of Salerno. The Spa at Monastero Santa Rosa nods to its Italian heritage with untouched original 17th Century vaulted ceilings and rustic walls.
Local lemon and rosemary are infused in house-blended oils to invigorate the senses. Guests can indulge in amenities like the Thermal Suite, consisting of a stunning double-height vaulted Tepidarium – a warm room ancient Romans used to sit in – that are outfitted with pomegranate infused foot spas & heated mosaic loungers.
Archways lead to a domed aromatic steam room to one side and a rock sauna to the other. In between, there is a crushed ice fountain to refresh between thermal bathing as well as a hydro pool and emotion showers. In the Spa Suite, guests can find a double height vaulted space with Rasul steam room, double wet and dry treatment couches, a mani and pedi station, and a relaxation lounge along with private dressing rooms, a grooming space, and garden terrace.
Photo Credit: Rosewood Mayakoba
Hidden within the tropical jungle of Mayakoba, the Sense Spa lies on its own island, secluded from the rest of the resort. Designed as a retreat-within-a-retreat, visitors must cross a bridge called the Puente del Balneario to reach the private spa island. Once inside, the interior of the eight island spa suites open up to allow for the natural environment of the jungle to find its way inside as every suite sits on water. Guests will either overlook the lagoon, canal, or beach. That's not the only water experience, though since all suites feature private plunge pools or outdoor shower.
Therapeutic treatments incorporate indigenous ingredients made from local plants such as aloe and agave cactus for use in customized or signature treatments. Steam grottos, saunas and experiential showers are also on offer, as is a meditation platform, pool and relaxation cenote deck.
Photo Credit: San Clemente Palace Kempinski
San Clemente Palace Kempinski in Venice, the luxury resort uniquely situated on its own private island in the Venetian Lagoon, offers a 4,000-square-foot spa in partnership with local luxury fragrance brand, The Merchant of Venice. Surrounded by lush gardens and just a ten-minute boat ride from St Mark's Square, the new spa occupies two floors, including a wet area comprised of a Finnish sauna, Turkish bath and emotion shower, and four treatment rooms. For the ultimate luxury experience, guests can book the Spa Suite, offering 530 square-feet of complete privacy, which features a hot tub, sauna, Turkish bath and shower, and an elegant lounge area for two. 
The spa's signature treatments and massages use oils that are stem from ancient recipes from the Orient and incorporate essential oils such as sandalwood, jojoba and bergamot. One of their most extravagant signature spa treatments is the Splendor Anti-Age Gold Mask, which consists of eleven 24-carat gold leaves made by the Venetian craft workshop Mario Berta Battiloro.
Location: Guacalito de la Isla, Nicaragua
Photo Credit: Spa Mukul at the Mukul Beach Golf & Spa Resort
You won't find a general reception area, communal plunge pool or even lounge room at the Spa Mulul. Here, six experiences are housed in six individual, private spa suites. Each suite focuses on a different ancient healing tradition and treatment, often using local Nicaraguan ingredients with its own correlating theme. One embraces the culture and tradition of the rainforest, while another, called the Healing Hut, uses ancient wisdom set in modern luxury. The Secret Garden offers Watsu, unique massage therapy performed in a warm, specially designed pool while The Crystal Temple starts with a mint and sea salt bath set to a a visual and melodic concert of light and sound. Select that suite that suits you or stay and try them all.
Location: Berlin, Germany
Photo Credit: The Adlon Spa by Resense at the Hotel Adlon Kempinski
The Adlon's Spa by Resense, created by interior designer Anne Maria Jagdfeld, spans 9,000-square-feet spread over three levels. The spa offers three luxurious spa suites, each including a Finnish sauna, steam shower, Jacuzzi or relaxation day bed, private sound system, and a color therapy wall. Here, guests can enjoy complimentary champagne and a range of treatments including  "The Duo" couples massage, "The Bachelorette" for 2-4 people, including the choice of a manicure, facial, or massage, and "The Girls" for 2-4 ladies, to simply relax with a 30-minute massage, enjoy the space and drink some bubbles.
Location: Maui, Hawaii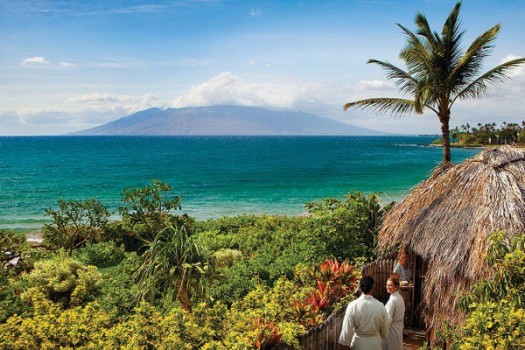 Photo Credit: The Four Seasons
A true wellness experience in Hawaii transcends traditional spa services but what the The Four Seasons Maui at Wailea manages to do is bring some of the heritage and healing history of Hawaii to  their spa. Natives plants surround the three ocean side hales (thatched huts) which were built in the traditional style, with no nails or modern tools. They sit so close to the water's edge that you can hear the waves crashing and smell the scent of tropical flowers brought into the hale with the ocean breeze. While taking all that in, can experience the spa's signature Lomi Mohala massage, a form of the traditional Hawaiian lomi lomi massage. Based on intention, the flow of the ocean waves, and practiced movements, the treatment is intended to be both spiritual and emotional as well as physical.
Subscribe to discover the best kept secrets in your city