The Library of Distilled Spirits launched its Cocktails & Conversations author series on March 6 with "King of Cocktails" Dale DeGroff. Dale was on hand to sign copies of his new book "The Essential Cocktail Book," and share sips of his Whiskey Smash and Martha's Ryan Cherry Punch cocktails at the bar.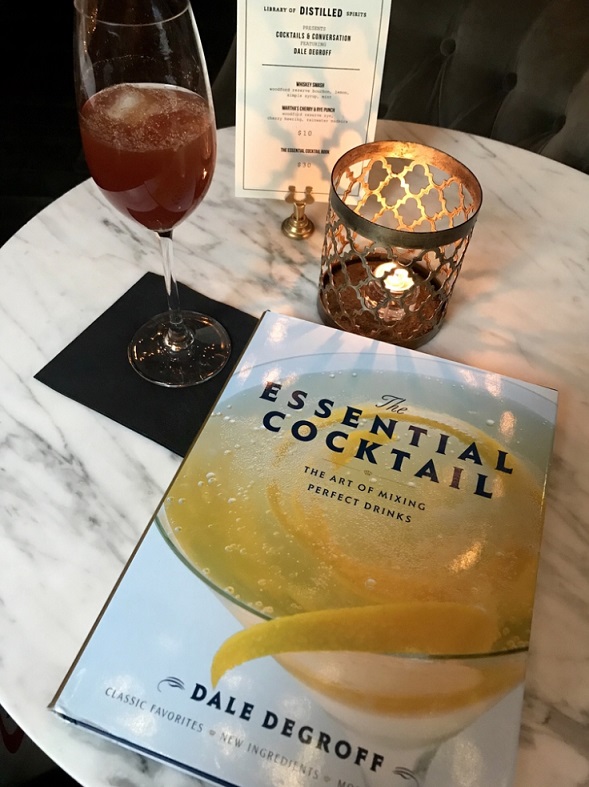 Photo Credit: Alicia Hollinger/Hella Cocktail Co.
Cocktails & Conversations is a weekly series showcasing new and notable books, often featuring an appearance by the author. Themed cocktails are served and a healthy mingle session follows. This is the perfect series for the Library, which houses a collection of over 1,000 spirits bottles from all over the world, with matching encyclopedia volumes dedicated to each of those single spirits to match. The goal is for bar keepers at the Library to act as a real life Dewey Decimal System to help guest navigate both the cocktails and the books.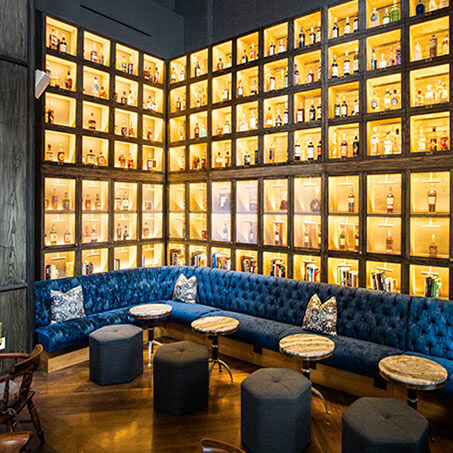 Photo Credit: Library of Distilled Spirits
Former Beverage Director Kyle Tran (formerly of the Aviary in Chicago) was responsible for the cocktail curation here. Inspired by the world's' greatest libraries, he worked in partnership with Dushan Zaric to create and compile the Library's Encyclopedia of Distilled Spirits, a multi-volume tome divided into sections by spirit category. Each category includes a history of the spirit and its role in cocktail culture over time. What comes next is a selection of signature cocktails, with a full recipe and production method described, and finally, a list of all the spirits in that category available at the Library. It is likely the most impressive cocktail menu you will ever see in the City. Recently, Nemanya Popovich -another Dushan Zaric protege and alum of The Franklin Mortgage & Investment Co. in Philadelphia – took over as the Library's Beverage Director.
Tom Dillon, co-founder of LDS parent hospitality group APICII, explains,"The idea behind the Library of Distilled Spirits has always been to create experiences for people who enjoy learning about spirits and the history behind the evolution of cocktails. Cocktails & Conversations is a series intended to connect our guests with some of the most knowledgeable spirits authors and craft mixologists in the industry, to engage in conversations in an intimate and relaxed way, accompanied, of course, by cocktails."
Photo Credit: Library of Distilled Spirits
The next hosted author will be Andrew Friedman on Tues, Mar. 20, signing copies of his recently released "Chefs, Drugs, and Rock & Roll" followed by famed author Gary Regan of "The Joy of Mixology" and "The Bartender's Bible" the following week. Fans can RSVP here.