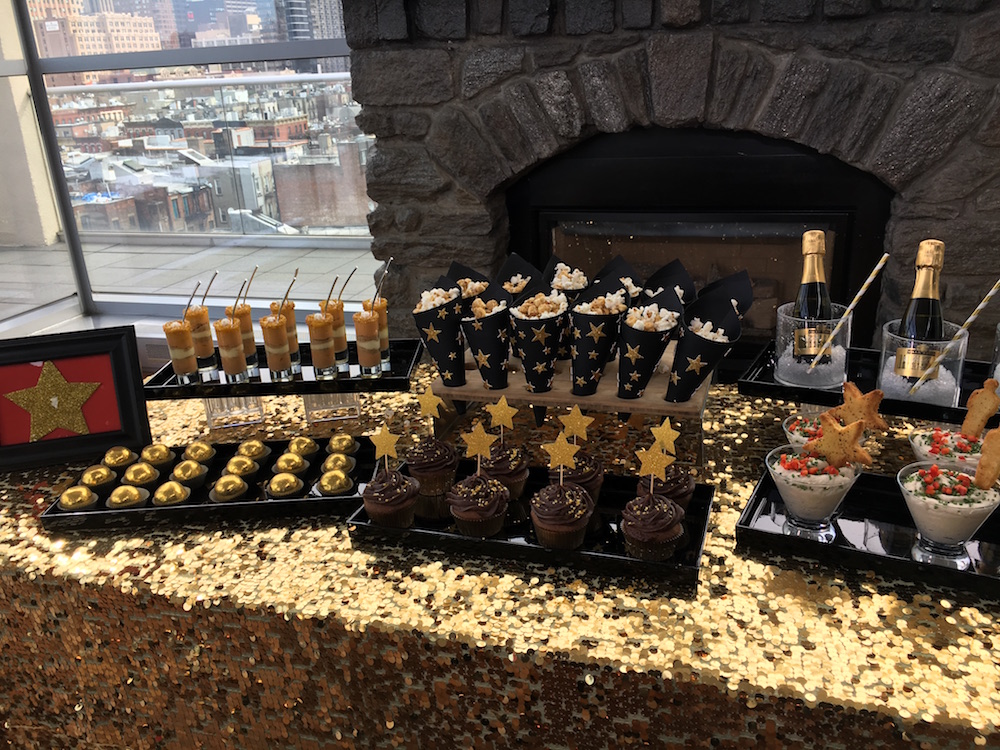 The Oscars are fast approaching and caterer-to-the-stars Andrea Correale of Elegant Affairs (who has helped celebrities such as Jimmy Fallon, Mariah Carey, and Liam Neeson throw together impressive soirees) is helping us prepare for the festivities with four decadent recipes that are perfect for an epic Oscars viewing party at home. Pair these delicious treats with a fancy bottle of champagne and you're all set for a memorable night honoring Hollywood's hottest.
SOPHISTICATED POPCORN CONES
Yield 4-6 cones
Ingredients
        1 bag of popped popcorn

        1 1/2 tbsp truffle oil

        1 tsp fresh minced Italian parsley

        1/4 tsp garlic powder

        fresh cracked black pepper

        2 tbsp dry Parmesan
Instructions
In a large bowl, combine truffle oil, herbs, and pepper and mix well. Add popped popcorn immediately to the bowl and add Parmesan cheese and mix. Place in festive cones made from black paper adorned with gold star stickers.
---
STAR-STUDDED CHOCOLATE CUPCAKES
Yield 2 dozen
Ingredients
        1 1/2 cups Nutella

        3 eggs at room temperature

        1 cup all-purpose flour

        Chocolate frosting (prepared)

        Gold star picks, festive wrappers, and edible star confetti to decorate (Wilton)
Instructions
Preheat the oven to 350 F. Line miniature muffin tins with 28 paper liners.

In a large bowl, whisk the eggs together. Add 1 1/2 cups of Nutella. Whisk the eggs and Nutella together until your mixture is smooth.

Add the flour and gently stir it in until the flour is completely blended. Don't overwork it or your cupcakes will be tough.

Divide the batter between the muffin cups. Bake the cupcakes for about 13-15 minutes until the tops are puffed and cracked and spring back when lightly pressed. Let the cupcakes cool.

Pipe the frosting on top of the cooled cupcakes and top each with a beautiful gold garnish.
---
VANILLA SPARKLE PUDDING PARFAITS
Yield 6 shot glasses
Ingredients
        1 (1.4 oz.) package vanilla instant pudding mix

        2 cups 1% low-fat milk

        1/2 cup light sour cream

        1 container whipped topping

        graham cracker crumbs (4 cracker sheets)

        gold sprinkles

        6 (4 oz) shot glasses
Instructions
Whisk together first three ingredients in a bowl until blended and smooth. Fold in 1 1/2 cups whipped topping.

Spoon 1 tbsp crumbs into each of 6 (4 oz) glasses and top with 1/3 cup pudding mixture. Repeat layers with remaining crumbs and pudding mixture. Top each parfait evenly with remaining whipped topping and gold sprinkles. Cover and chill for at least one hour.
---
GOLD STAR-STUDDED TRUFFLES
Yield- 24-30 pieces
Ingredients
       

7 oz chopped or shaved chocolate (semi-sweet milk chocolate)

        2/3 cup heavy cream

        2 tsp corn syrup

        1 tbsp unsalted butter

        1 box of made brownies

        ¼ cup chocolate frosting (store-bought)

        28 oz chocolate coating (Wilton)

        1 jar of edible gold sparkles (Disco dust is best)
Instructions
Place the chopped chocolate in a bowl and place on the side. Pour the cream, light corn syrup, and a pinch of salt in a pan. Bring it to a simmer, not a boil.

Pour the hot cream over the chocolate. Mix the chocolate and the cream together until it's melted. Add the butter and whisk it in until combined.

Place a piece of saran wrap on top of the chocolate mixture and press down a bit.  Place bowl in fridge for 2.5 hours, checking the texture every 30 minutes until it's firm enough to roll but not too hard.

When the mixture is cool enough to hold its shape but not too hard, scoop small balls of the chocolate onto a baking sheet that's been lightly dusted with cocoa powder. Roll the truffles quickly or the chocolate will become too soft.

Refrigerate the balls for about 30 minutes until they firm up.

To coat with melted chocolate, heat the 20 oz. of chocolate coating in the microwave until it's melted.

Add the remaining (unmelted) chocolate to the melted chocolate. Stir constantly until the chocolate is thick and shiny.

If you have a chocolate dipping tool, use it to dip each center in the melted chocolate. Then set the dipped truffles on a piece of parchment or on a plastic-lined wire rack.

Immediately, as you make them, sprinkle each truffle with the gold sparkles. Allow them to set and then serve.