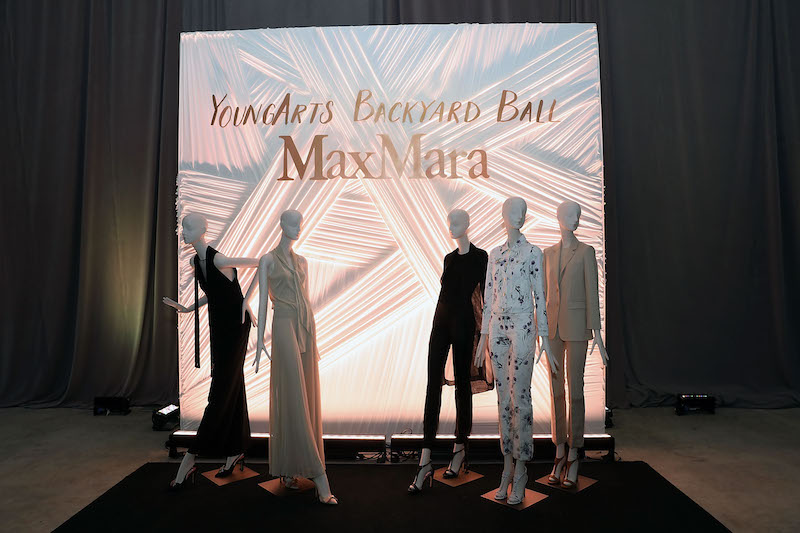 Photo Credit: Aaron Davidson/Getty Images
Children are our future, so it's important we do all we can to cultivate their talents and skills. That's exactly what YoungArts does through their program and mentorship for their students. With the help from their patrons, they are able to raise the funds they need to help each student.
YoungArts recently held their Backyard Ball, the organization's largest annual fundraiser, where all of the various supporters and mentors from all over the country come together for one night to show support for the talented kids. What's even better is that some of the alumni get to showcase their talents through poetry and dance.
The National YoungArts Foundation (YoungArts) announced the appointment of Sarah Arison as Chair of the Board of Trustees during the fundraiser. Arison will assume the position immediately. Academy Award-winning playwright and YoungArts master teacher Tarell Alvin McCraney was also awarded with the 2018 Arison Alumni Award for his contributions and commitment to the arts.
"I am honored and humbled to have been appointed Chair by the Board of Trustees," said Sarah Arison. "YoungArts has always been a part of my life. My grandparents, Ted and Lin Arison, founded the organization nearly 40 years ago to help ensure that the artists of tomorrow would receive the validation, personal support and resources they need to pursue their passions. Since then, the organization has nurtured more than twenty thousand rising artists. I look forward to working with Carolina García Jayaram, our President and CEO, and YoungArts' dedicated staff and Board of Trustees to find even more ways to support the next generation of artists."
Sarah Arison is active in various national arts organizations. She has served as a trustee of YoungArts since 2005, developing strategic partnerships with The Metropolitan Museum of Art, Sotheby's New York, Sundance Film Festival, and others to provide aspiring talent with presentation and mentorship opportunities. In 2016, she helped initiate MaxMara's Young Visionary Award, an annual prize for an exceptional YoungArts winner.
Photo Credit: Aaron Davidson/Getty Images
"The National YoungArts Foundation is profoundly grateful to Sarah Arison for her strong commitment to the organization and we look forward to all that we will be able to do together with Sarah as our Chair," said Carolina García Jayaram, YoungArts President & CEO. "There is truly no one better to help us take our next vital steps as an organization, as we expand and strengthen our programs to support aspiring artists at critical junctures in their careers."
The Backyard Balll raised more than $1.5M to support aspiring and emerging artists across the country. During remarks, García Jayaram announced the creation of the Lin Arison Excellence in Writing Award, a new $50,000 college scholarship for one exceptional YoungArts winner in Writing supported by the Micky and Madeleine Arison Family Foundation.
For the fourth consecutive year, the Backyard Ball was presented by MaxMara, an Italian luxury brand aligned with YoungArts' mission to support young artists in their educational and professional development. Hosted by Chairs Dr. Kira and Mr. Neil Flanzraich, the Backyard Ball brought together the nation's most promising artists, industry leaders, alumni and celebrities including Amy and Richard Kohan, Jorge and Darlene Pérez, Klaus Biesenbach, Todd Bishop, Superintendent of Miami-Dade County Public Schools Alberto Carvalho, Jeffrey Davis and Michael Miller, Diana and Joseph DiMenna, Annette Felder, Bernardo Fort-Brescia, Marvin Ross Friedman and Adrienne Bon Haes, Matt Haggman and Danet Linares, Alex Hurst, Alan and Diane Lieberman, George Lindemann, Bob Lynch, MaxMara US Director of Retail Maria Giulia Maramotti, Ariel Penzer and Jeremy Milgroom, Oti and Remi Roberts, Victoria Rogers, Ellen Salpeter, Dennis and Debra Scholl, and artists and musicians Derrick Adams, Robert Chambers, Gerald Clayton, Teresita Fernández, Naomi Fisher, José Parlá and Betty Wright, and more.
Photo Credit: World Red Eye
Remarks were made from YoungArts leadership who applauded McCraney on his accomplishments. Welcomed by a standing ovation, McCraney recalled a moment earlier during the day with the 2018 YoungArts winners, where the emerging artists called for a more inclusive, equitable and diverse future. The Academy Award-winner recounted with emotion the way that their very instinct is to take care of each other and the marginalized communities that need the most support.
Following McCraney's acceptance speech, Maria Giulia Maramotti, MaxMara Director of US Retail and Global Brand Ambassador presented Torrance Hall with the MaxMara Young Visionary Award, an accolade reserved for an exceptional YoungArts winner. The award aims to financially support a young artist in the development of their craft, foster art education and encourage the artist to continue the pursuit of their dreams.
The evening was emceed by WPLG-Local 10 News Anchor and Reporter, Louis Aguirre. A cocktail reception showcasing pieces from the MaxMara Spring/Summer 2018 collection was followed by and a seated dinner.
Photo Credit: Jason-Koerner
Guests enjoyed inspiring alumni performances with artistic direction by Grammy Award winner Grace Weber (2006 Winner in Voice & U.S Presidential Scholar in the Arts) and featuring Thirdstory (Ben Lusher, 2010 Winner in Voice; Richard Saunders, 2008 Winner in Voice & U.S. Presidential Scholar in the Arts; Elliott Skinner, 2013 Winner in Voice), Nadia Alexander (2012 Winner in Theater & U.S Presidential Scholar in the Arts), Amanda Krische (2012 Winner in Dance), Jasmine "Jaz" Sinclair (2012 Winner in Theater), Jose "BOY BOI" Tena (2012 Winner in Dance), Elliot Wuu (2017 Winner in Classical Music), and an all-star alumni jazz band led by four-time Grammy-nominated pianist and composer Gerald Clayton (2002 Winner in Jazz & U.S. Presidential Scholar in the Arts) with Braxton Cook (2010 Winner in Jazz), Julius Rodriguez (2014 Winner in Jazz), Zack Ostroff (2011 Winner in Jazz & U.S. Presidential Scholar in the Arts) and Benny Benack (2009 Winner in Jazz).
The evening concluded with the Backyard Ball after-party on the YoungArts plaza with dancing and dessert under the stars, with music by legendary DJ and producer Arthur Baker.
Subscribe to discover the best kept secrets in your city