Photo Credit: Atlantis, The Palm
If champagne dreams and caviar wishes are your jam, you'll be happy to hear that a record-breaking, caviar-specific feat occurred on New Year's Eve.
Atlantis, The Palm, a luxury hotel in Dubai, teamed up with US caviar company AmStur to break the Guinness World Record for the world's largest caviar tin.
The 50kg serving—which beat the previous, 2016 record of 17kg—was presented to guests at the resorts' gala dinner in a custom-made, diamond shaped caviar tin coined 'Cleito' after the famous goddess known as the 'Mother of Atlantis.' Said guests enjoyed their decadent treat using custom-engraved, mother-of-pearl spoons, produced specifically to commemorate the record-breaking occasion.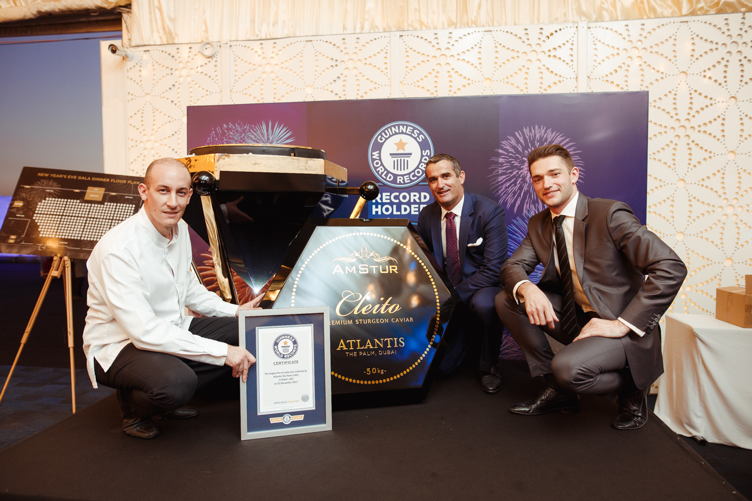 The 98cm x 74cm tin was created using R304 stainless steel and had special compartments to store frozen ice gel (to ensure that the deep-grey Empress caviar—the world's only fully certified organic caviar from native-raised sturgeon—is served at the appropriate temperature).
After checking that the attempt was verified and that all rules and guidelines were adhered to, an official Guinness World Record adjudicator declared that, "It was exciting to see another Guinness World Records title being broken here in Dubai – you are officially amazing!"
The Atlantis and AmStur teams also rightfully enjoyed a little self-congratulation. "We thoroughly enjoyed this project… and we are extremely proud to have achieved the impossible with the 50kg tin," said Serge Zaalof, Chief Operating Officer for Atlantis Resorts & Residences.
Added Sascha Triemer, Vice President for Food & Beverage at Atlantis, The Palm, "At Atlantis, The Palm we pride ourselves on creating amazing experiences and everlasting memories for our guests and we welcomed this opportunity to introduce the luxury taste of AmStur – The World's Finest Caviar. By breaking the Guinness World Record title for Largest Tin of Caviar, we continue to wow our guests and allow them to experience the unforgettable and seemingly impossible."
Concluded AmStur Caviar partner, Nicholas Narsavidze, " Our success demonstrates that culinary excellence and sustainable practices can go hand-in-hand, and we look forward to bringing AmStur caviar to everyone who not only appreciates fine quality, but cares about protecting the environment."
Subscribe to discover the best kept secrets in your city