Photo Credit: L MAKEUP INSTITUTE

Not many know her story, but they should. Lissette Waugh found herself between teaching others the art of makeup artistry and the opposing Nevada government.
---
I first met Lisette Waugh at L Makeup Institute. Her newest location at the elegant Tivoli Village shopping and office development center in Summerlin is a store and education hybrid. I was invited to tour the makeup store portion of the location in addition to a complimentary makeup application.
"Where are you from?" she asks. "Yo soy Cubana," she proudly says in Spanish. Translation, "I am Cuban."
The second time we met, we toured her school. I was impressed by the state-of-the-art classrooms, the students tending to their art, and learning about the intensive education of a professional makeup artist.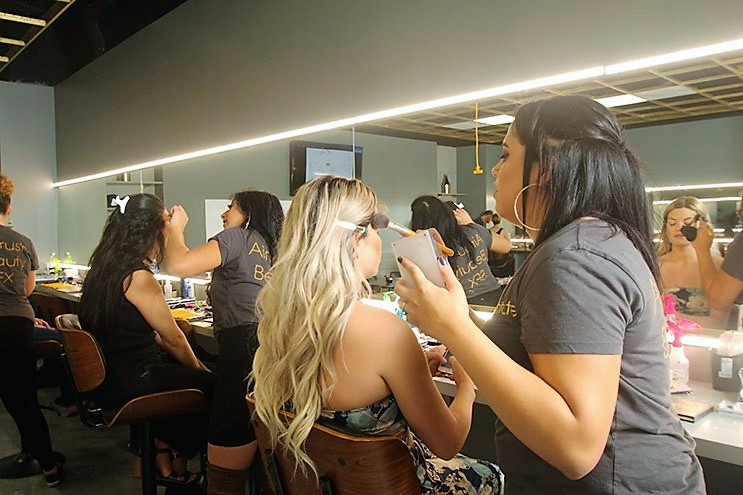 Photo Credit: L MAKEUP INSTITUTE
Waugh spoke of the difficult time she and her husband faced during the great recession of the late early 2000s. She saw through it all and bet it all on herself. In 2010, the L Makeup Institute opened for business, but the Nevada State Board of Cosmetology would later find her school a violation of state law. They required she obtain a cosmetology instructor's license or close down indefinitely.
"I took all our money and decided to invest in it," she shares about her decision to explore the makeup school industry, "and it was scary, but I thought 'it's now or never.'"
To clarify, cosmetology school and makeup school are two very different industries. Makeup artistry involves the education of skincare, hair care, and nail care whereas cosmetology does not. The lawsuit was filed and the journey began, and what a tumultuous journey that would be.
Photo Credit: L MAKEUP INSTITUTE
"I remember being harassed every day after at our first location to shut down. They would leave thousand dollar fines on my door. And I thought, 'They're going to have to drag me out of here, but I'm not closing. I'm not going anywhere,'" her voice angered.
Entrepreneurs are warriors, fighting for their visions to leave the non-physical world into the physical one. How did she manage to arrive at this 2,000 square-foot location with a makeup store and a makeup school at a luxurious shopping center in one of Las Vegas' most expensive neighborhoods?
Photo Credit: L Makeup Institute
"I would cry. I was depressed. I would tell my family, 'I don't know that I can continue doing this, but we won. My family was a huge support system for me. They would tell me not to give up," said Waugh.
All entrepreneurs recognize the word perseverance; Waugh can attest. Her courage and persistence brought her the much deserving success, worthy of boasting. Still, Waugh remains the humble Cuban-born girl who attended Chaparral High School from the modest neighborhood of 28th Street in Las Vegas to the sharp and accomplished businesswoman sitting across from me.
The first time she shared she was Cuban, the way she said it, stood out, so I asked before I left, "Do you think that being from Cuba and fleeing the country with your family had anything to do with you persistence?"
"Absolutely."