Indulge your inner altruist during Discover the Palm Beaches' annual Spa and Wellness Month. Through October, leading salons, wellness purveyors, and restaurants around Palm Beach County are offering value added skincare and beauty treatments, spa packages, and dining experiences with a benevolent twist. For each treatment sold, a percentage will be donated to the Palm Beach & Martin County Chapter of the American Cancer Society.
From rose facials to Himalayan Salt Stone massages, we spotlight five of our favorites.
Himalayan Salt Stone Massage, Natural Spa Manicure, and Spa Facial
Photo Credit: Brodigan Photography
Where: Kaffee's Garden Spa
4100 S. Dixie Hwy., West Palm Beach, 561-833-4483
October Price: $225 (Massage, Manicure, and Facial), $140 (Manicure and Facial)
The place: Surrounded by verdant hedges, the spa's located inside a rambling, hacienda-style building. A charming, stamp-sized gift shop sells skincare products and makeup and gifts like candles and holistic teas. A private sitting area features garden-inspired elements like a wall fountain with a lion's head.
The techniques: Masseuse Stacy DeMars commenced with our Himalayan Salt Stone Massage (pictured below) as we breathed in microscopic salt particles misted inside the spa's custom salt room (pictured above). The Swedish massage combines warmed salt stone rocks and other thermal therapies. The benefits of salt therapy? Think of it [salt] as a healthy scrub for your lungs, Stacy said.
Photo Credit: Courtesy of Kaffee's Garden Spa
A Natural Spa Manicure was next. Samantha Levine offered tips for correcting our ridge-prone nails before plunging them into a moisturizing cuticle bath. She cleaned our cuticles, shaped our nails into a simple C, and painted them in Lavender, a popular hue by Naked Manicure.
Photo Credit: Courtesy of Kaffee's Garden Spa
Next, the spa's flaxen-haired owner, Kaffee Keldie (pictured above), sat us down for her popular, no-nonsense Spa Facial. One of Florida's top skincare gurus, she learned the dermal ABC's from Dermalogica's founder, Jane Wurwand. She said our skin was in good shape except for some congestion around the jawline, a consequence of our Argan oil infatuation. After a few quick extractions, she applied an enzymatic peel to remove our flaky, dead skin then smoothed on her own branded hydrating fluid, a moisturizer with sunscreen, and a dab of Mirigal's High Voltage Oil.
The extras: Spa robe; and a cozy sitting area with citrus-infused water and teas. Cleanliness is next to godliness at Kaffee's, and clients are gifted the buffer, emory board, and cuticle pusher used at their nail appointment. Through October, anyone who books a Himalayan Salt Stone Massage, a Natural Spa Manicure, and a Spa Facial combo; or a Himalayan Salt Stone Massage and a Natural Spa Manicure combo will leave with a luxurious goody bag.
Lessons learned: After skin's toned, layer products by strength: serum first, moisturizer second, and facial oil last, if necessary.
Bottom line: Our manicure was still chip-free after a week and our face, neck, and décolleté definitely looked brighter. We attribute the latter to ritualistically using Kaffee's Aloe Hydrating Fluid every morning.
---
SilkPeel Facial, Blowout, and Makeup Application
Photo Credit: Courtesy of Cosmo & Company
Where: Cosmo & Company
2511 S. Dixie Hwy., West Palm Beach, 561-833-7411
October Price: $99 (Facial), $115 (Base Color and Blowout)
The place: Inside Cosmo Dischino's bustling, West Palm Beach salon and spa is a coffee bar and Boutique Bellissima, a small shop that sells luxury brands like Chanel and one-of-a-kind accessories owner Jill Mason finds around the world. The spa menu includes dermabrasion and chemical peels, but for more intensive treatments like Botox and Ultherapy, head next door to Beauté Therapies which specializes in non-surgical procedures and holistic health.
The techniques: When medical aesthetician Lily Dorsa (pictured below) opened the door to her treatment room, we thought it was a doctor's office. Nearly an entire wall was devoted to the degrees and special honors she's received the past 25 years. She began by giving our face a good cleansing. She massaged our pressure points to drain out pesky toxins then rubbed our face, neck, and shoulders with fragrant, honey-lavender cream. Once she set the high-frequency level, she proceeded with the SilkPeel Facial. Similar to dermabrasion, this painless treatment uses a vacuum to remove the top layer of the dermis followed by a nutrient-packed serum injected into the pores to activate the lower layers. After some brief tugging, the peel was complete. Working with products from the IS Clinical line, she covered our touch-sensitive skin with a cooling mask then applied a youth cream and a light layer of sunscreen to our face and lips.
Photo Credit: Courtesy of Cosmo & Company
One look at our lifeless locks and color specialist and stylist Jason Moses (pictured below) sent us to have our hair shampooed and deeply conditioned before our blowout. The New Jersey transplant, who has trained stylists and taught classes for beauty giant Wella, smoothed Oribe Straight Away Smoothing Blowout Cream on our hair before blowing it out into sleek, straight strands. He added a few red carpet-ready curls with a large barrel curler for drama, then spritzed them with an anti-humidity hairspray.
Photo Credit: Courtesy of Cosmo & Company
As Jason worked his magic, Cosmo's creative beauty designer, Tara Trail, worked on our Makeup Application. Liking our request for a luxe beach look, she primed our face first. Then she brushed on Nearly Naked Tinted Moisturizer by Luka Cosmetics and swiped our cheeks with blush and bronzer by Smith & Cult. She created a smoky eye with the Book of Eye Eyeshadow Quad in Noonsuite. On our lips, she applied Luka's Organic Lip Lacquer in Athens.
Lesson learned: Seeing the swan-like transformation in the mirror, we immediately added Jason and Tara to our speed dial.
The extras: Bottomless coffee, espresso, and cappuccino drinks; an intimate sitting room designed with Eastern influences
Bottom line: Our blowout lasted three days before we had to wash our hair. With visibly smoother and tighter skin, the SilkPeel definitely works. To keep our skin soft and glowing, Lily recommended future peels and products packed with lactic, glycolic, hyaluronic, and salicylic acids.
---
Pretty In Pink Manicure & Pedicure and Roses Facial


Photo Credit: Courtesy of PGA National Resort & Spa
Where: PGA National Resort & Spa 
400 Avenue of the Champions, Palm Beach Gardens, 561-627-3111
October Price: $89 per treatment
The place: Skip walking through the hotel, and enter the spa's outdoor entrance instead. A popular destination for pro golfers, don't be surprised to see a prominent athlete sitting next to you. Waters of the World (pictured below), a pair of ultra-indulgent, hydrotherapy pools with imported salts from Israel's Dead Sea and the Salies de Béarn in the Pyrenées, should not be missed.
Photo Credit: Courtesy of PGA National Resort & Spa
The techniques: After several attempts to remove the stubborn gel polish on our toes, Valentina Katz got started on our Pretty in Pink Pedicure. As our feet soaked in hot water, the nail veteran dropped in a fizzy, Champagne-scented bath bomb by Farmhouse Fresh. Next, she applied a raspberry-scented scrub that smelled delicious enough to eat followed by perfumed shea butter that made our legs glow. A Pretty in Pink Manicure followed. Swift and meticulous, she shaped our nails and painted on a baby-pink polish.
Photo Credit: Courtesy of PGA National Resort & Spa

Our Roses Facial began with facialist Karyn Doran spritzing Phytomer Rosée Visage Mist above our head. Once our skin had been cleansed, toned, and exfoliated, she applied a wrinkle-filling wax followed by a smoothing mask. After a vigorous hand and arm massage, she removed the mask and applied a soothing eye cream, moisturizer, and a dab of Phytomer Rosée Soin.
Lesson learned: Suffused with vitamin C, the rose's fragrant benefits include tightened pores and redness reduction
The extras: Robe and slippers; sitting area with coffee, teas, and healthy snacks like fresh fruit; steam room, sauna, and whirlpool; salt pools
Bottom line: We didn't see any famous golf pros but we did notice the polish on our fingers and toes hadn't budged. We're now fans of rose toner, which leaves our skin feeling soft and hydrated, not dried out.
---
Monster Mash (aka Self-Centered Massage)
Photo Credit: Courtesy of Eau Palm Beach Resort & Spa
Where: Eau Spa at Eau Palm Beach Resort & Spa
100 S. Ocean Blvd., Manalapan, 561-540-4960
October Price: $150
The place: The front desk attendant smiled when we asked for walking directions to the 42,000-square-foot spa discreetly tucked away at the property's southern end. Features include a seismic wishing well where guests float candles after making a silent prayer; a verdant, outdoor garden with dipping pools, hanging chairs, a life-size chessboard; and a bar that customizes organic scrubs and polishes. The spa's dreamy gift shop sells skincare and beauty products, chic keepsakes, jewelry, and fashionable attire by Camilla, Johnny Was, Parker, and other labels.
Photo Credit: Courtesy of Eau Palm Beach Resort & Spa
The technique: We started to melt the moment we heard the soft timbre of our therapist's voice. Yvette Narog walked us through the ways we could customize our treatment—from musical playlists and colors to wash the room in, to a selection of olfactive scents that included lavender, Italian blood orange, and Japanese peony. Next, she invited us to try a spoonful of unprocessed honey from local beekeeper, Stephen Byers. Once comfortably ensconced beneath the Comphy covers, she warmed our feet with a hot towel. Dozing off was unavoidable during our Self-Centered Massage, a blissful, traditional Swedish massage melded with thermal elements like laying warm towels on our legs, neck, and back.
Photo Credit: Courtesy of Eau Palm Beach Resort & Spa
The extras: Robe and slippers; sauna, steam room, and jacuzzi with a waterfall effect (pictured above); complimentary glass of Champagne, cupcakes, tea, water, and signature honey
Lesson learned: Scent and color play an imperative role in the spa-going process. Pick ones that sooth, relax, and uplift.
Bottom line: It's impossible not to feel like royalty in this opulent setting where spoiling guests is an art and a religion.
---
Detoxifying Body Scrub and Massage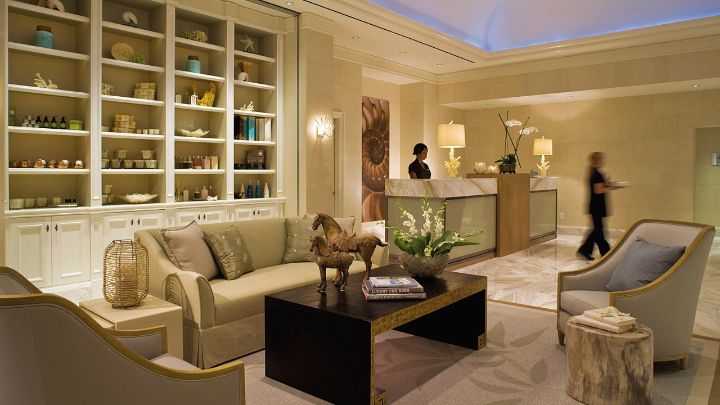 Photo Credit: Courtesy of Four Seasons Resort Palm Beach
Where: The Spa at Four Seasons Resort Palm Beach
2800 S. Ocean Blvd., Palm Beach, 561-582-2800
October Price: $160
The place: From undulating floral displays and marble floors to cerulean ocean views and staff who greet guests by name, it's no mystery why so many call this posh resort their home-away-from-home. Located down a flight of steps, The Spa sells fashionable brands of skincare and clothing in a setting that reminds us of a French atelier. Make a pitstop at Swell, the resort's larger gift shop, which sells more fashionable duds, jewelry, bags, sunglasses, and children's gifts.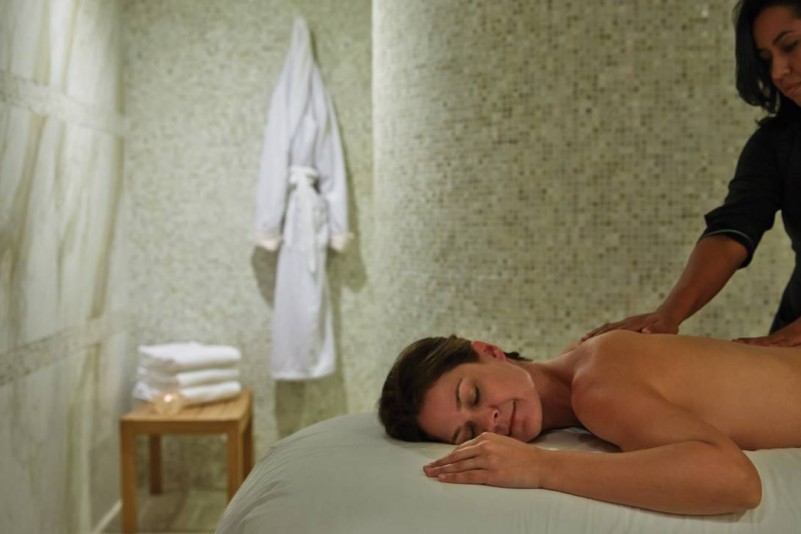 Photo Credit: Courtesy of Four Seasons Resort Palm Beach
The techniques: Masseuse Jacqueline Parsel began our wellness treatment with a Detoxifying Body Scrub. With long, strong strokes, she exfoliated our entire body with a scrub that consisted of sugarcane and Florida citrus oils. No dead skin cell was spared. Afterward, she escorted us to an en suite shower situated a few feet from the massage table. A bit overwhelmed by the shower's advanced gadgetry, Jacqueline helped us turn it off. Back on the table for our Hydrating Massage, she covered us, top to toe, in scented oils suffused with citrus and plumeria, a floral extract with moisturizing and anti-inflammatory benefits.
Photo Credit: Courtesy of Four Seasons Resort Palm Beach
The extras: Robe and slippers; sauna, steam room, and jacuzzi; two private relaxation rooms (one pictured above) with water, teas, snacks, and healthy snacks
Lesson learned: Applying a salt or sugar scrub to dry skin removes dead cells more effectively than exfoliating in the shower.
Bottom line: The scrub left our body luminous and baby soft. Chewy health bars made from oats, dried fruit, coconut, almond, peanuts, sesame seeds, agave, and honey were deliciously addictive.
Subscribe to discover the best kept secrets in your city