When it comes to luxury living, no one knows how to navigate ultimate relaxation and ease quite like the world's finest hotels and resorts. At these exclusive stays, amenities don't just mean free-wifi and an in-room kitchenette. Whether you're in need of a private butler—for yourself or for your dog—or maybe just want to indulge in a totally private shopping spree, these luxe hotels will go the extra mile to make it happen.
Does a VIP shopping spree sound right up your alley? At the Bulgari Hotel in Knightsbridge, London—just a minute's walk from Harrods—guests can opt for an unrivaled shopping experience. Offering private access to London's Bulgari stores and a personal shopper, if you wish, this legendary hotel is ideal for travellers who take their spending seriously.
---
When you go on vacation you shouldn't have to leave your favorite travel companion behind. At this Portland-based hotel, consider all of your pooch's needs taken care of. From private dog walkers to pet psychics to doggie room service, Hotel DeLuxe promises that your pup will enjoy the trip as much as you do.
---
Nothing screams extravagance quite like having a personal butler to accompany you up the Swiss Alps. At Gstaad Palace, guests can not only can opt for a dedicated ski butler to prep a picnic after a long morning on the slopes, but they can also choose to arrive to the mountaintop in style via private helicopter.
---
When you need to get away just so you can catch up on sleep, consider spending the weekend snoozing at The Benjamin, where a special rest and renew program was designed for tired guests. Sleep-centric amenities include in-room pampering, blackout shades, noise machines, a lullaby music library, and a unique pillow menu that includes 10 different options.
---
The MGM Grand in Las Vegas understands the woes of getting sick when you travel. Which is why they have dedicated Stay Well rooms to keep guests as healthy as possible. These suites include perks like an air purification system, aromatherapy, a dawn simulator alarm clock, and blackout shades.
---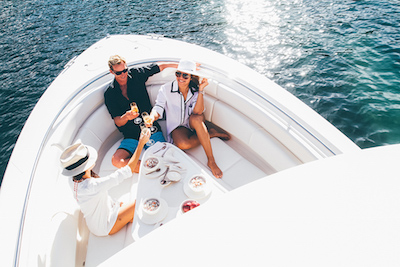 At this exotic resort in Nicaragua, guests can opt for a Luxe Life package, which includes a number of outrageous amenities sprinkled throughout your stay, like one four-course tasting menu at the hotel resto, a three hour spa treatment for two, a private beach picnic, plenty of champagne, and a bottle of 25 Year Flor de Caña Rum upon departure.
---
If you'd rather spend your vacay outside than in the room, this South Carolina stay lets visitors indulge in luxe Lowcountry living—outdoors. While golfers will relish the hotel's par-72 course along the May River, hunting and shooting aficionados will enjoy their shooting club, which features 13 sporting clay stations winding across 40-acres.
---
Embrace your inner-kid at this Houston-based destination where you can throw a full-on pillow fight in your room. Hotel Derek hooks up adults with all pillow fighting necessities, from extra soft pillows for the showdown to warm cookies and milk for after the scuffle.