Photo Credits: Haute Living
Life goes on with love and vines and the finest of aged wines.
---
Now you know all the things about what happened in Las Vegas on October 1st, don't you? Very well, then, what is the use of this information afterwards? My father is no longer attending a festival he had arranged with my mother because he thinks something will happen. He said something about how the government is involved in things like that, but I couldn't tell you what else he said because the man is obsessed with conspiracy theories and I trailed off to this: you can't live in fear.
WHO AND WHAT
I had RSVP'd in September for Love & Vine and was glad to know the event was still scheduled. The fears we don't encounter become the fear itself. That is not a way to live. My belief in what "is" is that it already is and what route we decide to take will lead us there irregardless. "Maktub," Arabic for "it is written." For me, having the belief that what is written keeps me from being trapped in someone else' nightmare. This is my theory.
WHEN AND WHERE
So no I was not afraid to jump in an Uber and head to The Palazzo on the Las Vegas Strip, October 6. On the contrary, I was excited to see my beautiful city's lights and tourists and hug them and yell "Welcome! We love you! When you're here, you're family!" I might've stolen that last line than from a commercial, but still it's true. And I wanted to taste all the wines from the California fields and Italian hills, and taste the vegetarian and vegan renditions by the Master Chefs of France, who were celebrating their book.
WHY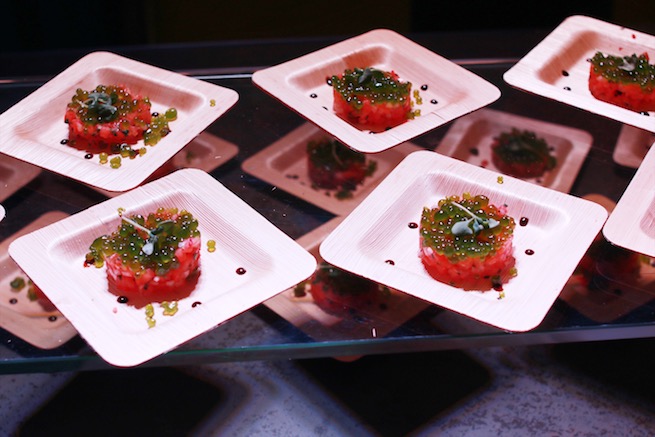 If the security guard manning down the hotel room elevators at The Palazzo wasn't so grumpy, I might've picked two tourists from the Boulevard and replaced my assistant and photographer because life is meant to be lived.
"What do you want," he asked. "Well, I want a couple million dollars, but today I just need directions to the Aquatic Pool." He points, I follow. When I make my way up the beautiful, golden elevators, because I am very observant and notice every single thing, and I love interiors and hotels, I am absolutely enamored by hotels, I could live in them, in fact that is my goal, I see this.
A gelatin citrus dessert, I assume is to cleanse the palette or prepare it because we start with table one and then, vegan sushi.
You must remember I am not a big drinker, but I do love a good Chardonnay. I came here to eat and wine, so I am served a Clos du Bois from California. Butteriest thing ever had.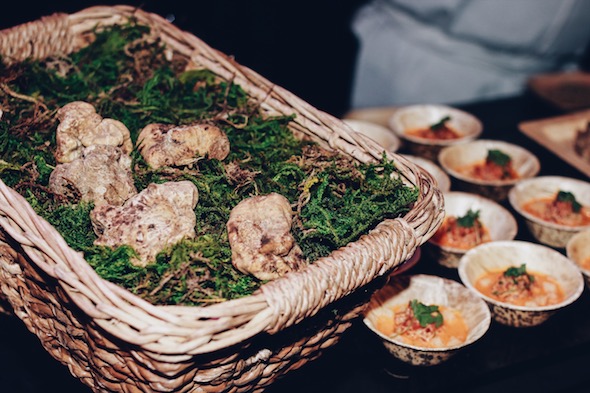 And then there were truffles. A whole basket. I nearly asked for a nugget or three, but then I saw the risotto with truffle. My assistant had two plates and towards the end she had eaten three. It was that damn good. I spent my time talking for the most part, capturing the scene through my lens because my photographer couldn't make it, and when I got the chance I would take a bite. When I finally arrived to the station down from the risotto, vegan caviar awaited. It were green, round and see-through caviar made of basil. A revelation.
Further down two huge blocks of chocolate sat stacked on top of each other. Being served in bamboo flutes was soup with chocolate shavings, which explains the chocolate. I can't believe I'm eating all vegetarian and vegan food. I can't believe I listened to my assistant and drank soup down as a shot like a barbarian. There were spoons to the right of the wine canister where people were dumping their trash instead of their wines. The wine was obviously flowing…overflowing.
The event was everything I had hoped for and everything they promised. There was love, vines, wines, community, and familiarity in the air. Love & Vine showed why Las Vegas is such a great city. Why people visit in the first place. No other city in the world can send you off to a different place than Las Vegas, and I commend the PR team of Palazzo for continuing with the event and reminding us to celebrate life without fear, lots of love, and living a healthy lifestyle sans wine.
After a shot of wheat grass down the center of the event and a couple more glasses of Cabernet and then Rosé, we ended up apart. My assistant, buzzed off the wine, talking to one of the sales mangers for a wine company, and I on the last table, talking to a young proud drunk vegan man who spoke to me about alignment who proceeded to share his text conversation with his "best mate," back in London through "What's App". His reply, "#eatpussynotmeat."
Well, that's one way to convert people to veganism.
Save
Save
Save
Save
Save
Save
Save
Save
Save
Save
Subscribe to discover the best kept secrets in your city