Every Angeleno is familiar with Hollywood. Hey, we live here, right? But Planet Hollywood Resort & Casino, which lies smack, dab in the middle of the Vegas Strip, is a whole 'nother kettle of fish. Here's what to expect from a stay at this star-studded Sin City resort.
---
THE ROOMS
The resort—which includes 2,496 guest rooms and suites—rests on three ACRES of space. And, as of June 2017, it's been majorly refreshed Rottet Studio, showcasing a sleek, white color palette, suspended sofas and round beds. Firs,t there are the 450-square-foot Ultra Hip rooms, which include a shower and a separate soaking tub with a white subway tile wall (many of which have views of the awesome Bellagio fountain). Gone are celebrity photographs and, in their places, chic art with pops of color. A step up are the Ultra Hip Strip Suites, 850 square space of space with his and hers vanity mirrors and sinks, round soaking tubs and a separate seating area. Ballers (so you, dear haute readers) should book the Ultra Boulevard Suite—1,800 square feet with a lounge-style living space, suspended sofa and gorgeous Strip views—or the Ultra Apex Suite, which affords North and South Strip views.
---
THE RESTAURANTS
There are a plethora of dining options here, including upscale eateries like Strip House Steakhouse and Koi (where you'll find some of the best sushi on the Strip), but our favorite eatery at Planet Hollywood is Gordon Ramsay Burger. There's a reason why this restaurant consistently keeps winning best burger on the Strip: it's incredible. In typical GB style, the eatery is flashy and over-the top, from a fire wall entrance to boisterous British flags that dot the premises. It's fare has the chops, so to speak, to back up the decor. We were offered a special item, a grass-fed, grade-A, 28 day aged Angus, topped with succulent, slow cooked brisket, and a mouth-watering house-made "BBQ" jus. Other standouts include the foie gras burger, which is topped with a foie gras spread, chèvre, port wine aïoli and frisee, as well as the Tandoori chicken burger with feta, tabbouleh, tahini vinaigrette, frisee and mint vinaigrette. The fries were perfection, as was the decadent creme brulee shake—a blissful Oreo milkshake topped with creme brulee.
---
THE SHOWS
Photo Credit: Denise Truscello
It's fun to say "It's Britney, b***h* if you're in town (a la resident singer Britney Spears), but Jennifer Lopez's "All I Have" takes things a step further. She's the ultimate show woman, with world class set design, costume changes and even some writhing that showcases her famous booty. Jenny from the block definitely puts on one heck of a show (and you might even see her boyfriend, MLB legend Alex Rodriguez, lurking in the audience as a bonus!).
Planet Hollywood 1
Ultra Boulevard Suite
Planet Hollywood 2
Ultra Apex Suite Bar
Planet Hollywood 3
Ultra Hip Queen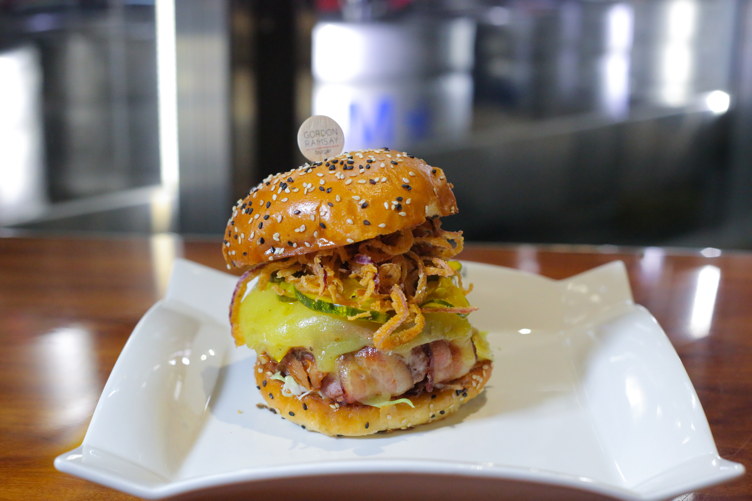 Planet Hollywood 4
Hog Burger at Gordon Ramsay Burger
Planet Hollywood 5
Gordon Ramsay Burger
Planet Hollywood 6
Creme Brulee Shake at Gordon Ramsay Burger
Planet Hollywood 7
Gordon Ramsay burger at Gordon Ramsay Burger
Planet Hollywood 9
Jennifer Lopez
Photo Credit: Denise Truscello