New York has always been home to some of the best food in the world. Being the cultural melting pot that it is, some of the best bites in the city range from repurposed recipes from all the immigrants that have come to the city through the ages. Italian food made such a dent in New York culture, there's an entire neighborhood based around it in Little Italy. With some of the best meals available that make you just want to take a nap and watch Netflix after eating, here are some of our favorite Italian restaurants.
This has become the go-to standard of great Italian cooking in New York. It's incredibly well regarded by everyone from the Times critics to the Michelin team. The dish to get here is anything pasta. While we're sure the other menu items are great as well, the pasta offerings at Del Posto have gotten so good over the years that their former head chef, Mark Ladner, recently departed to start his own pasta fast casual in Chelsea called Pasta Flyer.
Location: 85 10th Ave, New York, NY
---

Marea makes the most of Italy's different regions, with some authentic Italian options. Chef Michael White's concept in Marea, meaning tide in Italian, is an ode to coastal Italian cooking. While beef dishes are great, seafood and fish dishes are best here, with a great Italian flare.
Location: 240 Central Park South, New York, NY
---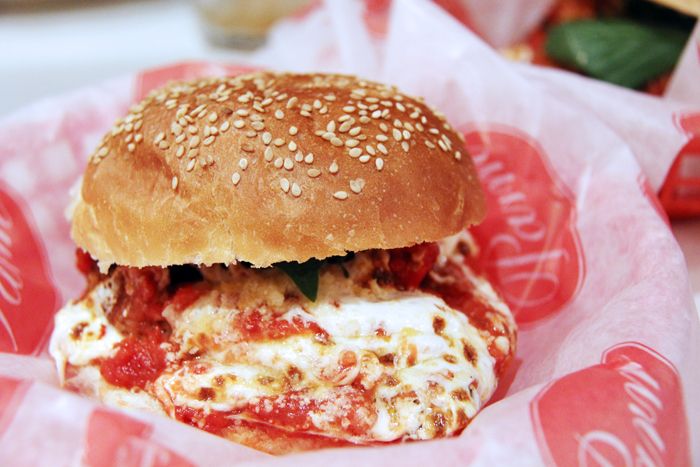 This fast casual concept is led by the Torrisi Brothers and the team at Major Food Group. (Now famous for running the show of The Grill, and The Pool, in the former Four Seasons space. Parm is great for a quick lunch, a meatball parm sub on a fresh baked hero. Unlike may fast casuals out there, each Parm location still feels worthy of sitting down and enjoying the sandwich in, even though the quick access makes them perfect for bringing back deskside for lunch.
Location: Various Locations
---

This little gem is a tucked away pizzeria in NoLita, just north of Little Italy. The restaurant can be tough to get into, so call ahead to make reservations. They offer a lot of great Italian classics, and thin crust pizzas that also feature gluten free options for those with dietary restrictions.
Location: 235 Mulberry Street, New York, NY
---

Run by the same team as Charlie Bird, Pasquale Jones is a great spot for the Instagrammable pasta dish your feed's been craving. With some of the best cooked pasta in the city, Pasquale Jones is fun, inviting, and delicious without feeling as high-end or stuffy as some of the fancier Italian spots in the city—very second date chic. The restaurant also boasts one of the best wine lists in the city so be sure to save room for drinks in your stomach and budget.
Location: 187 Mulberry Street, New York, NY