Photo Credit: Goyard
Travel aficionados rejoice: there's a new luxury goods guru on Rodeo Drive now that Goyard has officially opened its first Maison Goyard boutique in the City of Angels.
The L.A. digs at 405 N. Rodeo Drive is the brand's third U.S. boutique (it joins additional locations in San Francisco and New York) though, up until now, the label has been carried at Neiman Marcus Beverly Hills.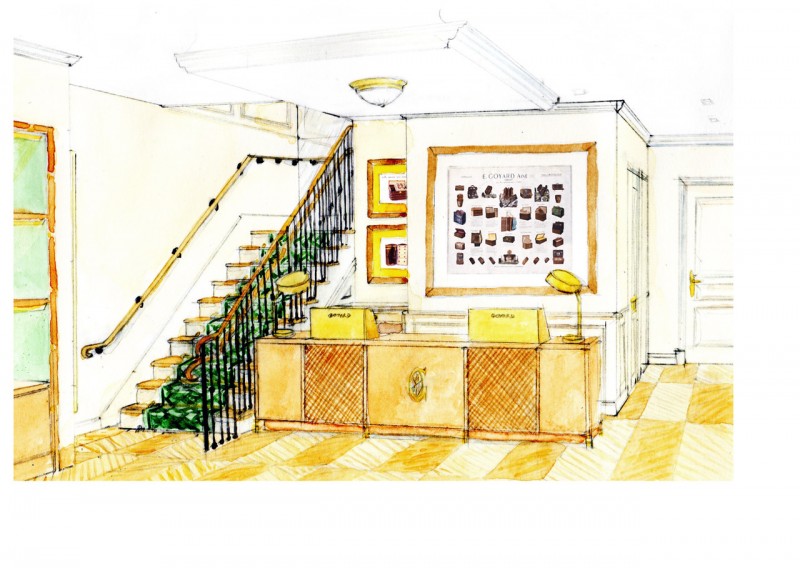 A stunning, oversized 1940s bronze and brass chandelier hangs from the skylight with matching sconces spread throughout the space, 14 in all. Color is prominent throughout – shades of bright green, yellows and turquoise balance furniture finishes of bronze, brass and handwoven mesh. Hand-painted lacquers with leather accents rhyme with Goyard's artisanal craftsmanship. Important furniture includes three large-scale brass and glass vitrines from the Goyard archive and are housed on the ground floor. A pair of late 1940s Jansen Paris chairs in brushed steel and brass welcome clients at the cash wrap; chrome and brass gueridons also from Jansen Paris, find a home in the entry. The VIP salon on the 2nd floor was built around an important Dominque round table in blond mahogany with 6 matching chairs and their original velvet upholstery.
Maison Goyard, 405 N. Rodeo Drive, Beverly Hills; 310-237-5745