National Filet Mignon Day is on August 13th – the perfect excuse to go to an upscale steakhouse and have a delicious, tenderloin steak. As if we needed one…
---
For steak lovers, Strip House is a must. The ambience is romantic, the service is impeccable, and the portions are very generous. Highlights from their menu aside from their delicious and must-try Filet Mignon include Crisp Goose Fat Potatoes, Black Truffle Creamed Spinach, Fire-Roasted Asparagus with Brown Butter-Soy Emulsion and Charred Broccoli with Toasted Almond, Miso Butter.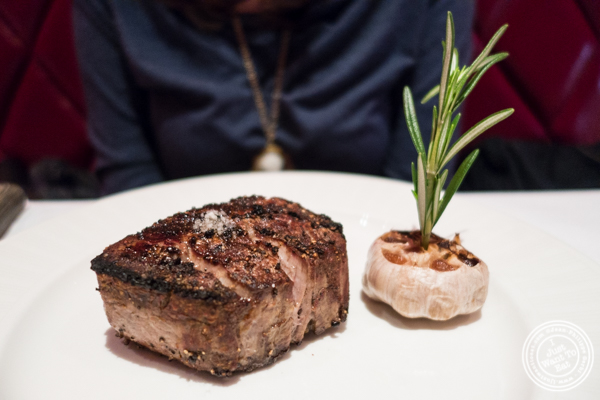 ---
This Williamsburg steakhouse is one of the oldest and most legendary in New York, having just celebrated their 120th birthday. That kind of longevity only means one thing: their steak is incredible. Peter Luger is a must visit New York icon; have a steak at dinner or a burger at lunch, you can't go wrong.
---
Keens is Manhattan's best known USDA Prime-only steakhouse. Another long-standing Manhattan legend, Keens has been serving New York the best steaks around since 1885. Known for their King's Cut Prime Rib and their Mutton Chop, which would make perfect companions to a juicy filet mignon.
---
If you're in the Korea Town area, Wolfgang's is the place to go. Consistently ranked among the city's best steakhouses, Wolfgang's often draws parallels to more established steakhouse legends like Peter Luger. Their "Wolfgang's Steakhouse Old-Fashioned Sauce" is a must try.
---
Head over to the Angus Club in Midtown for more than just incredible steak. Take a pass at the filet mignon, of course, then try some of their other incredible menu offerings, such as their home fries and the truffle mac and cheese. Angus Club Steakhouse is the perfect place to go with a group, as it is bi-level and spacious.
Subscribe to discover the best kept secrets in your city