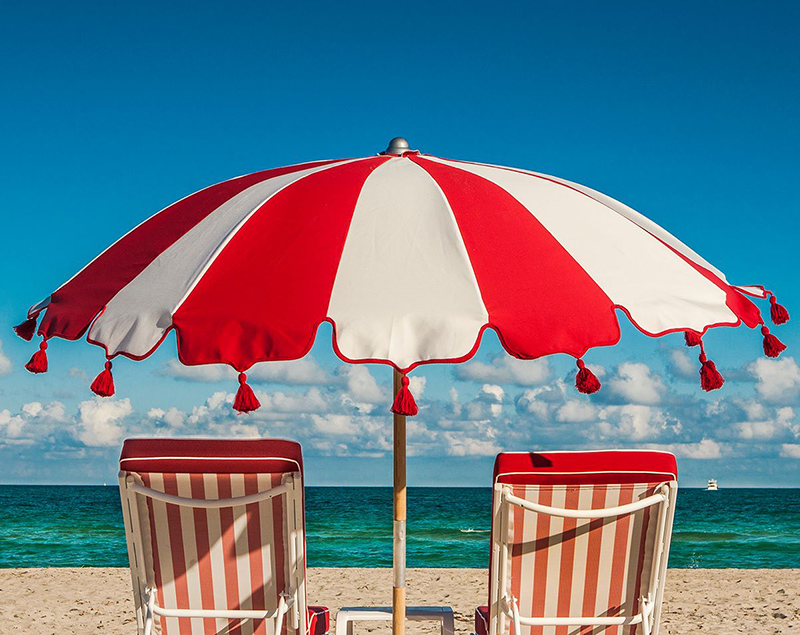 Photo Credit: Faena Hotel
Summer 2017 is happening in Miami. For some this means enjoying the pristine, turquoise waters, from the close distance of a yacht or from Miami's golden beaches. For others, it means cruising through the Design District in a convertible, a right shade of red that just happens to match your new lipstick. Whichever ways you are spending your days, whether in the mist of Miami's social scene, or on a private beach, here is a list of luxury items to accessorize your summer.
Dolce & Gabbana's Primed Cotton Beach Towel
Photo Credit: Dolce & Gabbana
If you are going to the beach on a Monday, you are already having a good week. However, if you are carrying your new Dolce & Gabbana beach towel there is really not much you can do to top it. This luxury towel is part of Dolce & Gabbana's 'Caltagirone' collection, inspired by a Sicilian town known for its ceramics and flawless craftsmanship. Where can you find it? At Bal Harbour, one of the most luxurious fashion complexes in America. $845
Balenciaga's Cabas Leather-Trimmed Canvas Tote
Photo Credit: Balenciaga
The only item as important for summer as a bikini is a beach bag. Balenciaga's leather-trimmed canvas tote found at Bal Harbour is the perfect mixture of casual, feminine, yet undoubtedly elegant. The French luxury fashion house has done it again—transformed a habitual beach accessory into an "IT" item. $965
Valentino's Star-Printed Miniskirt
Photo Credit: ValentinoRed, tan, 'n blue: Valentino's blue star-printed miniskirt goes perfectly with your golden tan and a cold glass of sangria to cool you off. Found at Saks, it is the perfect way to complete your summer outfit. $1,250
Chanel Mule Pool Slides
Photo Credit: ChanelPink, blue and so fabulous – coming in a variety of colors, Chanel's mule pool slides, still a symbol of refined taste and elegance, are the perfect shoes for summer. Since its creation in 1957 by Gabrielle Chanel, the French fashion house has been coveted by shoe lovers from all around the world. That said, if the devil wears Prada, we swear by Chanel. $750 at The Webster Bal Harbour.
Bertaud Belieu
Photo Credit: ExclusiveAccess.net
Quench your 80 degree thirst with a glass of Bertaud Belieu. Its complex blend of flavors is the epitome of summer in Miami; sweet, fresh, and undeniably glamorous. As you repose on the top deck or your yacht or at La Côte at the Fontainebleau, Miami Beach's poolside, this wine is not to be missed.
Hampton Sun Products – Classic Suncare line
Photo Credit: Hamptonsun
Miami's haute weather demands hotter products. Feel luxury on your skin with Hampton Sun Product's classical sun care line – found at the exclusive Soho Beach House. Vitamin E, walnut, jojoba oils, and natural Aloe vera will nourish your skin to keep your complexion healthy and your tan glowing. $36
Tom Ford's Waterproof Extreme Mascara
Summer fever calls for top-notch, sumptuous cosmetics. Tom Ford's Waterproof Extreme Mascara blends the darkest black carbon and lash-filling powders to give optimal flare and optimal-noir lashes. $45
Beluga Sturgeon Caviar

Whoever said diamonds are a girl's best friend has not tasted the Beluga Sturgeon caviar; unmistakably an ocean gem. Found at Caviar Russe at the Four Seasons, this delicacy features large black and grey pearls, which explode on the mouth and result in pure and decadent flavors that you are bound to seek out religiously this summer. 50g – $595
Save