Photo Credit: Melisse
Craving truffles? We can help! Here are the places where you'll find the best truffle dishes in Los Angeles.
Photo Credit: Sushi Roku
Sushi Roku
Try the truffle tempura with cucumber, and topped with avocado, and wasabi truffle soy as well as the premium tofu three ways served with black truffles, kimchee and yuzu caviar.
Website 
BOA Steakhouse
Noms. Your black truffles are closely shaved over goat cheese baklava with frisee and pistachios.
Website 
Photo Credit: Barton G.
Barton G.
There are a plethora of truffle options at Willy Wonka wonderland Barton G. The lobster trap truffle mac n cheese is made with Maine lobster and pasta spirals served with a three cheese lobster sauce infused with truffle. Then there is the Holy Smokes, popcorn served in an oversized stainless steel martini glass with bacon and white truffle nitro, topped with fresh black truffles, grated parmesan and fresh herbs. Lastly, there are the Strike Out Sliders—Wagyu beef burgers topped with braised oxtail, gruyere cheese, caramelized onions and black truffles on a toasted brioche bun, served with smoky ketchup and truffle aioli which are playfully served alongside a baseball, baseball bat, and catcher's glove to bring out the inner child of each diner.
Website 
Nerano
Face plant into the a pizza featuring stracciatella, California baby artichokes, squash Blossoms and winter black truffle at Beverly Hills spot Nerano.
Website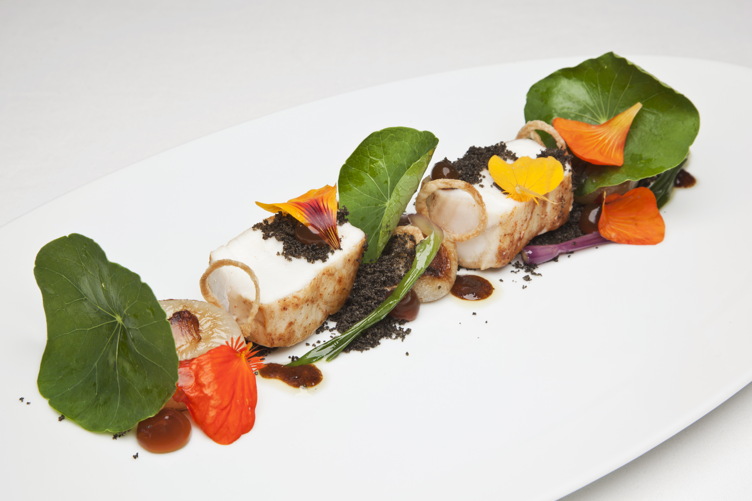 Photo Credit: Providence
Providence
Michael Cimarusti orders not one dish, but all of the dishes with his multi-course truffle tasting menu.Dinner—Santa Barbara spot prawn tartare, stracciatella con capesante come la mia nonna Jsoephine, foie gras porcini tortellini, white sea bass, A5 Wagyu, Rodolphe le Meunier brie and the black forrest truffles of Nice—will set you back $445 with wine pairings, but it is oh so worth it.
Website
mar'sel at Terranea Resort
Indulge in freshly caught diver scallops with black truffle polenta and Norma's tomato sofrito at this beautiful beachside resort.
Website 
Ocean Prime
Indulge in gourmet finger food: a decadent white truffle and caviar topped deviled egg.
Website 
Spago
Wolfgang Puck serves up French truffles on agnolotti, tagliatelle or cheese pizza. When in doubt, go for the latter.
Website 
Delicat
The newly opened Tuck Hotel serves up a delightful spinach maltagliatti—malfatti pasta served with burrata, egg yolk and truffles.
Website 
Republique
Walter Manzke's hot restaurant serves up mafaldine—ribbon shaped pasta—with Australian black winter truffles.
Website 
Photo Credit: Sierra Prescott
Bestia
This glorious downtown eatery offers its cavatelli alla Norcina—ricotta dumplings made with housemade pork sausage. black truffles and grana padano.
Website 
Melisse
Award-winning chef Josiah Citrin's truffle risotto—made with aged Acquerello rice and Chilean Périgord truffles—is to die for.
Website