Photo Credit: Billy Farrell/BFA
On Saturday evening, the Museum of Contemporary Art, Los Angeles hosted its 2017 MOCA Gala at The Geffen Contemporary honoring Jeff Koons.
For this year's gala, which was co-chaired by MOCA Trustees Lilly Tartikoff Karatz and Maurice Marciano, the museum transformed The Geffen Contemporary at MOCA into an immersive setting inspired by Koons's vibrant, highly polished, and meticulously crafted aesthetic. Koons's Celebration series, which delights in the rituals and images surrounding birthdays, holidays, and other special occasions, served as a particular point of inspiration for the evening. As part of its nod to the series, the gala showcased Balloon Dog (Orange), Balloon Dog (Magenta), and Balloon Dog (Yellow), a series of limited edition plates by Koons, produced in France by the legendary French porcelain maker Bernardaud.
Photo Credit: Billy Farrell/BFA
Guests enjoyed a cocktail reception and special viewing of the current exhibitions Carl Andre: Sculpture as Place, 1958–2010, Arthur Jafa's Love Is The Message, The Message Is Death, and Selections from the Permanent Collection: Catherine Opie and Sterling Ruby. A special gala dinner by Wolfgang Puck and musical performances by John Legend and surprise guest Miguel followed the reception. 
Attendees included MOCA Director Philippe Vergne, Patricia Arquette, Pierce Brosnan and Keely Shaye Smith, Paris Hilton and Chris Zylka, George Kotsiopoulos, Ricky Martin and Jwan Yosef, Sean Penn, Ryan Seacrest and Shayna Taylor, Jake Shears, Sharon Stone, Jennifer Tilly, and Alex Van Halen; artists Doug Aitken, Dan Colen, Tacita Dean, Sam Durant, Genevieve Gaignard, Theaster Gates, Frank Gehry, Elliott Hundley, Alex Israel, Mark Grotjahn, Kahlil Joseph, Barbara Kruger, Sterling Ruby, Henry Taylor, Eric White, Mary Weatherford, and Jonas Wood; MOCA Chief Curator Helen Molesworth; MOCA trustees Carol Appel with David Appel, Gabriel Brener with Deborah Brener, Eli Broad with Edythe Broad, Steven A. Cohen, Kathi Cypres withGary Cypres, Cliff Einstein with Mandy Einstein, Susan Gersh with David Gersh, Shari Glazer with Ed Glazer, Bruce Karatz, Eugenio Lopez, Mary Martin with David Martin, Edward J. Minskoff with Julie Minskoff, Peter Morton, Carolyn Clark Powers, Dallas Price-Van Breda with Bob Van Breda, Carla Sands, Chara Schreyer with Gordon Freund, Maria Seferian, Jeffrey Soros with Catharine Soros, and Sutton Stracke; collectors William and Maria Bell, Allison and Larry Berg, Nicolas Berggruen, Armyan and Christine Meleo Bernstein, Irving Blum and Jackie Blum, J. Ben Bourgeois and Andrew Rhoda, Kevin Burke, NJ and Mark Goldston, Alan Hergott and Curt Shepard, Beth and Kenneth Karmin, Mrs. Robert Looker, Nathalie Marciano, Paul Marciano, Julie Miyoshi, Eugene Sadovoy, and Gilena Simons; gallerists Matt Bangser, Tim Blum, Jeffrey Deitch, Honor Fraser, Larry Gagosian, David Kordansky, and Jeff Poe. Additional attendees included Bradley Bell and Colleen Bell, Michel Bernardaud, Sonia Boyajian, China Chow, Eva and Michael Chow, Lisa and Eric Eisner, Liz Goldwyn, Olivia Marciano, Erica Pelosini, Wolfgang Puck, Cameron Winklevoss, Tyler Winklevoss, and more.         
MOCA Gala 2017 1
Sean Penn and Sharon Stone
Photo Credit: Billy Farrell/BFA
MOCA Gala 2017 2
Sharon Stone
Photo Credit: John Salangsang/BFA
MOCA Gala 2017 3
Ryan Seacrest, Shayna Taylor
Photo Credit: John Salangsang/BFA
MOCA Gala 2017 4
Philippe Vergne, Vaitiare Hirshon, Maurice Marciano, Lilly Tartikoff Karatz, Jeff Koons, Justine Wheeler Koons
Photo Credit: BFA
MOCA Gala 2017 5
Paris Hilton, Chris Zylka
Photo Credit: Billy Farrell/BFA
MOCA Gala 2017 6
John Legend
Photo Credit: Billy Farrell/BFA
MOCA Gala 2017 7
Eric White, Patricia Arquette
Photo Credit: John Salangsang/BFA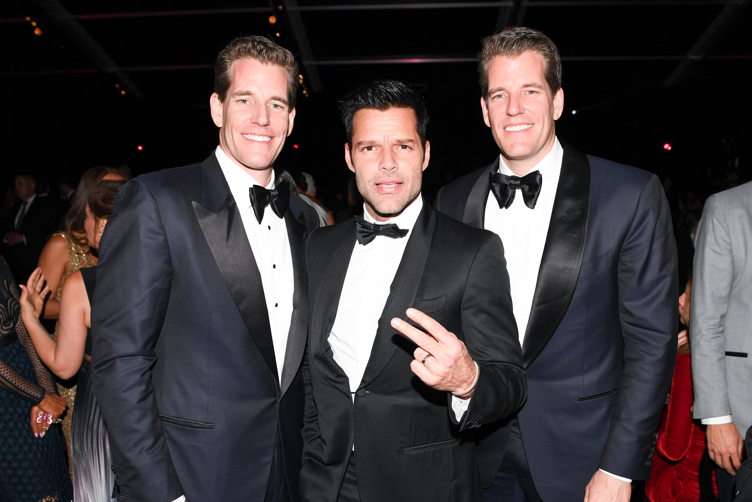 MOCA Gala 2017 8
Cameron Winklevoss, Ricky Martin, Tyler Winklevoss
Photo Credit: Billy Farrell/BFA