The New York dining scene is always vibrant, with restaurants opening each month. Here are two new offerings with high style and a French twist.
MAJORELLE, THE LOWELL HOTEL, 28 EAST 63RD ST.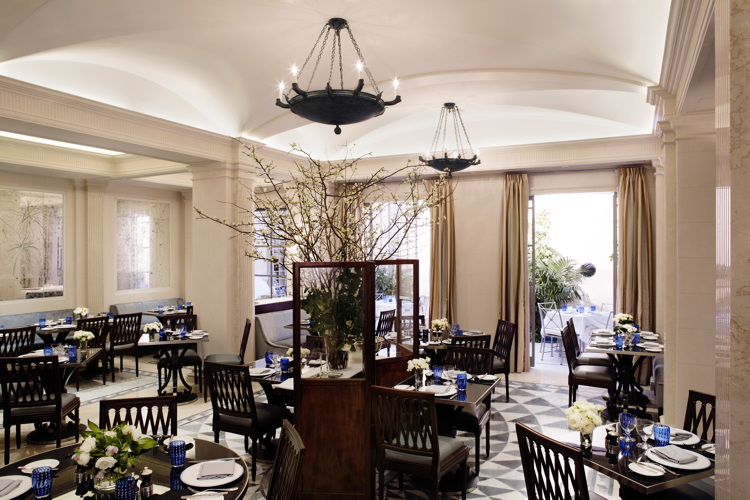 The buzz: Majorelle, one of the city's most anticipated new res- taurants, is helmed by renowned restaurateur Charles Masson, a favorite of the city's elite from his days at La Grenouille. This is sure to be an instant hot spot, not only because Masson has a huge following among Manhattan bold-facers for his culinary sensibilties, but also because of his exquisite taste in flowers (he wrote the book The Flowers of La Grenouille).
The crowd: Gents who lunch and ladies who lunch; Midtown execs.
.What's on the menu: French-Moroccan dishes (artist Jacques Majorelle, who founded the Majorelle botanical gar- dens and for whom the restaurant is named, spent most of his life in Morocco). There's a Moroccan carrot and orange salad; a tagine of couscous, vegetables, and harissa; snapper with Moroccan olives, and plenty of French favorites too, like canard à l'orange with wild rice and steak au poivre with armagnac and endives. Don't miss: the soufflé au Cointreau. Drink up: The bar Jacques, also named after the artist, offers craft cocktails, drinks, and Mediterranean- and Moroccan-style finger foods like pearl onion tarts and grilled egg- plant and onion tartines, along with hamburg- ers with frites and smoked salmon feuilleté. Adjacent to Majorelle and connecting to the Lowell Hotel's renovated lobby will be a club- like library lounge with a dedicated bar, a col- lection of art books, and a fireplace, good for warding off any lingering spring chill. It will be open between 4:00 p.m. and midnight. Decor: Masson worked with the Lowell Ho- tel's owners; general manager Heiko Kuenstle; architect Mark Pinney; and designer Michael Smith to create the restaurant's new design, a modern, Euro-style setting with a cream and gray palette and dark wood accents. Appro- priately for Majorelle, considering the name- sake's famed Moroccan jardin, the restaurant will have an all-season garden, complete with fireplace and paintings. Majorelle's kitchen will be one of the few in New York with its own braisiere dedicated solely to preparing fine broths, sauces, and soups. There will also be ovens reserved just for making soufflés. Reservations: 212-935-2888; for more informa- tion, visit majorelleny.com.
CAVIAR KASPIA AT SPRING PLACE, 6 ST. JOHNS LANE

The buzz: A by-invitation-only pop-up (through April) at Spring Place of the famed Paris spot of the same name (celebrating its 70th anniversary this year).
The crowd: Fabulous stylistas, regulars on the Paris/Milan/New York fashion circuits, A- list models. In Paris, Caviar Kaspia draws Beyoncé and Rihanna.
What's on the menu: Caviar (and lots of it!) na- turellement! Order the famed baked potato with caviar (that's dinner for the size 0 crowd); the cavi- ar trilogy for a sampling of three kinds of roe; royal salmon carpaccio with white sturgeon caviar; tag- liatelle with smoked salmon and white sturgeon caviar; or dishes like wild branzino or spaghetti with lobster and crab.
Drink up: What can beat champagne as the perfect pairing with caviar? Here the offerings include Krug, Dom Perignon, and Veuve Clicquot, among other top offerings. There is a fine selec- tion of vodkas and tequilas too.
Decor: Super-hot designer Alexandre de Betak— sometimes referred to as the "Fellini of Fashion" for his distinct and original shows and exhibitions for leading luxury brands—and his team at Bu- reau Betak created the swishy space. "I wanted to share the unique, timeless, and old-fashioned feeling of Kaspia, with this warm, elegant, and un-designed space, adding the twist of a mir- rored ceiling to double the experience!" says Betak.
Reservations: Available to members of Spring Place. Non-members can request res- ervations at: caviarkaspia@springplace.com