When it comes from point to point transportation, helicopters still rule. Especially in most larger cities, and from and to major airports, they can get you there must faster than a car ever will. We checked out five of the most expensive business helicopters available on the commercial market!

5. Eurocopter EC155 B1 Dauphin
With a price tag of just over 10 million dollars, this Eurocopter is actually one of the most popular commercial helicopters in the world. While not the largest, it can still hold up to 13 people, but a true advantage of this helicopter is that it is one of the quietest ones in today's market.

4. Bell 525 Relentless
15 million dollars will give you the luxury of a flying conference room. The Bell 525 Relentless is nothing short of this, as it offers plenty of room, but also an incredible view thanks to the large windows. Its controls are state-of-the-art and even include a voice command function.
3. Sikorsky S-92 Cougar
A favorite of several heads of state around the world, the Sikorsky S-92 Cougar will set you back a generous 18 million dollars. Although regarded as a mid-size helicopter it is capable of taking up to 19 passengers. A big plus for some owners might be the option to add another fuel tank to the helicopter. This will extend the range to an impressive 750 nautical miles but will limit the interior capacity…as if you would even notice!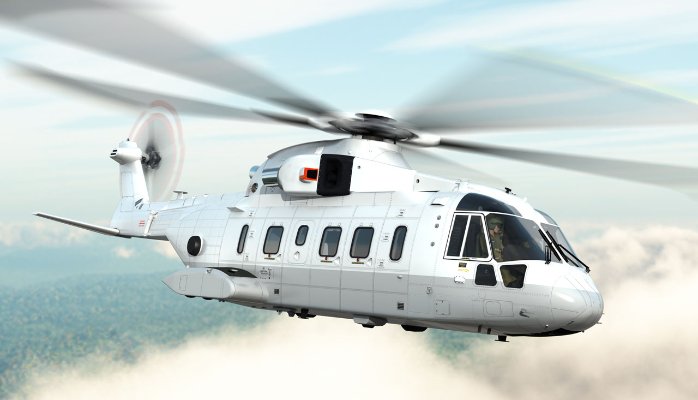 2. AgustaWestland AW101 VVIP
Many helicopters in this list first served with distinction in the armed forces around the world, before being adopted for a civilian life. The AgustaWestland AW101 VVIP is no exception to this rule. People who enter the VVIP version might be mistaken and think that they actually entered a private jet instead. Space is in ample supply, and with a range of 570 nautical miles, this helicopter can get you where you need to go, and then some more, and all for about 19 million dollars!

1. Eurocopter EC225 Super Puma Mk II+
29 million gets your Eurocopter's flagship product, and it will likely fulfill all your needs, and more. It can easily fit 24 passengers, but of course, VIP versions are designed to carry fewer people in more luxury. It takes a crew of three to operate, of which one is a flight attendant. Power is in ample supply with its two Turbomeca Makila 2A1 turboshaft engines producing 2,382 hp each, while the aircraft is also fitted with the most modern of safety features!