Just last week, Mangusta launched the 12th Maxi Open Yacht from the Mangusta 165 series. This boat is the third one in the "Evolution" series, which offers the same high performance as previous yachts in the 165 series, yet now only with improved fuel efficiency.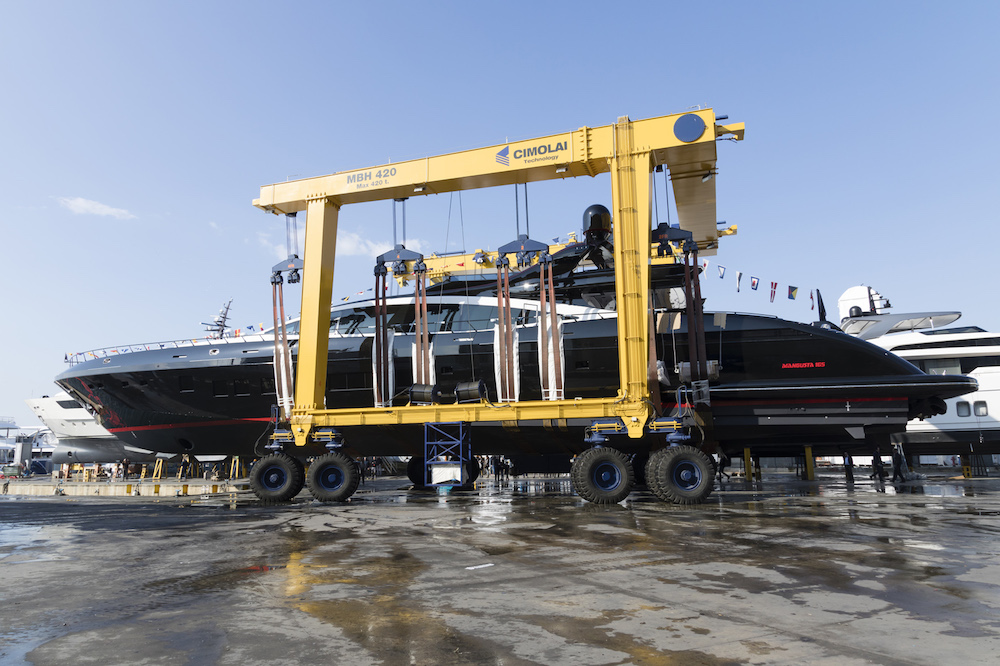 With a length of 165 feet, this Mangusta offers ample room. They combine this with ample performance. Thanks to four 2600 HP MTU 16V2000 M94 engines and 4 Rolls Royce/KameWa NP waterjets it is capable of cruising in comfort at a cruising speed of 35 knots and higher. That comfort is provided by four Seakeeper stabilizers, which has the added advantage of also making navigation, especially at lower speeds, easier.
The "Evolution" series also introduction a few new structural and design features. Three oversized skylights and a single side window let the interior bathe in natural light. This almost gives the impression that the outdoors extends to the inside and gives the interior a unique atmosphere. The extended flybridge has been redesigned as well, giving the yacht, even more, a dynamic look, whether it is cruising at full speed or is simply moored in one of the marinas around the world.
Although eventually up to the owner, the Mangusta 165 has room to accommodate guests in three suites, as well as a crew of nine to see to their every need.
While the technical specifications are the same for the "Evolution" series, the interior is not. Mangusta makes it a point to satisfy each and every wish the future owner might have. This can even include a full gym, steam rooms or a spa. Combine this with the sleek and distinctive design of the haul and the superstructure, as well as the high performance, and you know why the Mangusta 165 series holds a unique position on the international nautical scene.