For the official launch of the new Riva 100′ Corsaro, we still have to wait until April. However, this magnificent addition to the Riva fleet already experienced its first nautical miles at the Golfo dei Poeti, Italy.
The Riva 100′ Corsaro is a striking sight no matter where in the world you go. They have been able to translate the strong yet graceful lines that have been a Riva-trademark since the conception of the brands, into a much large yacht. These results in comfortable living spaces, a very generous master suite, and even four guest suites, plus two crew quarters.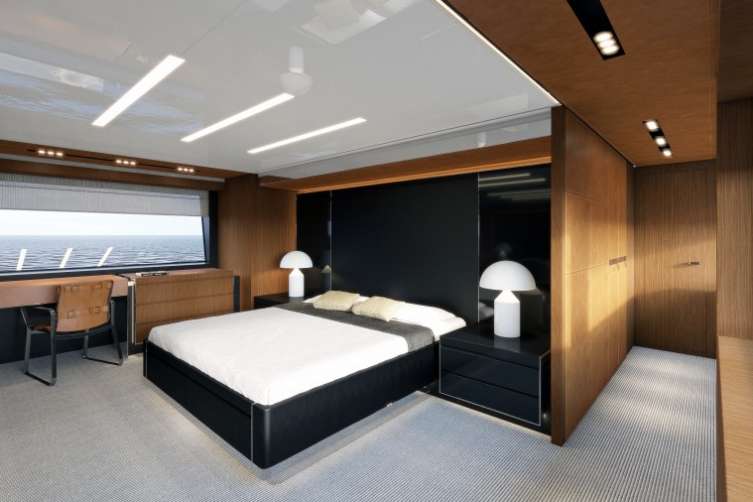 What sets the new Riva 100′ Corsaro apart from the competition is the light. The main deck has large glazed windows all around, providing stunning views from the sitting area, the master suite, and even the galley. Unique is that even below a large hull window provides ample light into the guest suites.
This light is put to good use in the interior, where light-colored woods and soft fabrics establish a sense of luxury and make the interior even more spacious at the same time. It is a creation by Officina Italiana Design, who is also responsible for the outside design as well. The Riva 100′ Corsaro also comes with amenities of which the future owners will be appreciative. So is there an al fresco dining area, next to which a cocktail bar is constructed, and features the master suite a walk-in closet.

The same can be said for the garage, which is fitted with a special hydraulic system. Patented by the Ferretti Group, Riva's owner, it can be deployed at different levels. It can be used as a beach club, submerged so that you can relax in the water or it can completely flood the garage so that you can easily launch or store the tender.
The Riva 100′ Corsaro is now on its way to Hong Kong for its official launch, after which her Asian owner will take delivery of what is the very first in a new line of yachts by Riva.
Save
Subscribe to discover the best kept secrets in your city