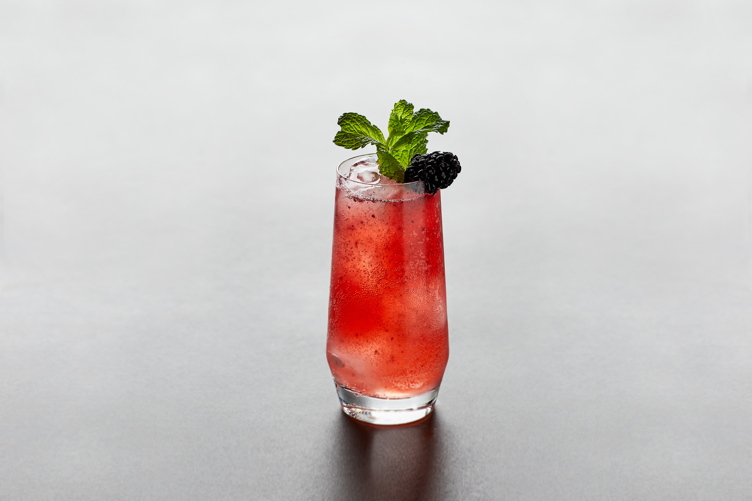 A stellar drink to try this week pays homage to "Becky with the good hair"—the gal Beyonce effectively skewered with her words in the song "Sorry" from her Grammy-nominated Album of the Year record, Lemonade. "Becky's Lemonade," made of rye whiskey, lemon, blackberry and soda, is a libation created by mixologist Evan Charest for the Patina Group, the official caterer of the 2017 Grammy celebration after party. To celebrate, the group has created five Grammy-inspired cocktails, inspired by Beyonce and her fellow Album of the Year nominees Justin Bieber, Sturgill Simpson, Adele and Drake. The cocktails will be sold at Patina Group locations Café Pinot, Nick & Stef's Steakhouse, Ray's and Stark Bar, and the newly renovated Kendall's Brasserie from Jan. 23 through Feb. 12, and one of the still-to-be-chosen libations will become a permanent fixture on the group's cocktail menus. But back to B's lemonade. Says Charest, "The inspiration on this drink speaks for itself. A twist on a classic whiskey smash, but because we are still in winter decided to use blackberries to add depth. Super refreshing, but bold."  Here is how you, too, can feel like Becky with the good hair.
BECKY'S LEMONADE 
Inspired by Beyonce – Lemonade
Lot 40 Rye Whiskey, Lemon, Blackberry, Soda, Mint
RECIPE
2-3 blackberries
Handful fresh mint
.75 oz. simple syrup (1:1)
.75 oz lemon juice
1 1/2 oz. Lot 40 Rye Whiskey
soda water
Glass: Old Fashioned
Garnish: mint sprig 
Add blackberries and mint in a shaker tin and muddle. Add the whiskey, simple, and lemon. Shake with ice and pour everything into an Old Fashioned Glass. Top with ice, and top the drink with soda water and garnish.