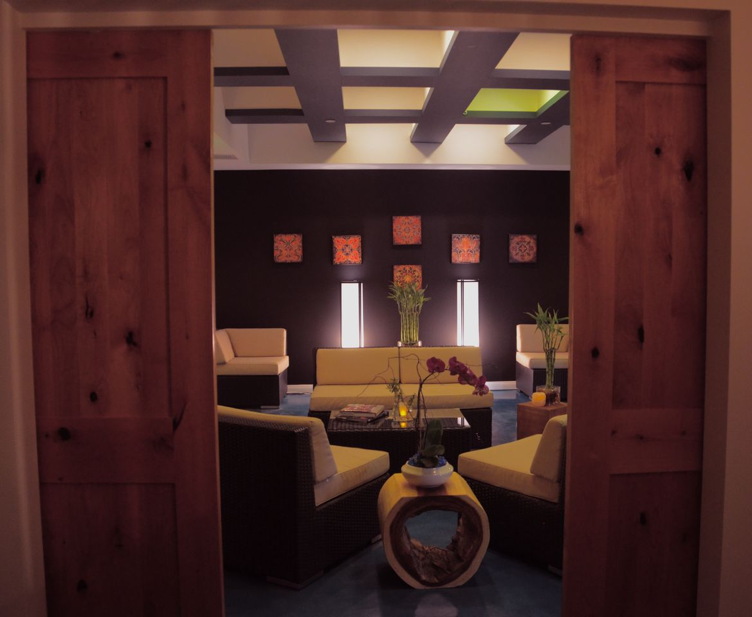 Tucked away on Beverly Hills' most storied street, Rodeo Drive, lies the small but mighty Spa On Rodeo, an oasis for your every beauty need. Discover what you could be in store for—all at the same time!—at board certified foot and ankle surgeon Dr. Bobby Pourziaee's (a.k.a. "The High Heel Doctor") boutique sanctuary in the 90210.
CUPPING. This alternative medicine practice dates back to ancient Egyptian, Chinese and Middle Eastern cultures and utilizes cups, which allow for the stretching and opening of muscle tissue. This lifting creates space to drain toxins from the cells and remove waste through the lymphatic system. Benefits of cupping therapy include increased circulation, elimination of stagnant blood, sedation of the nervous system, stimulation of the digestive system, and removal of lactic acids and toxins from the muscles. Additionally, cupping is also effective against depression, lethargy, anxiety, body aches, high blood pressure, and chronic joint conditions. At the Spa on Rodeo, cupping is available for the face,cellulite, belly and feet.
2. A-LIST FACIALS AND MASSAGES. The spa offers Hydrafacials, as well as an enzyme mask created by Pourziaee that increases circulation and collagen. There are also a variety of awesome massages here, inlcuding Swedish, Deep Tissue, Trigger Point Therapy, Stretching, Myofascial Release, Lympathic Drainage, Sports and Prenatal as well as hot stones. Cranial Sacral, a form of energy massage which utilizes the listening stations of the body, is also available.
3. PERFECT PEDICURES. Given that the spa is owned by a guy nicknamed "The High Heel Dr." it's no wonder that a pedicure (and manicure) station are a prime focuses. Pedis are prepared in raw copper basins and include soaks which are infused with detoxifying chlorophyll and soothing coconut milk. Choose from an uplifting essential oil blend of eucalyptus and lemongrass or a calming combination of chamomile and lavender. All pedicures include a warm paraffin dip, retexturizing enzyme mask and a foot reflexology treatment.
4. MED SPA SERVICES. The Spa on Rodeo offers Juvederm, Botox, micro-needling, spray tans and CoolSculpting as well as body wraps for those who wants both a relaxing spa experience and the medi-spa experience.
5. IT'S OWN PRODUCT LINE. Just mere weeks ago, Pourziaee formally launched his own line of products. The vast and performance-driven range will be incorporated into the spa treatments and available for retail. A few of our favorite products include: Restoration + is a beta gluten recovery serum that stimulates your immune system to help repair the skin for a youthful appearance. Restoration + is a plant derived serum that fights and protects your skin against oxidative stress and boosts skin luminosity; 9021-O, an oxygen rich mist full of nutrients found in nature (this unique oxygenated spray can also be applied throughout the day to feel refreshed and can also be applied over makeup);  and Pro Coll, a deep penetrating Vitamin C crème which will aide in providing long lasting skin fullness and assist with collagen production.