For $1,000, a limited edition collection of Patrón-infused chocolates, handcrafted by Michelin-starred chef and chocolatier Gabriel Kreuther, could be yours.
A collaboration between Kreuther Handcrafted Chocolates and Patrón Tequila, the Patrón Alquimia Collection is infused with some of the world's oldest and rarest tequilas.
An intricate, three-day, handcrafted process produces this rare assortment of 24 chocolates that are infused with six of Patrón's refined, and more expensive, tequilas, including the Patrón en Lalique, which retails for $7,500 per bottle.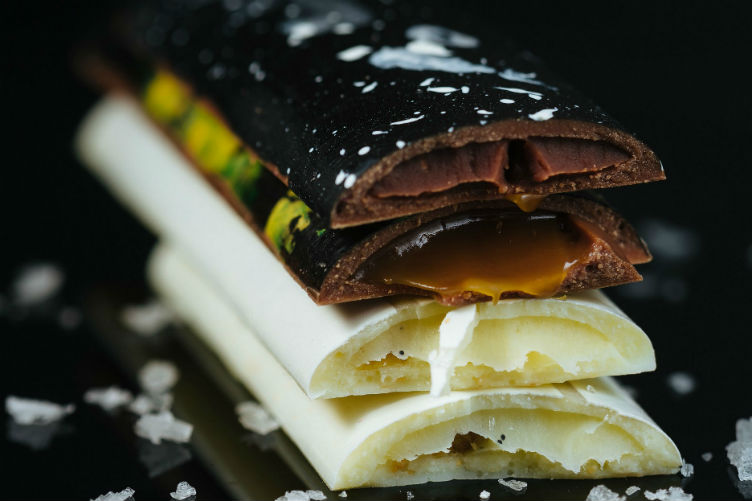 Marbled chocolate with salted caramel ganache of Patrón Extra Añejo 5 Años; rich milk chocolate with smooth, tobacco-infused Gran Patrón Piedra ganache with hints of pasilla; chestnut puree with Gran Patrón Burdeos ganache and chestnut confit bites enrobed incrimson-hued milk chocolate –– these are a few of the exquisite selections from the Patrón Alquimia Collection.
Kreuther, formerly of La Caravelle & Restaurant Jean-George Central Park, Atelier, and The Modern, is the executive chef for Midtown's Michelin-starred Gabriel Kreuther restaurant.
Twenty percent of the proceeds from the Patrón Alquimia Collection––available at the Kreuther Handcrafted Chocolate shop and via mail order through the holiday season, or while supplies last––will be donated to City Harvest.
Images courtesy of Kreuther Handcrafted Chocolates