News from the snowy retreats beloved by boldfacers who take to the slopes in our latest haute travel roundup. 
ST. MORITZ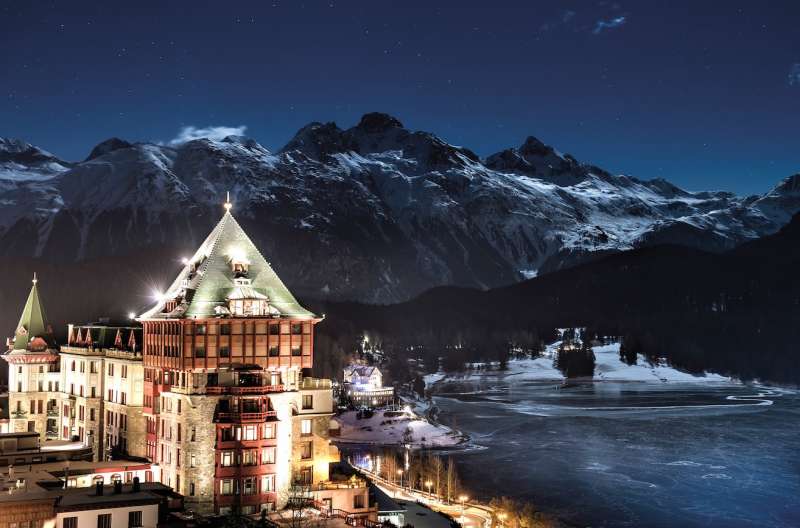 Photo Credit: Badrutt's Palace Hotel
St. Moritz, Switzerland's oldest and perhaps best known ski resort, has attracted the rich, the titled, and the powerful for more than a century. It was a favorite playground for a gilded generation of Europe's über-tycoons—Onassis, Agnelli, Niarchos—along with stars like Audrey Hepburn and Grace Kelly. In more recent times, the posh village has been a magnet for such glitterati mainstays as Kate Moss and Robert DeNiro. While celebs often prefer the privacy of their own (or rented) villas at posh resorts, they often make an exception for Badrutt's Palace (badruttspalace.com), which celebrated 120 years of plush hospitality in 2016. The famous King's Club nightspot on the property, a mecca for boldfacers wherever they are staying in town, was recently overhauled; its fresh look debuts in time for the start of the upcoming winter season on December 17. The hotel also has a new restaurant called Igniv, helmed by Andreas Caminada, a three-star Michelin chef, and four new wellness programs that deal with everything from stress management to inner well-being. A post-holiday draw is always the Snow Polo Word Cup held in late January (this year's event takes place from the 27th to the 29th) and staged on (frozen) Lake St. Moritz.
GSTAAD
Photo Credit: Alpina Gstaad Hotel
St. Moritz's longtime friendly rival Gstaad draws Madonna, Taki, Fawaz Gruosi (founder of De Grisogono), and Valentino, who imports celebrity friends for the holidays. Others who visit include Harvey Weinstein and Georgina Chapman, and alums of the most expensive prep school in the world, Gstaad-based Le Rosey, which writer Nick Foulkes once described as a "jet-set Eton." Gstaad also attracts big names year-round: Last summer Andrea Casiraghi (Princess Caroline's son) celebrated a second marriage ceremony with Tatiana Santo Domingo here. At the Gstaad Palace, whose guest roster reads like the Almanach de Gotha, the people-watching alone is a major off-piste pastime. Ready for the great outdoors after all the bold-face hobnobbing? Then try the hotel's "Igloo Experience" with, yes, an overnight in a suite at the nearby Igloo Village. The hotel's other happenings: a new head chef, Franz Faeh; a new team from Sardinia at the helm of the property's Italian restaurant, Gildo's; and a new private fitness coach to get you in shape for any winter sport you want to pursue. Whatever your sensibility—fast-forward or chill—the Alpina Gstaad (thealpinagstaad.ch), the newest luxury hotel in town, debuts a program that's sure to appeal: a four-day, three-night "Adrenalin + Zen" experience, which mixes high-altitude winter sports with après-ski spa treatments. The package (CHF 3,010; about US$ 3,125) includes a helicopter ride over the gorgeous Bernese Oberland countryside to the top of Glacier 3000 for a day of off-piste skiing or snowboarding with a private guide. From Glacier 3000 at 9,727 feet, skiers can take in a panorama of 24 mountain peaks, including the Eiger, Mönch, Jungfrau, and the mighty Mont Blanc. For more thrills, they can traverse the 350-foot Peak Walk, a suspension bridge linking two mountaintops. After a day on the slopes (a luxury lunch is provided), a limo whisks you back to the hotel for a deep-tissue massage in the hotel's Six Senses Spa.
COURCHEVEL
Photo Credit: Cheval Blanc Courchevel
Prince William, Duchess Kate and family, along with Saudi royals, Roman Abramovich and George Clooney like this French getaway in the ski region called Les Trois Valles. Although the resort consists of four towns, the one VIPs flock to is Courchevel (formerly called Courchevel 1850 for its altitude), which is home to an astounding 11 five-star luxury hotels. Since it's Courchevel's 70th birthday this year, chichi lodgings like the Cheval Blanc (courchevel.chevalblanc.com), a boutique property owned by LVMH (the luxury conglomerate) Hotel Management, is offering a number of special guest experiences, including a "Snowshoe Photo Safari," ideal for anyone eager to perfect their mountain photography, and "Effervescence Under the Stars," a sojourn to the slopes to take in the nighttime sky from on high. The tour is led by candlelight, as guests wrapped in cashmere blankets marvel at the twinkling galaxies between sips of Dom Pérignon.
Even with all the luxury properties, the demand for additional five-star Courchevel lodgings is so high that a new swishy resort will open this December: Hôtel Barrière Les Neiges (hotelsbarriere.com/en/courchevel/hotel-les-neiges), at the foot of the well-known Bellecôte ski slope. The hotel, the first mountain location for Groupe Barrière, was designed by Natalie Ryan (who did the Dior Suite for the group's Le Majestic Cannes). There will be 42 rooms, a huge spa, three restaurants (one of which will be a Fouquet's brasserie), a theater, and a lounge.
NORTH AMERICA SKI RESORT NEWS
Photo Credit: The Four Seasons Whistler
ASPEN: There are so many celebrities (Katy Perry, Jessica Alba, Kate Hudson, Dakota Johnson) in town during peak season that it would seem remiss not to run a red carpet right down Spar Gulch, a celebrated run on Ajax Mountain. A-lister favorite the St. Regis Aspen is offering a number of packages this season—its "Uphill/Downhill" organizes skinning (or "alpine touring") expeditions for skiers eager to trek up the mountain before schussing down it. Après-ski, there are plenty of opportunities for pampering. The "Spoiled Off the Slopes" package includes a concierge shopping excursion, a facial, a photo shoot, and other treats.
VAIL: Everyone from Michelle Obama to Donald Trump have skied in Vail). At the Four Seasons Resort and Residences Vail (fourseasons.com/vail), there are a number of initiatives for the upcoming season including "Dawn Patrol," a predawn run up the mountain and sunrise schuss down it with experienced guides. The hotel provides a videographer to document the sure-to-be photogenic excursion. Those who need a little time to get used to the rarified mountain air should look into the altitude-adjustment program at the hotel (which sits 8,150 feet above sea level). It includes a massage, therapist consultation, and adjustment kit (with a coconut elixir, oxygen canister, and an altitude-adjustment supplement).
WHISTLER: The site of the 2010 Winter Olympic Games, Whistler offers many slopes and trails that can challenge the most accomplished and competitive skiers. As for the celeb factor—Reese Witherspoon and Justin Timberlake, among other Angelenos, have taken winter breaks here. At Four Seasons Resort and Residences Whistler (fourseasons.com/whistler), there are very glamorous "glamping" experiences on offer. Guests can 'copter to a remote ice cap where they snowmobile with a guide to explore ice caves before arriving at their own private enclave for a stay in a luxury "snow hotel." And for more adventure, why not try an ice cap trek? It too involves a helicopter ride over sweeping ice fields and exploration (with a private guide) of a vast network of ice caves. The polar excursion ends with a mountain gourmet lunch.