Robert De Niro's hospitality empire continues to grow.  And that's a good reason to celebrate!  And De Niro did, raising a glass on Monday night at Nobu New York to toast the opening of Nobu Hotel Miami Beach with Nobu Matsuhisa, the executive chef and owner. De Niro, of course, draws a great turnout–guests included Martha Stewart, Staffan Ahrenberg, Corice Arman, Kate Betts, Jayma Cardoso, Simon Castets, Lady Liliana Cavendish with Kirat Young, Eduardo Costantini, Giorgio DeLuca, Sante D'Orazio, Fulvia Farolfi, Eva Franch Gilabert, Laura de Gunzburg, Rachel Hovnanian, Genevieve Jones, Katherine Keating, Ada Kokosar, Nemo Librizzi, Michael Mailer, Lorenzo Martone, Sophie Matisse, Nicolas Mirzayantz, Casey Neistat, Meredith Ostrom, Lauren Remington Platt, Polina Proshkina, Amy Sacco, Tony Shafrazi, Josh Smith, Giorgia Tordini, Charlie Walk, Kristen Joy Watts, and David Weinreb. Also joining the celebration were Meir Teper, a Nobu Hotels principal, the Chapur family, Trevor Horwell, CEO of Nobu Hospitality, Struan Mackenzie, COO of Nobu Hospitality, and starchitect David Rockwell.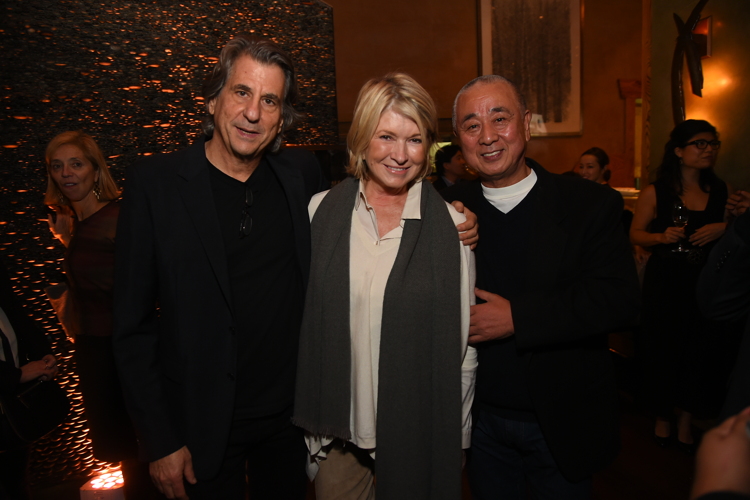 Nobu Hotel at Eden Roc Miami Beach is currently in its soft-opening phase, with an official launch scheduled for January 2017. The 1950s Morris Lapidus property, which underwent a multi-million dollar renovation and landmark restoration, offers an oceanfront location with fab views of the Atlantic Ocean and Biscayne Bay.The hotel houses both an indoor and outdoor pool. David Rockwell created the interior design, focusing on  a rich mixture of natural tones and using a variety of textures, like washi paper, linen, and leather in the decor.
The hotel also houses artworks curated for it by collector Peter Brant from the Brant Foundation Art Study Center with pieces by Richard Prince, Julian Schnabel, Rob Pruitt, Nate Lowman, Josh Smith, Enoc Perez, and Kenny Sharf.
Nobu Hotel Miami will be first East Coast venue for the famed Malibu Farm restaurant. Malibu Farm uses only fresh, organic and local produce, and offers an exclusive in-room dining menu, available only to Nobu Hotel guests.
For more information: www.nobuedenroc.com
Subscribe to discover the best kept secrets in your city