Photo Credit: Courtesy of Nashville Convention & Visitors Corporation
There's nowhere in the world quite like Nashville. That it's nickname is "Music City U.S.A." is no accident: like New Orleans, music is everywhere here—on the street corners, spilling out of honky tonk bars, in museums, and, as with the biggest names, headlining the Bridgestone Arena (though you'll also find those same A-list names such as Keith Urban, for example, playing dives just for the heck of it). Though most are aware that Nashville is the home of country music, you might not realize just how nice it's residents are, how upscale the hotels and shopping can be and how haute cuisine is beginning to rule the city. Sure, you'll still find your cowboy boots and plaid button-down shirts, but the wearer could be one of the wealthiest men in Tennessee—he's just unpretentious and doesn't need to flaunt it. After a visit to this charming locale, we couldn't help but fall in love with it…and we know that you will, too, after you realize how luxurious this music-loving city really is. Here, without further ado, is your haute guide to a hot weekend in Nashville.
STAY
Photo Credit: The Hutton
The Hutton is the very definition of "Southern hospitality." You couldn't ask for a more accommodating staff that the one you'll find here at this upscale boutique hotel located in the middle of Music City. The concierges take their time with you, happy to highlight favored city hot spots, make a reservation and even text you to make sure everything is to your liking. Its proximity to most central neighborhoods including the fun and trendy The Gulch is pretty stellar, as is the fact that one of three house cars will take you anywhere you need to go within a three mile radius (which is most everywhere). One of those house cars happens to be a Tesla Model S, which means that you'll be riding in style, regardless of the destination. The Tesla is a great indicator of what this charming hotel has to offer. From the design of the lobby, which utilizes bamboo and rock face gold sand marble, and continuing through the guest rooms with their glass ink countertops and granite showers with rainfall shower heads to the art that literally dots every single wall, you'll be more that pleased with its aesthetics.
Those that want the best possible stay should book one of two Penthouse suites; East and West. East is slightly bigger at 1,400 square feet to West's 1,100 square feet, and the views are slightly different—the former overlooks Downtown and West End, while the latter overlooks West End and Vanderbilt—but both offer panoramic views, spacious living area with inviting fireplaces, queen sized "zoom beds," granite showers, Molton Brown bath products, LG Jack Packs—multi-media interfaces to the in-room TV display panel and balconies. The East offers a kitchenette as well.
But there's more than just the basics. Every weeknight there's a free wine tasting. Though no Nashville hotels offer spas, the Hutton offers the next best thing—a spa suite—where you'll be offered champagne and chocolate prior to receiving a massage or wrap from an on-call masseuses. There is also, yes, a fitness center in case you feel like working off all the calories you're going to be eating in this fabulous food city on Pre-Cor and True Cardio machines (with integrated LCD panels), paramount strength training machines and Expresso bicycles with built-in virtual reality routes. If indoor workouts aren't your thing and you prefer a breath of fresh air, the concierge team can provide you with running and walking maps. We suggest a quick jog to nearby Centennial Park to see the Parthenon—modeled after the original in Greece—or a lengthier stroll to Vanderbilt University or Lovers Circle to see the best views in the city.
In the morning, head downstairs to the gourmet Java Bar, and in the evening, take in the rowdy, fun-filled scene at the hotel's signature restaurant, 1808 Grille, which offers traditional Southern dishes with some surprising global flavors. Scallops and grits are a standout, as is the hot chicken, a Nashville favorite.
Perhaps what makes this hotel so unique, in addition to its warm and inviting atmosphere, is its mission to be as green as possible, which most Angelenos will favor. In addition to its renewable bamboo flooring and furnishings, the hotel also has card readers that disable guest room lighting when a guest exits; LED or fluorescent lighting throughout the hotel; digital shower thermostats in its suites; energy-efficient LED exterior signage; a recycling program for paper and plastics; a laundry water recycling process that conserves water, heat and chemicals; dual flush commodes; bronze exterior glass is the highest rates for thermal insulation; eco disc elevators in the conference/event center that reduce energy consumption by 70%; a Low Albedo roofing system designed to absorb and sustain heat; Dyson Air blade hand dryers and linens in public restrooms reduce paper waste; a state-of-the-art mechanical energy recovery wheel system preconditions air before heating/cooling for maximum efficiency; blink electric car charging stations; and, of course, that fabulous, cherry red, all-electric Tesla.
DINE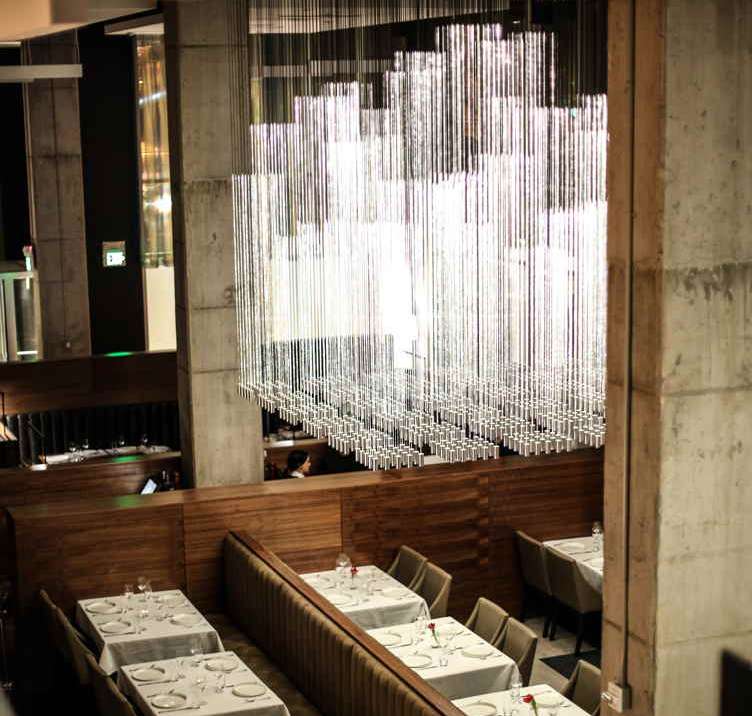 Photo Credit: Prima
Nashville is quickly becoming known as a gourmet's dream destination. Expect to find tons of chicken here—long-beloved eateries do include the likes of Hattie's Fried Chicken and Arnold's Country Kitchen—but it's also finally received the credit it deserves from James Beard after Tandy Wilson of City House took home the 2016 James Beard Award for Best Chef: Southeast. You'll be hard-pressed to find amazing options, though we do have, of course, recommendations. Those looking for sleek and sexy (which is how we'd describe not only the restaurant's design and decor, but its patrons) should head to modern American eatery Prima. Give yourself a moment to gaze up that stunning chandelier and peruse the fabulous cocktail list before ordering up unexpectedly paired items like Hudson Valley foie gras with pickled blueberry, charred apples, farro and quinoa; butternut squash fondants with brown butter, spicy honey, pepitas and pecorino romano; and chicken on a string (you read that right) with creamed swiss chard, grilled carrots, and the eatery's signature 'angry sauce.' For brunch, there's truly nowhere more excellent that Pinewood Social, an airy, gorgeous space with absolutely fabulous food and coffee that also doubles as a place to just hang—be it by bowling (there's a bowling alley within the restaurant), a bocce court, two dipping pools complimented by a 30-foot Airstream, or board games. The avocado toast is divine, as is the egg in a jar—served with country ham, asparagus, brioche and truffle hollandaise—and whole wheat waffles served with jalapeño maple syrup. The cocktails are fun and fantastic, much like Pinewood Social itself. Order up Captain Cook's Scotch Punch—Auchentoshan American Oak whisky, lemon, maraschino, curacao and spiced cherry— or the General Woundwort —Pierre Ferrand Ambre, Carrot Plantation 5-Year Rum, ginger, cream and vanilla—for something a little different. Last but not least, we suggest 404 Kitchen, which has one of the most extensive whiskey lists in the city (seriously, everything you can imagine and more, from all around the world and, in particular, all over the South can be found within its leather-bound pages) at 404, a repurposed shipping container that has been reimagined as a restaurant. This James Beard Best New Restaurant semi-finalist offers fare rooted in classic European cuisine with an emphasis on fresh, seasonal and local ingredients. We suggest indulging in the tasting menu, or, if you'd prefer to order on your own, the swordfish, served with red creamer potatoes, olinda oil cured olives, bacalaos and black pepper, as well as the Rabbit Man Farm's Rabbit, served with dumplings, sweet potato, apple cider, trumpet mushrooms and mustard, are standout items.
DRINK
Photo Credit: Marsh House
Marsh House is the hottest new kid on the block. Located in the trendy The Gulch neighborhood, this restaurant and lounge inside the newly opened Thompson hotel is a swanky situation that could just as easily be found in Los Angeles or New York. Master chefs John Besh and Justin Cameron are responsible for the seafood heavy menu, which highlights the best elements of Southern cuisine, exploring the variety of the region and juxtaposing classic favorites with creative new dishes. Order some oysters from the Gulf and peruse the wine list, which focuses on small-batch producers of both Old and New World wines and a seasonal cocktail list. Other great options include the awesome cocktail menu at Rolf & Daughters, the absinthe bar at The Green Hour, the speakeasy-style The Patterson House and the secret entranceway of Old Glory. 
PLAY
Photo Credit: Courtesy of Nashville Convention & Visitors Corporation
What is there to do in Music City, you ask? Well, duh. Anything and everything un-related to food should be completely focused on music. Take a step back through the history of country music at the Country Music Hall of Fame, or catch a show at the big daddy of them all, the Grand Ole Opry (which, during the holiday months, relocates from Opryland to its original home at The Ryman), check out where some of the greatest singers in history recorded at RCA Studio B including Eddy Arnold, Waylon Jennings, Bobby Bare, Dolly Parton, Jim Reeves, Willie Nelson, and Floyd Cramer, among others; Country Music Hall of Fame inductee Chet Atkins also managed RCA's Nashville operation and produced hundreds of hits in Studio B. And finally, just wander into any bar. Every single night of the week you'll find stellar live music spilling out into the streets. It's a beautiful thing, and a big part of what makes this city so magical.
Nashville 1
The Hutton Lobby
Nashville 2
Private dining room at 1808 Grille
Nashville 4
Hutton exterior
Nashville 5
Hutton King Suite
Nashville 6
Hutton Hotel lobby
Nashville 7
The Hutton's house car...a Tesla
Photo Credit: The Hutton
Nashville 8
Hutton 1 --- the Tesla Model S
Photo Credit: Marsh House
Nashville 12
Bear Creek Farms Dry Aged Tri-Tip at 404 Kitchen
Nashville 13
Button Mushrooms at 404 Kitchen
Nashville 14
The Devil Went Down to Nashville at 404 Kitchen
Nashville 15
Pinewood Social Bowling Alley
Nashville 16
Mezcal Mule at Pinewood Social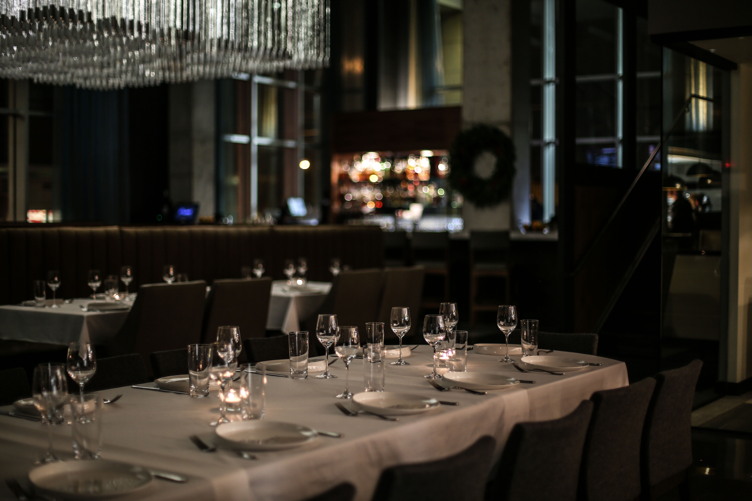 Nashville 18
Butternut squash fondants at Prima
Nashville 19
Oysters at Marsh House
Nashville 20
Cocktails at Marsh House
Nashville 21
Get your bill at Marsh House in this Oyster Field Guide booklet
Photo Credit: Courtesy of Nashville Convention & Visitors Corporation
Photo Credit: Courtesy of Nashville Convention & Visitors Corporation
Nashville 24
The Parthenon
Photo Credit: Courtesy of Nashville Convention & Visitors Corporation
Photo Credit: Courtesy of Nashville Convention & Visitors Corporation