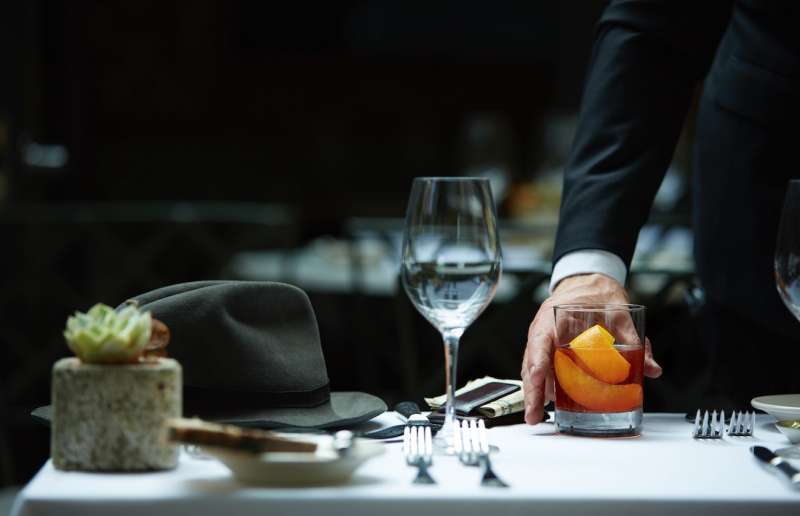 Photo Credit: PHOTOS COURTESY OF  ARI MICHAELSON AND AARON COOK
How do you ring in fall? Why, with a 'Hilo,' of course! Christiaan Röllich—the lead barman at James Beard's latest Outstanding Chef award-winner Suzanne Goin's and business partner Caroline Styne's haute L.A. eateries, Lucques, a.o.c. and Tavern—has crafted the perfect autumn cocktail. His blend of Tanqueray gin, Angostura bitters and lime juice has an unexpected sweet twist with the help of pineapple juice. In this deliciously crafted cocktail, which he exclusively serves at Lucques on Melrose, you'll be able to do more than just grin and bear it—your mouth will be craving more of the fruitiness that enhances Tanqueray's barrel-aged flavors and secret herbs. Says Röllich of the drink, "This Hilo cocktail is a great example of how big, bold flavors can work together without letting go of the base spirit. The combination here definitely allows the Tanqueray shine through." See above for how to make this haute cocktail yourself at home.
MIX MASTER
Christiaan Röllich is one of the most celebrated mixologists in the City of Angels. The Netherlands-born barman headed to the west coast to pursue modeling and acting (he even attended the prestigious Lee Strasberg School), but discovered a talent for bartending while working at the now-shuttered one-time hotspot Les Deux Café. After landing a gig at Lucques, his innovative cocktails were suddenly in hot demand by some of the hautest and most influential people in Los Angeles. Röllich, who will release his first book, Two Fingers, in 2017, is definitely the man to call when you're in need of an electrifying libation.
HOW TO MAKE A HILO
1 oz Tanqueray
3/4 oz Angostura bitters
3/4 oz Luxardo Maraschino liqueur 1 oz lime juice
3/4 oz pineapple syrup*
PREP
Blend ingredients together in a shaker, fill with ice and shake for seven seconds. Glass: Double old fashioned
Garnish: Orange twist
*TO MAKE THE PINEAPPLE SYRUP
On a stovetop, bring one cup of fresh pineapple juice and one cup of sugar to a quick boil, while stirring. Take it off the stove, let it cool to room temperature.