Photo Credit: Sergey Novikov
These five haute Los Angeles-based hotels are doing their part to raise funds for breast cancer awareness.  Here's where you can go to think pink and show your support in the City of Angels.
TERRANEA RESORT. 
Terranea has transformed itself into a pink oasis with pink resort programming, pink lighting, pink rosé upon arrival, and even an abundance of pink flowers throughout the property. Terranea's guests have the chance to enjoy the resort and give back at the same time thanks to the resort's partnership with
Cancer Support Community Redondo Beach
,
Susan G. Komen Los Angeles County
and national
Play for P.I.N.K.
, benefiting Breast Cancer Research Foundation. Special offerings during the month include:
Play for P.I.N.K. Room Package: During October, when the Play for P.I.N.K. rate is booked Terranea will donate 10 percent of proceeds to Play for P.I.N.K., benefiting the Breast Cancer Research Foundation® (BCRF). Guests will be welcomed with Chardonnay by ONEHOPE, the resort's choice of wine that fundraises for breast cancer research, as well as a pink macaroon plate. *Rate code: PINK16
Dining: Sprinkling pink throughout the resort's restaurants, chefs will don pink coats at all of Terranea's dining venues. Guests can enjoy a limited-time Pink Strawberry Lemonade cupcake and The Pink Dove cocktail. For every Pink Dove cocktail sold, $1 will be donated to Play for P.I.N.K.
The Spa: Douse in pink from head to toe at The Spa with a pink manicure and pedicure to show support. Guests can also enjoy the remineralizing Himalayan pink sea salt body scrub, a rejuvenating treatment for a fresh start to fall.
The Links: The green will have a touch of pink this October, with The Links switching to pink golf flags on each hole and offering a specialty pink retail selection, from golf balls to shoes. The resort will also donate $1 per round of golf bought in October to Susan G. Komen Los Angeles County.
Adventure Concierge: From kayaking to horseback riding, every play made makes a difference. For each activity booked in October, Terranea will donate $5 to the Play for P.I.N.K. organization.
Retail: Terranea's retail venues, marea, pointe discovery and The Spa boutique, will offer a customized selection of pink jewelry, candles and beauty products for guests to purchase that will support National Breast Cancer Awareness Month, with a portion of proceeds supporting Play for P.I.N.K.
LANGHAM HUNTINGTON PASADENA. Ten percent of the proceeds from each of the below offerings will be donated to the Constance G. Zahorik Appearance Center at Huntington Hospital.
Pretty in Pink Chocolate Afternoon Tea with wedgewood in the lobby lounge. Available Sundays in October from 11:00am – 4:00pm.
OneHope Chardonnay at the Tap Room. Savor a glass for just $10.
Pink Paradise Treatments at Chuan Spa. Relax in a cocoon of lush tropical fruits that peel away dull, dry skin to boost radiance and roll back the day.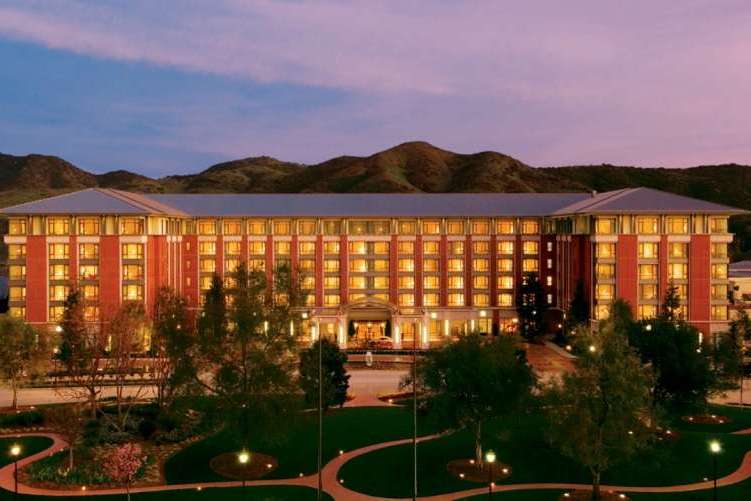 Photo Credit: Four Seasons Westlake Village
FOUR SEASONS HOTEL WESTLAKE VILLAGE. This Four Seasons property honors Breast Cancer Awareness Month with a variety of special services, experiences and culinary creations.
Mammograms and massages. In partnership with the Hotel's on-site wellness centre, California Health & Longevity Institute, the hotel offering mammograms and massages to remind women of the importance of regular screenings. Women are invited to indulge in a spa treatment at the Hotel's award-winning Spa while they are on-site for the mammogram procedure. Additionally, on October 22, 2016, Director of Nutrition Paulette Lambert will host a specialW ellness Kitchen "Lunch and Learn." Guests will partake in an educational conversation on cancer prevention and learn how to create simple, healthy meals.
Pink treats. Throughout the month of October, the food and beverage outlets at the Hotel have created a variety of special dishes dedicated to supporting Breast Cancer Awareness Month. Guests may indulge in a house-made strawberry glazed donut at Stir, or stop by the Lobby Lounge for pink velvet pancakes or a crisp beet and goat cheese salad.The Bar is also mixing up a Think Pink craft cocktail to pay homage to the month's signature colour. A portion of the proceeds from each of these items will be donated to the local non-profit Cancer Support Community, which provides resources for those effected by cancer.
Photo Credit: Ritz-Carlton
RITZ-CARLTON MARINA DEL REY. In honor of Breast Cancer Awareness Month, Spa del Rey in the Ritz Carlton Marina del Rey, will be offering a special Pink Himalayan Sea Salt Body Ritual. For the entire month of October, Spa del Rey will donate 5% of the proceeds to the Susan G. Komen Foundation. The 90-minute treatment is a true indulgence; the pink sea salt scrub promotes relaxation, detoxification, and hydration. It's followed by a therapeutic massage with aromatic essential oils and a divine warm oil scalp massage that's such bliss you'll surely feel 'in the pink' when it's over.
THE PENINSULA BEVERLY HILLS. During October, guests of the hotel will be able to experience a very cool installation by Chinese avant-garde photographer and multimedia artist, Chen Man, who is presenting a coordinated series of art that encourages viewers to make their mark on paintings.Each photograph will offer a unique opportunity for viewers to interact with the medium by using a Chinese back scratcher to gently scrape the photo and reveal the image behind each pink dot.  Through this unorthodox approach to fine art, the artist actually encourages people to get physical with her work, in hopes that that removal of the pink dots will open up a dialogue about breast cancer and bring further awareness to the cause enjoy specially designed pink-themed welcome amenities, dining and spa promotions including: Other hotel offerings, which, in keeping with Peninsula in Pink tradition, a portion from the sale of each will be donated to BCRF, include: 
Pink Afternoon Tea. Diners in The Living Room can indulge in a pink-infused Peninsula Afternoon Tea featuring Raspberry Ganache Lollipops, Beet & GoatӮs Cheese Tartlets and Pink Peppercorn Macaroons
Drinks in Pink. The talented team of mixologists at The Peninsula have created a collection of rose-colored cocktails such as the genever-based ӨPinky PromiseӮ at The Belvedere, a begonia-garnished ӨLa Vie En RoseӮ at The Club Bar or a refreshing glass of Pink Sangria at The Roof Garden. The Drinks in Pink are priced at $18 each
Painted Pink.The recently re-opened Belvedere restaurant will present its popular "°Faberge"± egg-inspired dessert hand-painted in shades of pink
Perfectly Pink Pedicure. The Spa at The Peninsula Beverly Hills will debut a new pedicure featuring Sweet Birch Magnesium Flakes from Natropathica. The pink-tinged salt flakes are utilized in a luxe foot soak to promote healing and proper muscle function. This results-driven pedicure addresses chronic muscle aches, cramping or stiffness ØC great for athletes or anyone that spends time on their feet. The Perfectly Pink Pedicure is priced at $95